Fresh Corn and Zucchini Pizza with Gouda
It's Friday and we're celebrating with a ridiculously good pizza.
And you know what it includes? A sauce made out of fresh corn! Corn sauce!! That's a weird term that I'm not sure how I feel about. But the sauce itself? It's pretty awesome.
I typically don't discriminate against any kind of pizza but I do prefer something that's not just plain tomato sauce. I actually would take no sauce and just a light brushing of olive oil over regular, boring old sauce. Can you tell I have a thing against boring?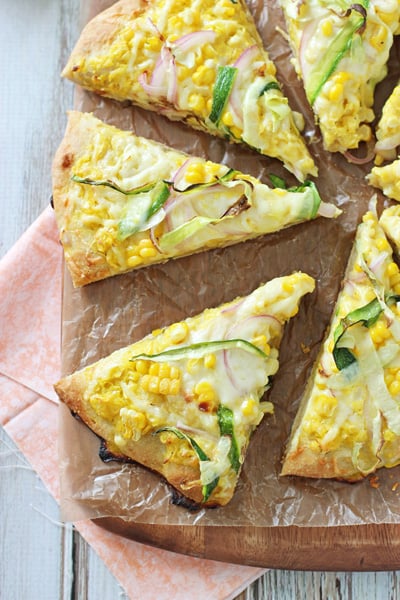 So we're really jazzing it up today with this. Fresh corn kernels are pureed in a food processor with just a hint of garlic, salt and pepper. And that my friends will be the base of this pizza goodness. I got the idea after making a pot of my summery corn chowder with squash and zucchini.
And after I decided I must put corn in everything until it winds down for the season. Must.
So after you make the awesome corn saucy base, the rest of this pizza comes together really quickly. You'll top it with some gouda cheese (or feel free to use a different kind – you really can't go wrong here – it is cheese after all!), some more fresh corn kernels, a smidge of red onion and some shaved zucchini.
Combining into one blissfully good pizza. Dare I say my new favorite combination? That could just be the fresh corn talking.
But seriously. It's good.
Now excuse me while I go look at the 6 ears of corn I still have in my fridge and tell them how much I love them. Kidding, kidding, I don't really talk to corn.
If you didn't already have weekend foodie plans … you do now. Go get your corn sauce on. Stat.
Fresh Corn & Zucchini Pizza with Gouda
Prep Time: 45 minutes
Cook Time: 12 minutes
Total Time: 57 minutes
Recipe for fresh corn and zucchini pizza. With a sauce made of pureed fresh corn kernels and topped with gouda, more corn and zucchini.
Ingredients:
For the sauce:
1 ½ cups fresh corn kernels
2 cloves garlic, minced
¼ teaspoon salt
pinch of pepper
olive oil, if needed
For the pizza:
1 ball pizza dough
1 small zucchini
1 teaspoon olive oil, plus more for brushing
1 cup freshly shredded gouda cheese
½ cup fresh corn kernels
⅓ cup thinly sliced red onion
Directions:
Preheat the oven to 500ºF. Place a pizza stone in the oven and allow the stone to heat for at least 30 minutes.
To make the sauce – add the corn kernels, garlic, salt and pepper to the bowl of a food processor. Process until smooth. If it won't get moving in the food processor, add about ½ to 1 teaspoon olive oil to get it going (I usually don't need to add any). Set aside.
To make the pizza – place the pizza dough on a lightly floured surface and allow the dough to relax for about 10 minutes (but no longer than 30). Roll out and shape the dough and then transfer to a piece of parchment the size of your pizza stone that has been lightly dusted with cornmeal.
Cut off one end of the zucchini and then use a vegetable peeler to shave the zucchini into thin strips (using the non-cut end to hold it). You want about 1 heaping cup (any extra you can discard). Place the shaved zucchini between paper towels and press down to remove excess moisture. Add to a small bowl and toss with the 1 teaspoon olive oil. Set aside.
Brush the edges of the pizza dough lightly with additional olive oil. Spread the corn "sauce" evenly on the dough. Top with the cheese, the ½ cup corn kernels, the red onion and finally the zucchini.
Transfer to the oven (put the parchment paper with the pizza directly on the pizza stone). Bake for about 12 to 14 minutes, until the crust is golden brown. Slice and serve.
I use about 3 to 4 ears of corn for this recipe (depending on how big they are).