How to Make Balsamic Glaze
A tutorial on how to make balsamic glaze at home! Simple to make and much cheaper than store-bought!
What better way to kick off a Wednesday than with the tangy, slightly sweet goodness that is balsamic glaze ♥
This post has been a longggg time coming. Months ago – we're talking like back in August – one of my readers pointed out that I reference balsamic glaze quite a bit on my site but never shared my actual recipe / method for making it!
For those of you who have been reading for some time, you know that my love for this magical goodness is well documented. I'll drizzle it on anything and everything. Well, where it makes sense. I do try to have some self-control.
And man, if you buy balsamic glaze from the store it will cost you an arm and a leg. I'm pretty sure I've seen bottles of it for well over $10!!! Madness.
Especially considering you can make it at home for way way less. All you need is some balsamic vinegar and a skillet. And considering what a cheap-o I can be with certain things, making it at home is the way. to. go.
Save that money for something else … like a vacation. Or your favorite coffee beans. Or that new adorable picture frame from homegoods that was calling your name (because clearly I need more picture frames).
But back to the glaze. Let's quickly walk through the process (the full, detailed recipe is below as usual!).
How To Make Balsamic Glaze
So, we pour some balsamic vinegar into a skillet and allow it to come to a very gentle simmer.
Then we turn down the heat and basically let it cook until it reduces down by about two-thirds to three-quarters.
During this time, you NEED to whisk every few minutes, and slightly more often towards the end of the process.
And please, do not walk away while you are making this! The vinegar can burn easily and well, the resulting mess ain't pretty. So just be prepared to hang out nearby.
I know a lot of people add some sugar to their balsamic glaze, but I've never really found it necessary. It gets sort of sweet on its own as it reduces and cooks down.
When it's done, the reduction should coat the back of a spoon like in the photo below.
Ahhh, that's the good stuff right there.
Additional DIY Recipes You Might Enjoy!
Did you make this recipe? Rate and review it down below! I'd love to hear from you.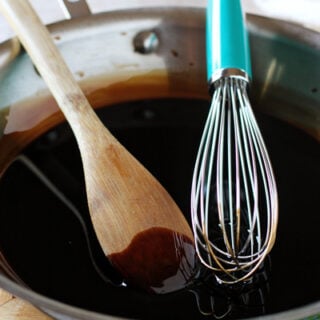 How to Make Balsamic Glaze
A tutorial on how to make balsamic glaze at home! Simple to make and much cheaper than store-bought!
Instructions
Add the balsamic vinegar to a medium skillet set over medium / medium-high heat. Allow the vinegar to come to a very gentle simmer, then turn down the heat to medium-low, or so it is steaming and just barely simmering (a few bubbles here and there).
Let the vinegar cook, whisking every few minutes, until it has reduced down by about ⅔ to ¾. Toward the end of the cooking time, you'll want to whisk more often to keep it from burning and may need to turn down the heat. This takes me anywhere from about 15 to 25 minutes.
DO NOT walk away during this process. The vinegar can burn easily, especially at the end of the cooking process. And no one wants a burnt mess to deal with.
Once reduced, remove from the heat and let cool completely. It will thicken even more as it cools. Store in an airtight container in the fridge. You can let it come back to room temp before using, if desired.
Notes
*Feel free to use whatever amount of vinegar you like, keeping in mind that it will reduce down by about ⅔ to ¾.
Some people do add sugar to their glaze, but I've never found it necessary.
I like to use a skillet when making this because I find that when I use a regular saucepan some of the vinegar can almost get "stuck" and burn in the edges of the pan - the skillet gets rid of that problem.
Also, turn on your vent! It helps get rid of some of those vinegar fumes! Which are potent!
Nutrition Information:
Yield:

6
Serving Size:

1
Amount Per Serving:
Calories:

37
Total Fat:

0g
Saturated Fat:

0g
Trans Fat:

0g
Unsaturated Fat:

0g
Cholesterol:

0mg
Sodium:

10mg
Carbohydrates:

7g
Fiber:

0g
Sugar:

6g
Protein:

0g
Nutrition data shown is an estimate provided by an online calculator and is for informational purposes only. It should not be considered a substitute for a medical professional's advice.