Slow Cooker Caramelized Onions and Peppers
Let your crockpot do all the work with this recipe for slow cooker caramelized onions and peppers! Buttery and full of flavor!
Caramelized onions are the way to my heart. And caramelized onions + peppers??? Now that is definitely the way to my heart. Or an added little bonus, if you will. And man am I excited to share this recipe with you today.
Actually, if I didn't have the attention span of a five year old sometimes, you would have gotten this one even sooner.
You see, this recipe was an attempt to recreate a dish that my grandma always used to make.
She made these absolutely killer slow cooked onions and peppers, which she cooked for hours upon hours in this enormous electric skillet that probably weighed more than she did.
And to these awesome onions and peppers she would then add some scrambled eggs. She would make a huge batch and send them back with me to college or in later years back to my job in DC. And I would proceed to eat them all in 2.5 seconds. So much for pacing myself.
We talked about all this when I was in New Jersey for Christmas and then again when I went to visit her for a week in January. Like extensively talked about it – how exactly she made them and how good they were and I even vowed to try making them as soon as I got home.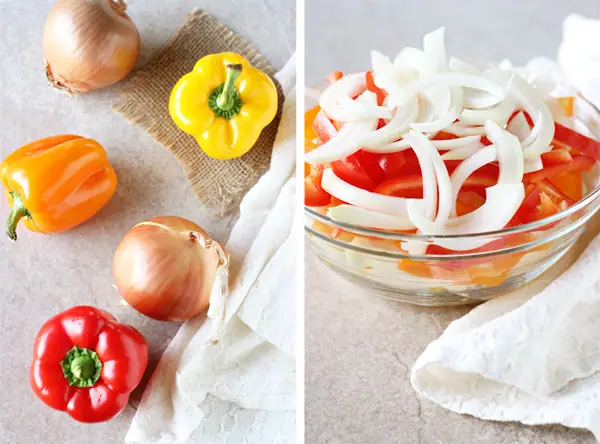 About These Caramelized Onions and Peppers
And then that obviously failed to happen. Anyway, the recipe is finally here. Cue the angels singing! Trumpets sounding!
So instead of doing this in a skillet like my grandma, I decided to turn to my trusty slow cooker to get the job done. I use it all the time for my crockpot french onion soup, where the base is made up of caramelized onions.
So pretty much the same method is used in this recipe here today. I've made a few tweaks but otherwise the process is the same. Just no soup (obviously).
I say this in the french onion soup post and I'll say it again here.
This is not a totally hands-off method. You do need to be around to stir the onions and peppers every so often (about every 45 minutes).
But I do promise that the end result is absolutely worth it. Buttery and packed full of flavor. You're gonna want to eat these onions and peppers straight out of the crockpot with a spoon.
My favorite way to enjoy them is stirred into some scrambled eggs. Just like my grandma made. But with some avocado toast on the side. Ooo ooo and a big cup of coffee.
Additional Slow Cooker Recipes You Might Enjoy!
Did you make this recipe? Rate and review it down below! I'd love to hear from you.
Slow Cooker Caramelized Onions and Peppers
Cook Time:
6 hours
30 minutes
Total Time:
6 hours
40 minutes
Let your crockpot do all the work with this recipe for slow cooker caramelized onions and peppers! Buttery and full of flavor.
Ingredients
2 large yellow onions, thinly sliced
1 medium yellow bell pepper, thinly sliced
1 medium red bell pepper, thinly sliced
1 medium orange bell pepper, thinly sliced
5 tablespoons unsalted butter, melted
½ teaspoon salt
Instructions
Add the onions and peppers to your crockpot, then drizzle with the butter and sprinkle with the salt. Toss to combine.
Turn on your crockpot to high, cover and let cook for 1 hour.
After the first hour, give the mixture a good stir. Place a double layer of paper towels under the lid (which will help to absorb some of the released moisture - you'll want to replace this layer about 2 to 3 times during the cooking process).
Continue to cook on high for about 5 to 6 additional hours, stirring about every 40 to 45 minutes. You want the onions to be a caramel color and the peppers to be nice and tender and so soft. Toward the end of the cooking time, keep a closer eye on the crockpot (you don't want to let the onions / peppers burn and may need to stir them more often).
Discard the paper towels. Serve however you would like, scooping them out with a slotted spoon to get rid of any excess liquid in the crockpot.
Notes
My biggest piece of advice here - know your slow cooker. They all cook slightly different and have slightly different heat levels. After making the onions and peppers like this a few times, I know how often I need to stir and exactly how long it takes.
You also want to slice everything about the same size - so that they all cook evenly. I slice my onions and peppers about a touch more than ¼ inch thick.
You could also use green peppers or really any color combo of peppers you would like!
Nutrition Information:
Yield:

6
Serving Size:

1
Amount Per Serving:
Calories:

120
Total Fat:

10g
Saturated Fat:

6g
Trans Fat:

0g
Unsaturated Fat:

3g
Cholesterol:

25mg
Sodium:

180mg
Carbohydrates:

8g
Fiber:

1g
Sugar:

4g
Protein:

1g
Nutrition data shown is an estimate provided by an online calculator and is for informational purposes only. It should not be considered a substitute for a medical professional's advice.