How To Set Up A DIY Mimosa Bar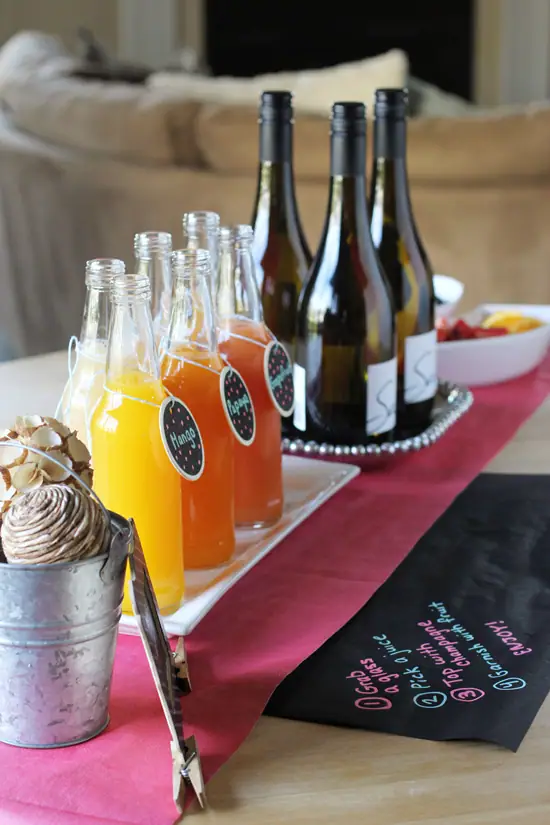 I have something super fun for you today! A DIY mimosa bar!
Plus, a little bubbly seemed like a good way to kick off the start of the week.
So. With it being springtime and all, I thought now would be an appropriate time to share this post with you. I feel like spring and summer are the height of showers and brunches and all that jazz. And what better way to impress your guests than with a fun mimosa bar!
It's so simple yet just so fun. I'll be the first to admit that I don't really love regular mimosas. I'm not a huge orange juice fan, so they don't do it for me. But when you give me options for the juice? I'm all over it. Pass the prosecco please!
And on that note, you can use prosecco or champagne here. My group of friends and I prefer prosecco over champagne, so that's what you are seeing here today in the pictures. But use whatever you like! (The prosecco shown is from Trader Joes <— not sponsored. It's just my favorite cheap and tasty brand!)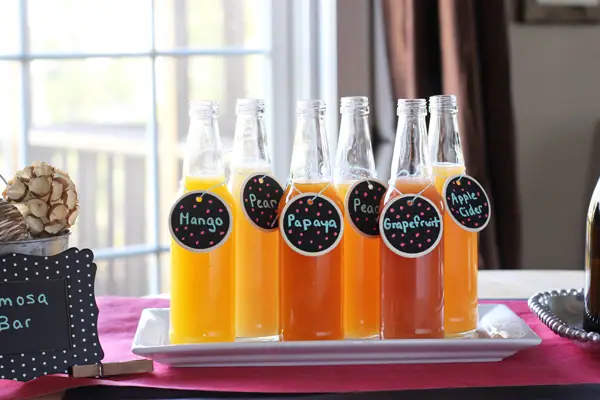 So let's get to this.
There are really only a few components to setting up your own mimosa bar – different options for juice, champagne and some fresh fruit for garnish. I set each of these up on the table in the order that you would assemble your mimosa.
I do think it is important to label the different juice options, so that your guests don't have to be constantly asking you what they all are. And so you don't have to be constantly answering that question!
All the little tags that you see in the pictures were from our local craft store. I used chalk markers to write everything out and baking twine to hang the tags from the jars. The jars that you see are just individual soda bottles (also from our local craft store).
What I loved about this set up is that you can have other bottles of juice already filled and ready to go in your fridge – that way if your guests go through a flavor, you can just pull another one out and then just slip the hanging tag onto the new bottle. Easy peasy.
A few more tips / suggestions for setting up your own mimosa station:
1. Make sure that you have plenty of champagne flutes or whatever type of glasses you plan to serve the mimosas in. These can be real glasses or just disposable ones.
2. Make sure that everything is nice and chilled. I don't have any sort of containers that I can put ice in and leave out, so I put smaller quantities out at a time (and kept the rest in the fridge and replenished as needed).
3. If you are like me, you won't be able to resist dressing up the table a bit. I had a simple "mimosa bar" sign and wrote out "instructions" on chalk paper. Just to pretty it all up.
4. I also think it would be nice to set out some sparkling water for guests who don't want alcohol. This way they can still get in on the fun and enjoy something bubbly! We mix juice all the time with sparkling water for a little something different – it's still delicious, I promise!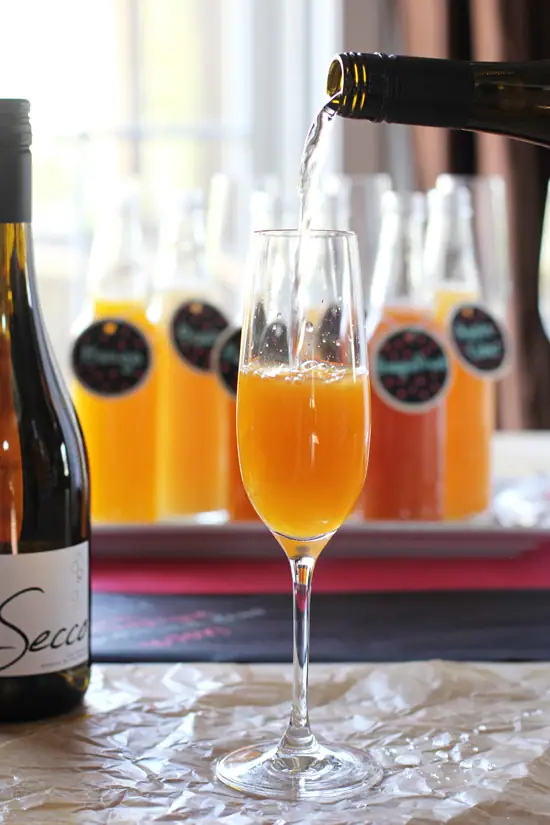 Clink! Cheers to Monday!
PS – aren't my friends such good hand models? And super patient with my, wait, stop, clink again over here!
Yield: 6 to 10 mimosas per bottle of champagne
How To Set Up A DIY Mimosa Bar
Learn how to set up a DIY mimosa bar for parties! Simple, yet impressive. Perfect for showers and brunches!
Ingredients:
Juice ideas:
orange (or blood orange) juice
apple cider
grapefruit juice
pear juice
mango juice
papaya juice
peach juice
guava juice
passion fruit juice
pomegranate juice
watermelon juice
For serving:
dry champagne or prosecco
fresh fruit for garnish (like berries, orange slices, etc.)
Directions:
Pour desired amount of juice into a champagne flute (I like to fill half the glass with juice). Fill the rest of the glass with the champagne or prosecco. Top with fresh fruit for garnish. Serve!
Servings per bottle will vary – it depends on the juice to champagne ratio you and your guests use!