Blackberry Coconut Bulgur Breakfast Bowl
This creamy, dreamy blackberry coconut bulgur breakfast bowl is a delicious way to switch up your morning routine! Filled with whole grain bulgur, blackberry sauce, coconut milk and nuts, it's dairy free and vegan.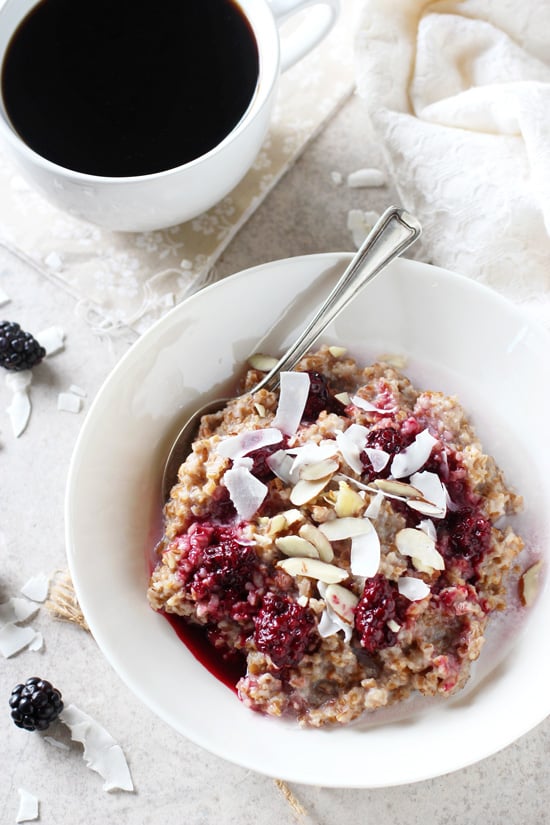 Isn't this just the prettiest bowl of breakfast goodness? It stole my heart just on looks alone.
Plus, there are blackberries involved and I am such a blackberry fool at the moment.
My husband? He's not quite at the fool status that I am. Then again, I have a tendency to take things a little overboard when it comes to my food crazes.
So maybe, just maybe, it's because I have been shoving them down his throat these last few weeks. Hmpf.
So it was probably a good thing that after the first go-around, I tested this recipe while he was out of town. But really, that was a win for me because that meant more of this bulgur breakfast bowl went straight into my belly.
So, blackberries aside for a minute, we all know I have been on the farro train for some time.
But bulgur. Bulgur and I are becoming fast friends. Maybe even best friends. And you should too!
Bulgur is a whole grain that has a slight nutty flavor and a bit of chew – just like my beloved farro.
But, it cooks fast. Like 15 minutes or less. And considering I seem to always be short on time and running around like a crazy person, this is a huge plus.
So what we have today is sort of like a spin on regular oatmeal. Because we are using my new favorite instead – bulgur.
Which when cooked with some milk (and water), takes on a similar consistency to creamy dreamy steel-cut oats (another favorite of mine). But like I said above, it's fast. Faster than my normal steel-cut oats.
Mix-Ins For This Bulgur Breakfast Bowl
Now let's talk mix-ins.
To make that gorgeous purple-y swirl, we'll quickly simmer some blackberries with a touch of maple syrup and lemon juice. They'll break down and get nice and syrupy. Perfect for swirling into the bulgur base.
You can eat the blackberry mixture right away (well, after letting it cool so you don't burn yourself) or stick it in the fridge to chill first, where it will thicken up a tad.
I also like to serve this with a good splash of coconut milk, some nuts for crunch and some unsweetened coconut flakes.
Depending on how sweet you typically like your oatmeal, you may also want to drizzle on some extra maple syrup.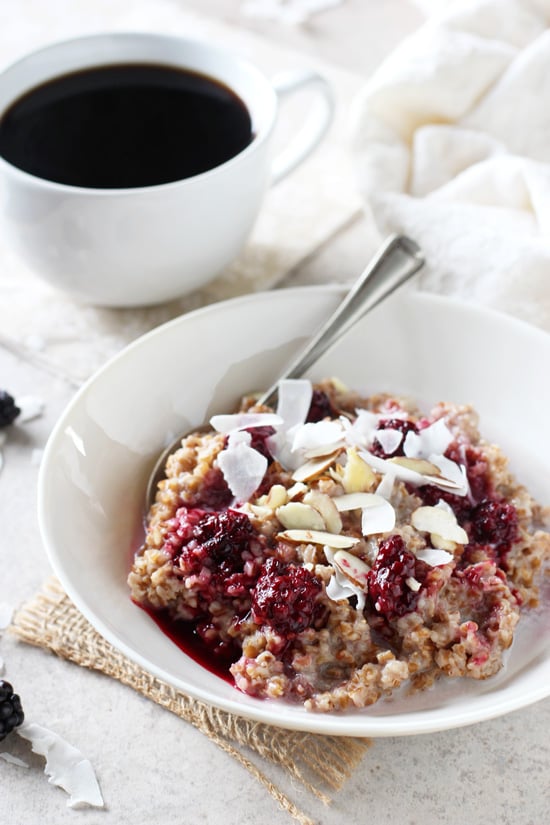 Additional Breakfast Recipes You Might Enjoy:
Did you make this recipe? Rate and review it down below! I'd love to hear from you.
Blackberry Coconut Bulgur Breakfast Bowl
This creamy, dreamy blackberry coconut bulgur breakfast bowl is a delicious way to switch up your morning routine! Filled with whole grain bulgur, blackberry sauce, coconut milk and nuts, it's dairy free and vegan.
Ingredients
For the bulgur:
1 cup (medium grind) bulgur
1 cup water
2 cups coconut milk
½ teaspoon ground cinnamon
¼ teaspoon ground nutmeg
2 tablespoons pure maple syrup (or more to taste)
For the blackberries:
12 ounces fresh blackberries
1 ½ tablespoons pure maple syrup
juice of ½ a lemon
½ teaspoon vanilla extract
For serving:
additional coconut milk and/or maple syrup
unsweetened coconut flakes, toasted if desired
chopped nuts
Instructions
For the bulgur:
Add the bulgur, water and coconut milk to a medium saucepan. Bring the mixture to a boil, give it a stir, then cover and reduce the heat. Allow the mixture to simmer gently for about 12 to 15 minutes, until the bulgur is tender and most of the liquid has been absorbed (it should be similar to a thick and creamy steel-cut oatmeal in texture). The bulgur should be tender but have a bit of chew.
Remove from the heat. Stir in the cinnamon, nutmeg and maple syrup.
For the blackberries:
Meanwhile, add the blackberries, maple syrup and lemon juice to a small saucepan set over medium heat. Let the mixture cook for about 10 to 12 minutes, stirring occasionally, until the berries have broken down a bit and are sort of syrupy, but there is still texture and chunks. If the mixture goes beyond a simmer during the cook time, turn down the heat so that it is simmering. Remove from the heat and stir in the vanilla.
To serve:
Let the bulgur and the blackberry mixture cool for at least 10 minutes or so before eating.
Add some of the bulgur to a bowl. Swirl in a generous amount of the blackberry mixture, then add in some additional milk and/or maple syrup if desired. Top with some coconut flakes and nuts. Serve immediately.
Notes
This can be made in advance - just store all the components in separate containers in the refrigerator. When reheating the bulgur, I like to add in a generous splash of milk to loosen it back up a bit. The blackberry mixture will thicken up slightly once cool.
You may have extra blackberry sauce after you eat all the bulgur (depending on how much you use) - don't throw it away! It's delicious on toast, swirled into yogurt, however you can think to use it.
Nutrition Information:
Yield:

4
Serving Size:

1
Amount Per Serving:
Calories:

380
Total Fat:

25g
Saturated Fat:

21g
Trans Fat:

0g
Unsaturated Fat:

2g
Cholesterol:

0mg
Sodium:

59mg
Carbohydrates:

41g
Fiber:

7g
Sugar:

22g
Protein:

5g
Nutrition data shown is an estimate provided by an online calculator and is for informational purposes only. It should not be considered a substitute for a medical professional's advice.