Cajun Quinoa with Sausage and Kale
Today we talk man food. Okay, that kind of made me chuckle. But the husband declared that this cajun quinoa is a man meal so I'm rolling with it. Although, apparently I don't normally make man food?
Then again, when I look at this dish all I see are the super pretty, vibrant colors. So in my mind, it's girly. So there's that too.
But regardless, it is a pretty awesome meal. Man, woman, we can all agree that this quinoa dish is a win.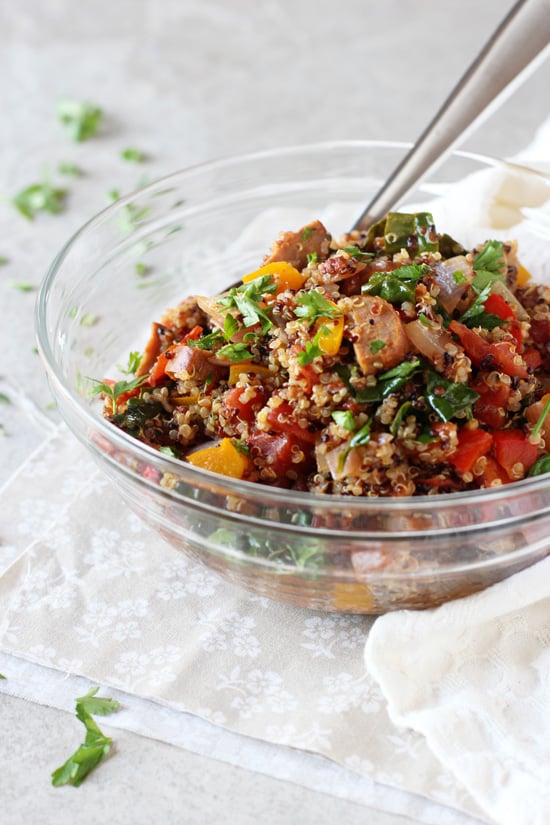 So let's discuss why. First off, you can have it on the table in about 40 minutes. Some chopping, some simmering of the quinoa, some sautéing of the vegetables. Pretty easy stuff!
And then we have all those colorful healthy components. Most notably plenty of veggies – like red onion, orange and red peppers and kale.
We also have some fire-roasted diced tomatoes, some cooked andouille sausage and of course the quinoa (I have a strong preference for the tri-colored kind but you can definitely use regular if you like!).
Finally, we pump it up even more with plenty of spices, like garlic, cajun seasoning, smoked paprika and a touch of cayenne for a bit of heat.
All combining into a delicious, healthy party on the dinner table. And the leftovers are excellent heated up for lunch.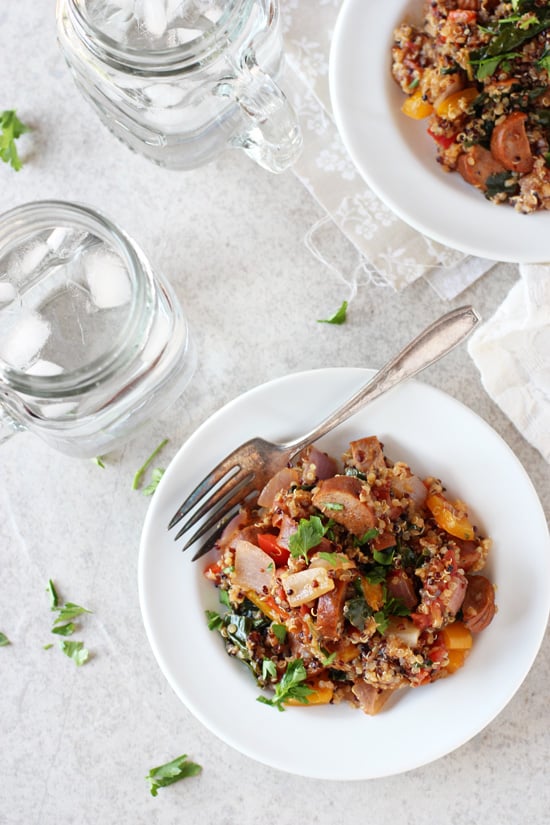 I like to serve with a big awesome salad on the side. Perrrrfecto.
Cajun Quinoa with Sausage and Kale
Prep Time: 15 minutes
Cook Time: 25 minutes
Total Time: 40 minutes
Recipe for weeknight cajun quinoa with sausage and kale. Filled with colorful veggies and plenty of spices, this easy meal is sure to please!
Ingredients:
For the quinoa:
1 cup uncooked tri-colored quinoa, rinsed
2 cups low-sodium vegetable (or chicken) broth
For the skillet:
2 tablespoons olive oil
1 medium red onion, chopped
1 medium red bell pepper, chopped
1 medium orange bell pepper, chopped
2 cloves garlic, minced
1 (14-ounce) can fire-roasted diced tomatoes
2 links cooked andouille sausage, halved lengthwise then sliced
2 cups chopped kale
1 ½ teaspoons cajun seasoning
½ teaspoon smoked paprika
½ teaspoon salt
¼ teaspoon cayenne pepper
¼ cup milk
fresh chopped parsley, for garnish
Directions:
For the quinoa:
Add the quinoa and vegetable broth to a medium saucepan. Bring the mixture to a boil, give it a stir, cover, then reduce the heat and let simmer for about 15 minutes, until the broth is absorbed. Turn off the heat and let the pan sit covered for about 5 minutes, then fluff the quinoa with a fork.
For the skillet:
After the quinoa has been simmering for about 5 minutes, set a large skillet over medium heat. Add in the olive oil. When hot, add in the onion and both peppers. Cook for about 5 minutes, until tender. Add in the garlic and cook for 30 seconds, until fragrant. Add in the tomatoes, sausage, kale, cajun seasoning, paprika, salt, cayenne and milk. Give the mixture a good stir and then let cook for 5 minutes, stirring occasionally. Turn off the heat.
Add the cooked quinoa to the skillet and mix to combine (it will be a tad saucy – for lack of a better word!). Let stand for 5 minutes before serving. Garnish with the fresh parsley.
Pssst. Looking for more easy recipe ideas? You can check out the hands off spanish (i.e. mexican) rice recipe I created for Oh My Veggies!
Get it here —> Veggie-Packed Spanish Rice