Pumpkin and Brussels Sprout Gnocchi
This pumpkin and brussels sprout gnocchi is the perfect fall dinner! With a creamy pumpkin sauce and pan-roasted sprouts, you can have this cozy meal on the table in 35 minutes or less. Vegetarian with a dairy free option.
It's official. I am 100% on board the pumpkin express for the season.
This has been cemented by the oh so chilly I-need-to-bust-out-scarves-and-boots weather that has officially descended upon North Carolina.
Bring on the fireplaces, blankets, slippers and another big bowl of this pumpkin and brussels sprout gnocchi.
Which we've had three times over the last three weeks. My husband is about to put the kibosh on any plans of mine to make this yet again. But me? I say bring it on.
Because friends, how can one turn down pillow-y delicious gnocchi mixed together with pan-roasted brussels sprouts and topped with a creamy dreamy pumpkin sauce?
He's mad I tell you. Especially since you can have this on the table in just slightly over 30 minutes.
How To Make Creamy Pumpkin Gnocchi
We'll start by cooking up some potato gnocchi in a saucepan. One of my favorite things about gnocchi is that they only take a few minutes to cook (they'll float to the top of the water when done).
Meanwhile, we'll pan-roast some brussels sprouts in a large skillet, along with some onion, garlic and honey (which balances out the sprouts perfectly!). Once tender and browned, we'll move those gorgeous veggies out of the skillet and set them aside for a hot minute.
The same skillet goes back over the heat and we'll simmer together some pumpkin puree, milk and broth. It's so silky and creamy and packed with pumpkin (i.e. not so bad at all for you!).
Everything gets mixed on together, combining into sauce-y, pumpkin-y perfection.
And please, oh please, don't skip the pumpkin seeds. They add the perrrrfect finishing crunch. Crunch, crunch, crunch.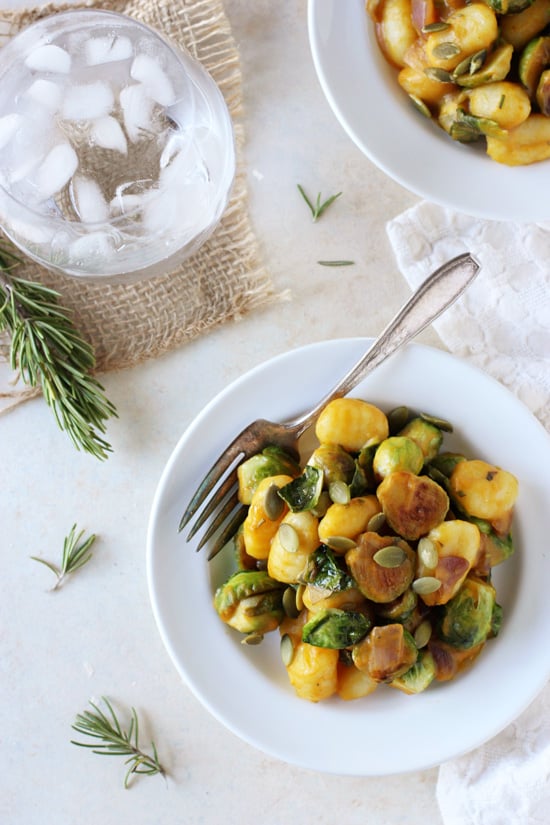 Additional Pumpkin Recipes You Might Enjoy:
Did you make this recipe? Rate and review it down below! I'd love to hear from you.
Pumpkin and Brussels Sprout Gnocchi
Yield:
about 4 to 6 servings
This pumpkin and brussels sprout gnocchi is the perfect fall dinner! With a creamy pumpkin sauce and pan-roasted sprouts, you can have this cozy meal on the table in 35 minutes or less. Vegetarian with a dairy free option.
Ingredients
1 (about 18 ounce) package potato gnocchi*
2 tablespoons olive oil
1 medium red onion, chopped
2 cloves garlic, minced
1 pound brussels sprouts, trimmed and halved lengthwise (quartered if large)
1 tablespoon honey
¼ teaspoon red pepper flakes
¾ cup pumpkin puree (not pumpkin pie filling)
½ cup unsweetened plain almond milk (or milk of choice**)
½ cup low-sodium vegetable broth
1 ½ teaspoons minced fresh rosemary
½ teaspoon salt
¼ cup freshly shredded parmesan cheese***
pumpkin seeds, for garnish
Instructions
Bring a large pot of lightly salted water to a boil. Add in the gnocchi and cook according to the package directions (it will take just a few minutes until they float to the top of the water). Drain and set aside.
Meanwhile, set a large skillet over medium heat. Add in the olive oil. When hot, add in the red onion and cook for about 2 minutes, until it starts to soften. Add in the garlic and cook for 30 seconds, until fragrant.
Add in the brussels sprouts, honey and red pepper flakes. Cook for about 8 to 10 minutes, stirring occasionally, until tender and browned. Transfer the mixture to a plate or bowl and set aside.
Set the same skillet back over medium heat. Add in the pumpkin, milk, vegetable broth, rosemary and salt. Mix until combined then bring the mixture to a gentle simmer (increasing the heat slightly).
Let the mixture simmer gently for about 3 to 4 minutes, stirring fairly often, until it thickens up a bit (it won't be really thick - just saucy), reducing the heat as needed. Turn off the heat.
Add in the drained gnocchi and parmesan and mix to combine. Add in the brussels sprout mixture and mix again to combine.
Spoon some of the pasta onto a serving dish. Top with a sprinkle of the pumpkin seeds and serve!
Notes
*While most gnocchi is dairy free, some brands do contain dairy. So be sure to check the package ingredients.
**I've also made this using regular whole milk. If you go this route, the sauce will be a bit thicker (and a touch richer as well). You also will not likely have to simmer the sauce for quite as long, as it thickened up faster for me this way. Other non-dairy milks will likely behavior more similar to the almond milk.
***To keep this dairy free - omit the parmesan cheese (it's still delicious!). Or, you can substitute with a dairy free cheese of choice.
Nutrition Information:
Yield:

6
Serving Size:

1
Amount Per Serving:
Calories:

362
Total Fat:

10g
Saturated Fat:

3g
Trans Fat:

0g
Unsaturated Fat:

7g
Cholesterol:

36mg
Sodium:

351mg
Carbohydrates:

58g
Fiber:

5g
Sugar:

11g
Protein:

11g
Nutrition data shown is an estimate provided by an online calculator and is for informational purposes only. It should not be considered a substitute for a medical professional's advice.