Homemade Hot Chocolate Gift Packages
These homemade hot chocolate gift packages are a fun and festive treat to give to friends and family during the holidays!
Homemade gifts from the kitchen! They are the best!
Especially when chocolate is involved. Just sayin.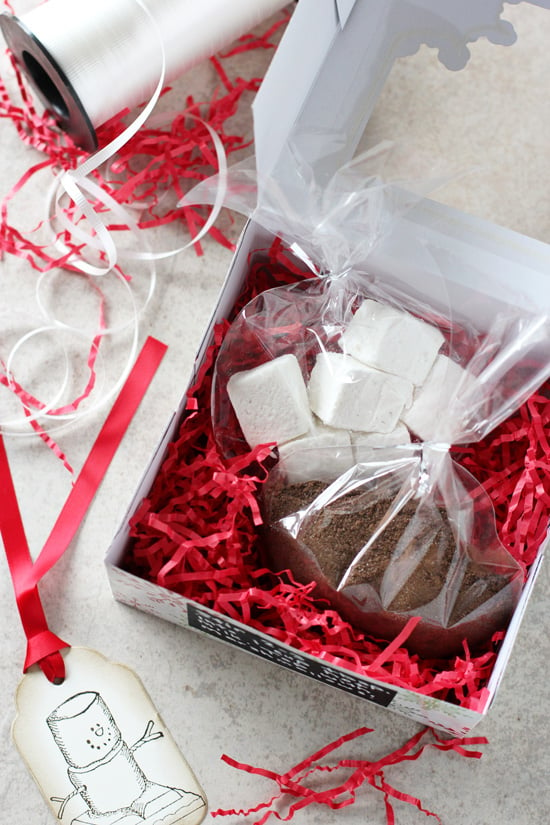 I realize that it is less than two weeks until Christmas. But! If you are anything like me this year, you likely still need some last minute gift ideas.
Which is where I come in. With the good stuff.
I actually made these hot chocolate gift packages LAST Christmas for neighbors and a few other people who I wanted to give a small token of thanks / happy holidays / you catch my drift.
And I will not lie – I was pretty darn proud of myself for taking pictures of them before handing out … and then actually remembering to share with you this year.
Points to myself.
But anyway, I am a sucker for homemade gifts. Both giving and receiving them. I know not everyone may feel the same way, but I think they are thoughtful and they always always make me smile.
So! Let's chat about how I put these little numbers together.
I personally think that with homemade gifts it's all in how you present it. You can make the gift so fun and festive (and look like you put some thought into it).
Instructions / links to the recipes are included down below, but first a few tips on where I found everything (PS none of this is sponsored – just me telling you where I purchased it all):
The snowflake boxes, red filler and individual bags for the cocoa and marshmallows were all from Michaels (I've also previously grabbed similar boxes and the like from other craft and cooking stores).
The chalkboard tags / stickers for the written instructions for the cocoa were also from Michaels.
The s'mores snowman tags? Got those little cuties on Etsy! You can find them here!
And lastly! Some other fun suggestions.
Of course I didn't think of these until after I gave the packages out. Whomp whomp.
Make the packages boozy! Include a little bottle of Kahlua or Baileys.
Add other fun toppings for the hot cocoa – like cookie straws, chopped candy, or cinnamon sticks!
Totally adorable.
Additional Homemade Gift Ideas You Might Enjoy!
Did you make these packages? Rate and review them down below! I'd love to hear from you.
Homemade Hot Chocolate Gift Packages
These homemade hot chocolate gift packages are a fun and festive treat to give to friends and family during the holidays!
Ingredients
1 batch homemade marshmallows*
1 batch homemade hot chocolate mix
individual clear bags for the marshmallows / cocoa
festive filler
festive boxes
gift tags and ribbon
other fun extras if desired (see post above for ideas)
Instructions
Make both the homemade marshmallows and homemade hot cocoa mix.
Package both up in individual clear bags.
Add some of the filler to each box, then place the packaged marshmallows and hot cocoa inside. Include instructions for making the hot chocolate.
Decorate boxes with gift tags and ribbons as desired!
Notes
*For the homemade marshmallows – you can use any flavor you would like! Suggestions include: raspberry marshmallows, champagne marshmallows, pumpkin spice marshmallows. Pictured are plain vanilla marshmallows (I used the same base recipe for all three linked and just added more vanilla extract).
One batch of both the homemade marshmallows and the homemade hot cocoa mix gave me enough for well over 10 gifts. This will vary based on how you package everything up, but just to give you a general idea.