Bride and Groom Truffles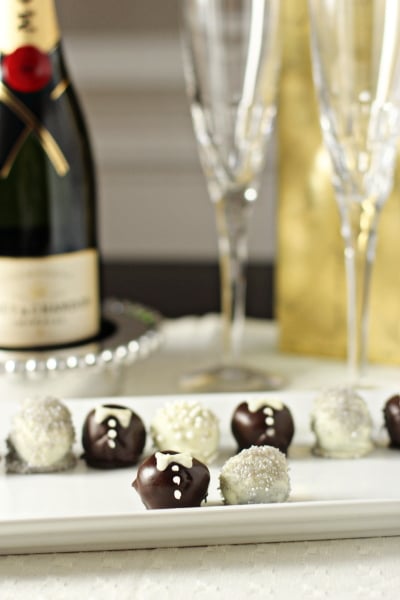 A few weeks ago, my husband asked me to make an edible gift for a couple who were about to tie the knot.  Both the soon-to-be bride and groom had tried these oreo truffles several months back and had mentioned a few times how much they enjoyed them.  So my husband requested that I somehow incorporate those truffles along with a wedding theme.
My first thought was just to package them up all pretty in white or silver, or something along those lines.  But then I got to thinking.  Wouldn't it be more fun to incorporate the wedding theme right into the truffles?  For the favors at our own wedding we had "bride and groom" brownie pops.  So I decided to try to do something similar.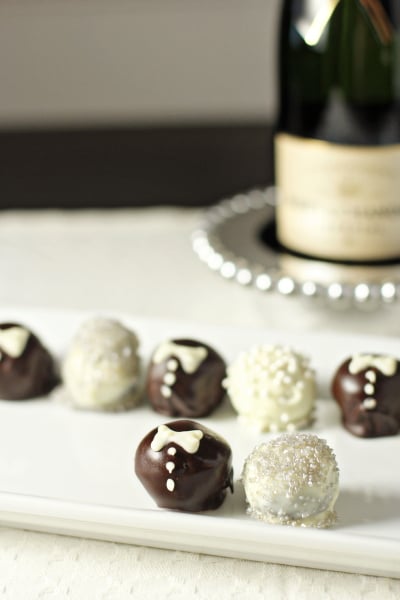 First off, let me just say that I'm no professional and that the brownie pops at our wedding looked much better. Ha.  But it's the thought that counts right?  And these turned out pretty cute, if I do say so myself.  Seeing as how I'm a complete perfectionist, I started to complain to my husband and wondered if I should start from scratch (you know, to get them to look a little more perfect).  He told me they looked great and that I should call them rustic bride and groom truffles.  And then he told me to stop being crazy.  Point taken.
Now, you can obviously use any flavor of homemade truffles to make these.  I used the oreo ones this time, but I have another seasonal version coming at you soon that would also work great.  Or use your imagination – the sky's the limit.
Bride and Groom Truffles
Recipe for homemade bride and groom truffles. A how-to tutorial to make these cute favors yourself! Also great for gifts!
Ingredients:
homemade truffles (shaped into balls and chilled but not dipped in chocolate)*
good quality dark chocolate, chopped
good quality white chocolate, chopped
silver shimmer sprinkles and/or white sugar pearls
piping bag and small tip
Directions:
Line two baking sheets with wax paper and set aside.
Once your truffles are thoroughly chilled, begin by melting the dark chocolate to make the "grooms." To do this, add the chopped chocolate to a microwave safe bowl. Microwave at 50 percent power for 30 second intervals until the chocolate is completely melted. Using two forks, dip the balls into the melted chocolate so they are well coated, shake off the excess and then place on one of the prepared baking sheets to dry. Repeat with half of the truffles.
Once you have dipped half of the truffles in the dark chocolate, melt the white chocolate in a separate bowl using the same method described above. To make the "brides," dip the remaining half of the truffles in the white chocolate one at a time. After you set each truffle on the other prepared baking sheet, sprinkle the truffle generously with the silver shimmer sprinkles or the sugar pearls. You want to do this before the chocolate has a chance to set. Do not roll the truffles in the sprinkles (that will result in a giant mess – or maybe that's just me). Alternatively, you can use the sugar pearls to make a pattern on the truffle (on some of the truffles I put them in a little circle to resemble a necklace). Repeat with the remaining truffles.
Once the "grooms" have had a chance to set, melt a small amount of white chocolate. You want it to be melted but not too runny. For this portion, I was able to use the remainder of white chocolate from dipping the "brides." My "grooms" were set enough after I finished dipping all the "brides" in the white chocolate. Spoon the chocolate into a piping bag fitted with a small tip (I used a #2 tip). Pipe the bow ties and buttons on the groom truffles. I did a few test runs on the wax paper to make sure I had it down before doing it directly on the truffles. This is also a good way to make sure your chocolate is not too runny and will hold its shape.
Let the chocolate set completely before removing the truffles from the baking sheets. Refrigerate until ready to serve.
*Once you have your truffles shaped into balls, make sure they have chilled so that they can harden before you dip them in chocolate. Otherwise you'll end up with a gloppy mess.
Quantities for the chocolate will depend on how many truffles you are making. You can see this recipe for oreo truffles to get an idea of how much I used. I used just a tad more white chocolate to make these bride and groom truffles.
Cook Nourish Bliss. Inspired by our own wedding favors.