Pineapple Cashew Quinoa Fried Rice
Healthy and easy pineapple cashew quinoa fried rice! Sweet, savory and packed with protein from the quinoa! On the table in about 30 minutes!
The husband told me about 10 times that I shouldn't call this recipe fried rice. And yet here I am snickering to myself as I title this post quinoa fried rice.
I can be so lovely, huh? No, but seriously. It really is just like fried rice!! Same method, same sort of overall feel. Except there's quinoa instead. So while I totally see his point, we're going with this. I'm sticking to my guns. Orrrr just being stubborn. Ahem, maybe.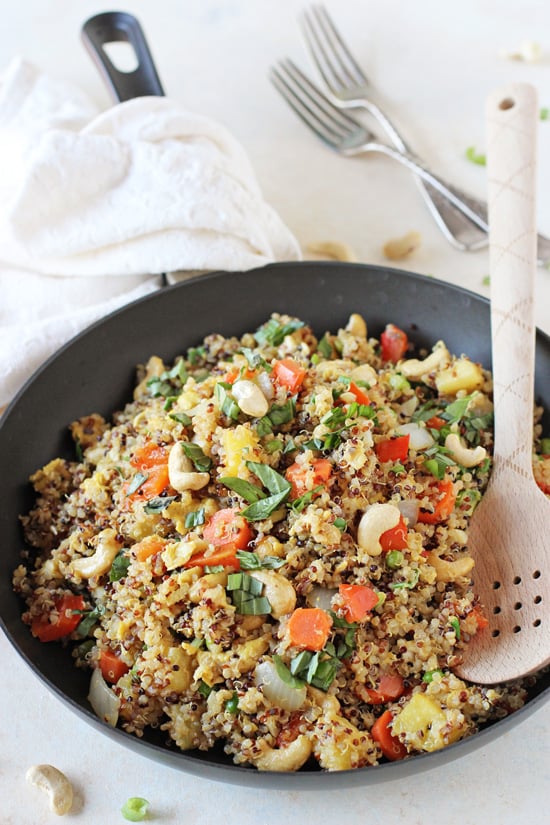 ANYWAY, I know that I am by no means the first person to sub out the rice in fried rice for something else. But it's just so fun! And we really loved this version so clearly I had to share.
Because most importantly, there is fresh pineapple involved. And pineapple + cashews = major dinner love. It's got that sort of warm weather vibe going on with those flavors.
Which I suppose, it's time to embrace considering it reached 90 degrees here last week (or the week before, I can't remember). What is that? Just no. No, no, no. It's way too early for that kind of heat!
Ranting about the weather aside, let's get back to business. Today's recipe is basically a slightly modified version of our all-time favorite vegetable fried rice. I switched up a few of the mix-ins (like no mushrooms but adding the pineapple!) and then obviously replaced the grain with quinoa.
Come dinner, we proceeded to eat an obnoxious amount in one sitting, like always. I don't know what it is about this type of dish, but I just can't stop shoveling it into my mouth.
Tips & Tricks For This Quinoa Fried Rice
Be absolutely, 100% sure to use cold quinoa!! You need the cold quinoa against the hot skillet, which gives it that toasted, fried flavor. Plus, it gets mushy if you use freshly made hot quinoa instead. Got it? Okay good.
Moving on, I think this would be awesome with any number of different protein options added in. So knock yourself out!! Get creative!
The whole dish is quite fast since we're using that cold quinoa, but to save even more time you can chop the veggies and pineapple in advance.
I personally think that quinoa has an earthier sort of taste than regular rice, so I find that I need a touch more soy sauce with this version. But! Start with less and then taste and adjust. You can always add more but can't take it out!
Oh! And make sure you have plenty of sriracha on hand for serving. So good! And yet, not pictured. Womp womp.
Additional Healthy Fried Rice Recipes You Might Enjoy!
Did you make this recipe? Rate and review it down below! I'd love to hear from you.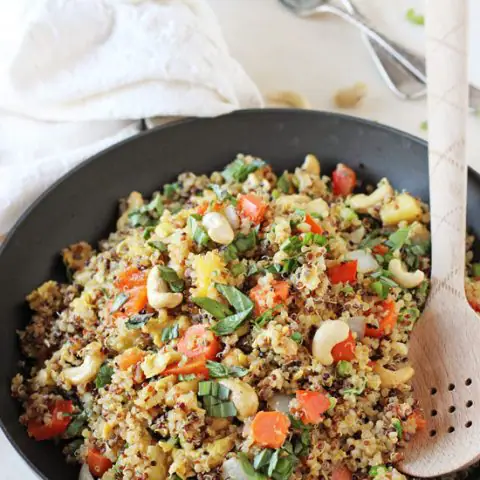 Pineapple Cashew Quinoa Fried Rice
Healthy and easy pineapple cashew quinoa fried rice! Sweet, savory and packed with protein from the quinoa! On the table in about 30 minutes!
Ingredients
3 ½ tablespoons olive oil, divided
½ of a medium onion, chopped
3 cloves garlic, minced
1 (1-inch) piece fresh ginger, grated
1 cup chopped fresh pineapple
1 large carrot, peeled and chopped
1 medium red bell pepper, chopped
½ cup frozen peas
4 large eggs, beaten with a fork
½ cup thinly sliced green onions
about 5 ½ cups cooked quinoa, cold*
1 cup raw cashews
about 3 to 5 tablespoons low-sodium soy sauce or tamari (or to taste)
sriracha and chopped fresh basil, for serving
Instructions
Set a large nonstick skillet over medium heat. Add in 2 tablespoons of the olive oil. When hot, add in the onion and cook for about 2 minutes, until it starts to soften. Add in the garlic and ginger, then cook for 30 seconds, until fragrant. Add in the pineapple and cook for 2 minutes. Add the carrot, red pepper and peas to the skillet. Continue to cook for about 3 to 4 minutes, until the carrot and pepper are crisp tender. Remove the mixture with a slotted spoon to a medium bowl.
Add another ½ tablespoon of the olive oil to the skillet. Add in the eggs and green onion. Cook, stirring frequently, until the eggs are scrambled. Remove to the bowl with the veggies.
Add the remaining 1 tablespoon olive oil to the skillet, then add the cold quinoa. Cook for about 3 to 4 minutes, stirring frequently and breaking up any clumps with a wooden spoon, until heated through and toasted. Turn down the heat to medium low, then add in the veggie / egg mixture, the cashews and the soy sauce (start with less - you can always add more later!). Mix to combine and continue to cook for about 1 minute, until everything is hot. Remove from the heat. Taste and season with additional soy sauce if needed.
Serve with sriracha and / or chopped fresh basil, if desired.
Notes
*About 1 ½ cups uncooked quinoa will give you this amount.
I know it can be a pain to use cold quinoa, but please do! It really is essential to getting the perfect texture and taste!! I like to make it on the weekend so it's ready to go during the week.
Nutrition Information:
Yield:

6
Serving Size:

1
Amount Per Serving:
Calories:

488
Total Fat:

24g
Saturated Fat:

4g
Trans Fat:

0g
Unsaturated Fat:

18g
Cholesterol:

124mg
Sodium:

428mg
Carbohydrates:

53g
Fiber:

7g
Sugar:

8g
Protein:

18g
Nutrition data shown is an estimate provided by an online calculator and is for informational purposes only. It should not be considered a substitute for a medical professional's advice.