Brussels Sprout Fried Brown Rice
Today we combine two of my very favorite things … brussels sprouts + fried rice!!
Which means it's a good day. A very good day indeed.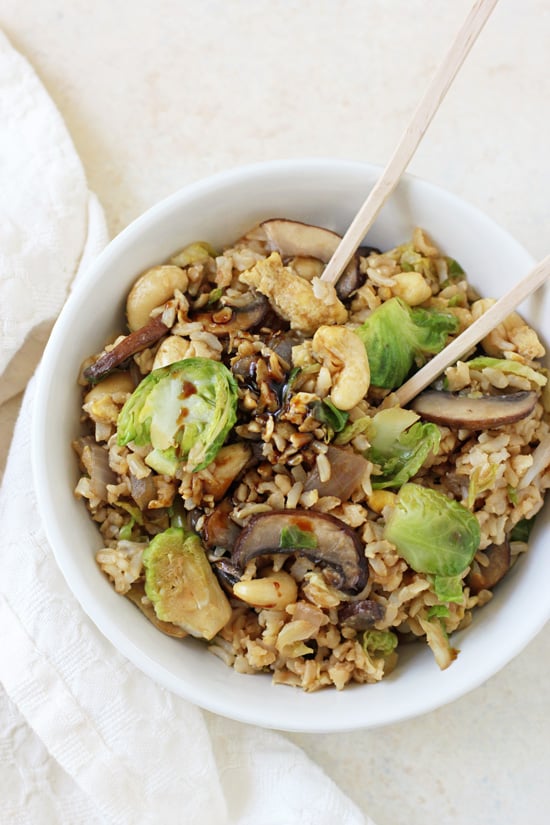 I've been meaning to share this recipe for brussels sprout fried brown rice with you for weeks. Weeks! But then I did something really silly and accidentally deleted all the photos I took of the dish. Womp womp. <— This is what I get for rushing and trying to do a bazillion things at the same time.
Lesson learned, lesson learned.
ANYWAY. It's here! And since brussels sprouts are green that means it's totally appropriate for spring. Yes? Yes. We'll go with that.
Now, this recipe is basically a fun take on our favorite vegetable fried rice. Which is a total staple at our house and has a very classic flavor, if you will.
Today's version is similar … just with a bit of spunk! We enjoy this frequently for dinner as a main dish, but it could absolutely work as a side as well.
It's simple, it's tasty AND it can be on the table in right around 35 minutes. Perrrrfect-o.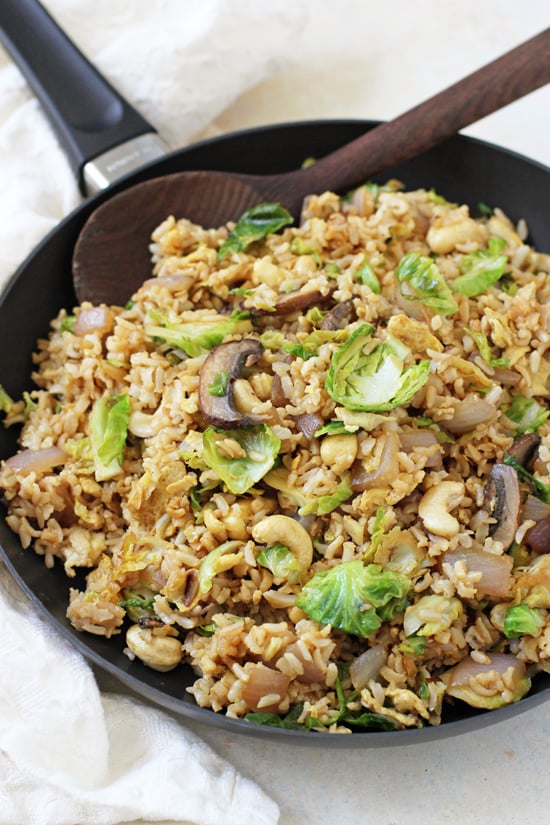 Tips & Tricks For This Brussels Sprout Fried Brown Rice
I know it's a pain to use cold rice, but please please please do!! This really is key for texture – if you use warm / hot rice, it will get mushy. I like to cook the rice on the weekend, that way it's ready to go during the week for a quick meal.
Also important!!! Once the cold rice is added to the skillet, we cook it for three to four minutes, which gives it that awesome "toasted" flavor. This part is essential for the taste – so don't try to skip / rush it!!
Now, the rice itself. I use about 1 ½ cups of uncooked brown basmati rice (cooked according to the package directions) to get the 6 cups. But check your package directions and follow those.
If your skillet ever gets too dry during the cooking process, just add in a splash of olive oil!
And finally, start with the lower amount of the soy sauce and then add more to taste as desired. You can always add more but can't take it out!!
So. Who else can eat an obnoxious amount of fried rice in one sitting? Or, or this pineapple cashew quinoa fried rice??? I think I have a fried rice problem…
Did you make this recipe? Rate and review it down below! I'd love to hear from you.
Brussels Sprout Fried Brown Rice
This healthy, easy and fast brussels sprout fried brown rice is hard to resist! Filled with mushrooms, cashews and of course, brussels sprouts!
Ingredients
3 to 3 ½ tablespoons olive oil, divided
1 medium red onion, chopped
10 ounces brussels sprouts, trimmed and thinly sliced
8 ounces baby bella mushrooms, stemmed and sliced
3 cloves garlic, minced
1 (1 to 1 ½-inch) piece fresh ginger, grated
4 large eggs, beaten with a fork
6 cups cooked long grain brown rice, cold*
¾ cup raw cashews
3 to 4 tablespoons low-sodium soy sauce or tamari, or to taste
sriracha and / or additional soy sauce, for serving
Instructions
Set a large nonstick skillet over medium heat. Add in 2 tablespoons of the olive oil. When hot, add in the onion. Cook for about 2 to 3 minutes, until it starts to soften. Add in the brussels sprouts and mushrooms. Cook for about 6 to 8 minutes, until the sprouts are tender but a touch crisp. Add in the garlic and ginger and cook for 30 seconds, until fragrant. Remove the mixture to a medium bowl.
If the skillet is dry, add in ½ tablespoon more oil and give it a swirl. Add in the eggs and cook, stirring frequently, until scrambled. Remove to the bowl with the veggies.
Add the remaining 1 tablespoon olive oil to the skillet, then add the cold rice. Cook for about 3 to 4 minutes, breaking up any clumps of rice with a wooden spoon and stirring occasionally, until heated through and toasted.
Turn down the heat to medium low, then add in the veggie/egg mixture, the cashews and the soy sauce. Mix to combine and continue to cook for about 1 minute, until everything is nice and hot. Serve as desired.
Notes
*See post above for a few important tips & tricks for the recipe!
Nutrition Information:
Yield:

6
Serving Size:

1
Amount Per Serving:
Calories:

472
Total Fat:

20g
Saturated Fat:

4g
Trans Fat:

0g
Unsaturated Fat:

15g
Cholesterol:

124mg
Sodium:

580mg
Carbohydrates:

60g
Fiber:

7g
Sugar:

4g
Protein:

15g
Nutrition data shown is an estimate provided by an online calculator and is for informational purposes only. It should not be considered a substitute for a medical professional's advice.