Healthy Honey Cinnamon Zucchini Bread
Moist and fluffy honey cinnamon zucchini bread! With whole wheat flour, applesauce and walnuts! Perfect for breakfast, snacking or even dessert!
I'll never forget the first time I tried zucchini bread. It was at a summer figure skating training camp in Lake Placid as a teenager (yeah, have we talked about that little blast from the past before? The secret lives of food bloggers eh?).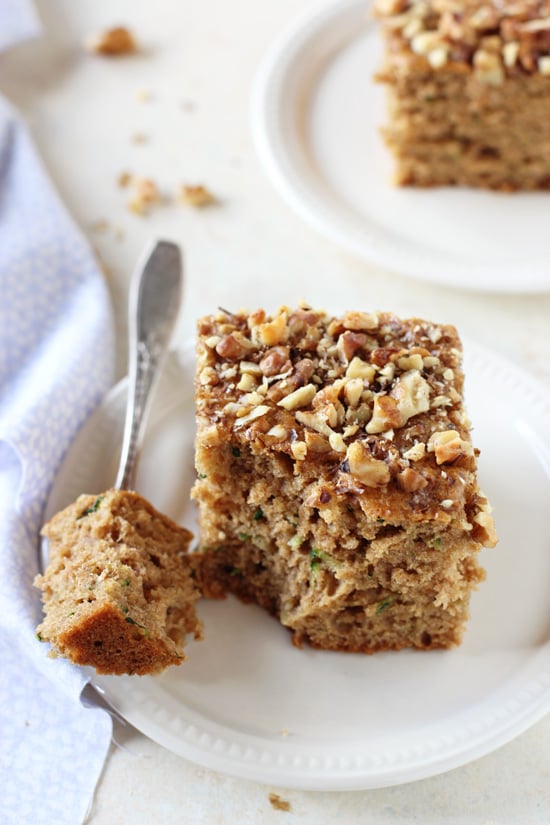 The mom of one of my friends had made several loaves for all us ladies to share during our time at the camp. And I was fully convinced that it was one of the best things I've ever eaten. I mean, there was zucchini in the bread?? It blew my mind.
And then, in true teenage fashion, I promptly forgot about it and never had zucchini bread again until a few years ago. Womp womp.
These days, my obsession is going stroooong. I still absolutely adore this double chocolate whole wheat zucchini bread from last summer, but have been itching to create a more standard version, if you will.
Which brings us to today! And this honey cinnamon zucchini bread! Which took me about a bazillion tries to get just the way I wanted.
Including one time when I dropped an entire (ENTIRE!) canister of flour all over the floor. Yeahhh, that was fun. Especially since it went half in the pantry and half outside the pantry. Let the good times roll!
But! It's finally here – a sweet but not super sweet bread filled with zucchini, honey, whole wheat flour and even some applesauce! It's awesome for breakfast, for a snack, for dessert! Or anytime you pass through the kitchen and want to grab a piece just 'cause.
Tips & Tricks For This Healthy Zucchini Bread Recipe
I would encourage you to stick with the white whole wheat flour here. It helps keep the bread nice and light. Regular whole wheat flour will make the bread heavier and more dense.
Squeeze, squeeze, squeeze the zucchini dry before using! I like to use a dish towel so I can really wring it out. If you don't do this step, the bread gets sort of soggy, for lack of a better word. Which we do not want!
As for that zucchini, about one medium-large (ish) zucchini will get you the required amount (when grated on a box grater).
Please pay attention to the notes section down in the recipe! It contains important info if you choose to use the coconut oil.
Because of the moisture in the zucchini, this bread really only keeps well at room temp (loosely wrapped) for about one to two days. Store the bread in the fridge and it will keep longer!
Might I just add – zucchini bread + a cup of tea = afternoon snack-time happiness.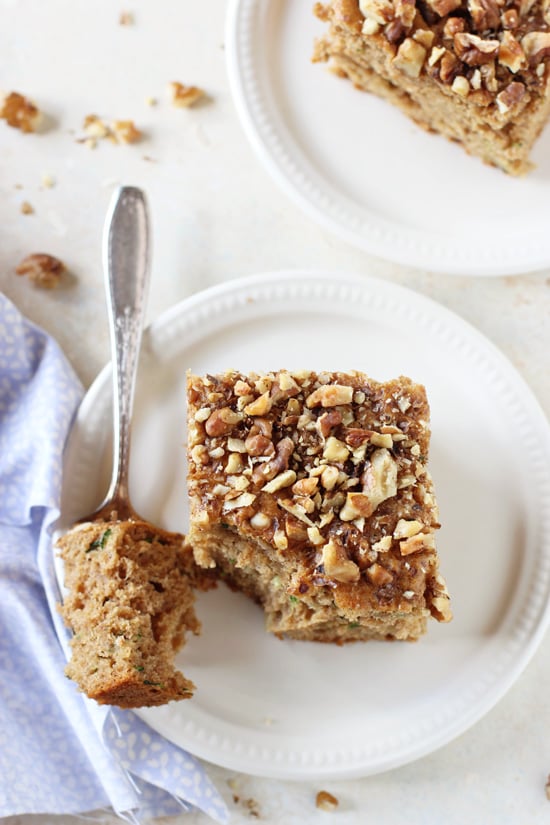 Additional Zucchini Bread Recipes You Might Enjoy!
Did you make this recipe? Rate and review it down below! I'd love to hear from you.
Healthy Honey Cinnamon Zucchini Bread
Moist and fluffy honey cinnamon zucchini bread! With whole wheat flour, applesauce and walnuts! Perfect for breakfast, snacking or even dessert!
Ingredients
1 ½ cups grated zucchini
1 ¼ cups white whole wheat flour
¾ cup all-purpose flour
1 ¾ teaspoons ground cinnamon
¼ teaspoon ground nutmeg
¾ teaspoon baking soda
½ teaspoon fine sea salt
2 large eggs
1 ½ teaspoons vanilla extract
½ cup unsweetened applesauce
¼ cup melted coconut oil OR grapseed oil*
⅔ cup honey
½ cup chopped raw walnuts, for sprinkling
Instructions
Preheat the oven to 350ºF. Line an 8×8 inch baking dish with parchment paper (cut a big enough piece so that the paper hangs over the edges of the pan on two sides). Spray lightly with olive oil or nonstick cooking spray and set aside.
Place the shredded zucchini in a clean dish towel and squeeze to remove the excess moisture. Set aside.
In a large bowl, whisk together the white whole wheat flour, all-purpose flour, cinnamon, nutmeg, baking soda and salt. In a medium bowl, whisk together the eggs, vanilla, applesauce, oil and honey until well combined. Add the wet ingredients to the bowl with the dry ingredients and mix until just combined. Gently fold in the zucchini, then transfer the batter to the prepared pan (it will be a thicker batter). Spread evenly with a spatula, then sprinkle the top with the chopped walnuts.
Bake for about 30 to 35 minutes, or until a cake tester inserted into the middle comes out clean and the bread is golden brown. Set the pan on a wire rack. Let cool completely, then use the parchment overhang to lift out of the pan. Cut into squares.
Notes
*Be sure to melt the coconut oil first, then measure out the correct amount. Otherwise you may use too much!
ALSO! Super important with the coconut oil! If you are using it, let the applesauce, eggs and zucchini come to room temp before using. Otherwise their "coldness" can harden up the coconut oil when you mix it all together.
Nutrition Information:
Yield:

16
Serving Size:

1
Amount Per Serving:
Calories:

165
Total Fat:

6g
Saturated Fat:

3g
Trans Fat:

0g
Unsaturated Fat:

3g
Cholesterol:

23mg
Sodium:

136mg
Carbohydrates:

25g
Fiber:

2g
Sugar:

13g
Protein:

3g
Nutrition data shown is an estimate provided by an online calculator and is for informational purposes only. It should not be considered a substitute for a medical professional's advice.