Veggie Fajita Stuffed Spaghetti Squash
Easy and fun, these veggie fajita stuffed spaghetti squash make for a fantastic meatless meal! With tender squash stuffed with sautéed veggies, black beans and finished with plenty of guacamole. Dairy free, gluten free and vegan.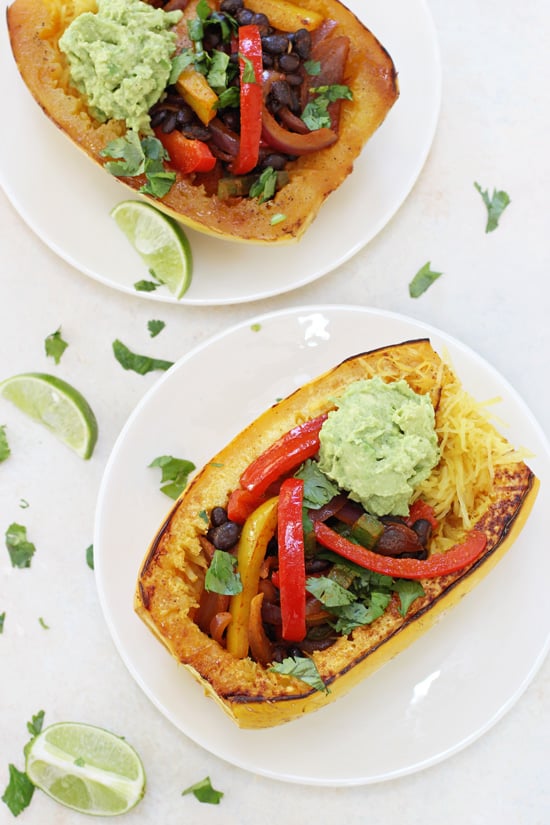 This post is sponsored by USA Pulses & Pulse Canada.
Fajitas! With a twist! A super fun twist to be exact.
Think all the flavors of fajitas that you know and love, stuffed into roasted and oh so tender spaghetti squash. And then topped with a most generous helping of guacamole.
Um, yeah. I think you're going to love these.
So, today's recipe is coming atcha' as part of my partnership with USA Pulses and Pulse Canada to celebrate the United Nations declaring 2016 the International Year of Pulses.
Like we chatted about last week, pulses (or beans, lentils, chickpeas and dried peas) are delicious little superfoods that are packed with protein, nutritious (they are a great source of fiber and iron, among others), and just so darn fun to play with in the kitchen.
For today's recipe, we focus on black beans. Because they may or may not be my favorite. Well, black beans and chickpeas. Don't make me pick.
The black beans get mixed together with crisp tender colorful veggies and plenty of spices. Making for the perfect filling to spoon into our roasted spaghetti squash.
It's healthy. It's easy. It's fun. Does it get any better?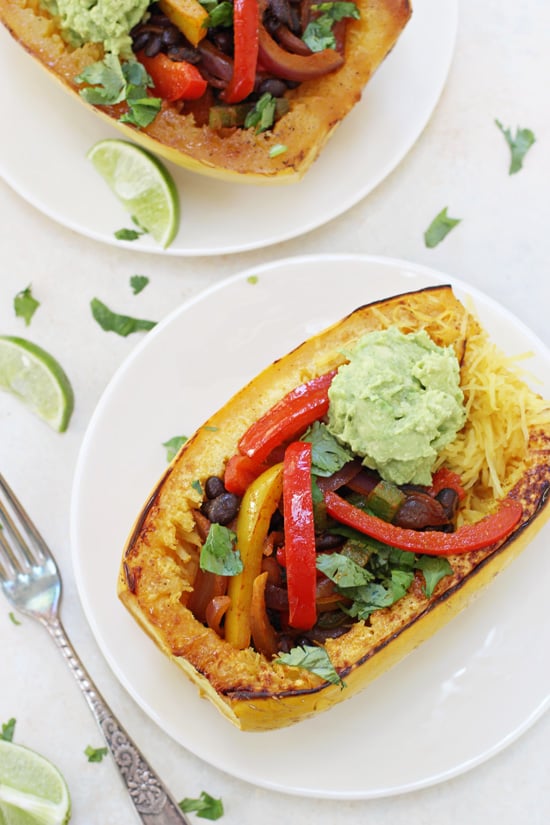 Tips & Tricks For This Mexican Spaghetti Squash
To cut down on the recipe time listed below (I kept the prep & cook times completely separate), start by getting the spaghetti squash going. Once the squash is in the oven roasting away, THEN go ahead and prep all the ingredients for the filling / guac. You'll have more than enough time to do this while the squash roasts.
Roasting time for the spaghetti squash will vary depending on their exact size. You may need to cook it for closer to one hour if they are on the larger end of the size spectrum.
Along those lines, if you are short on time during the week, you can always roast the squash in advance. The filling doesn't take long at all to come together.
As for leftovers, I like to go ahead and scoop the filling into the squash and then either wrap in foil or store in a container. Just be sure to keep the guac separate (it will brown, so you can always just make half the guac up front and make the rest later on when you need it).
If you are feeling crazy, you can serve with some mexican rice on the side – so fajita-esque!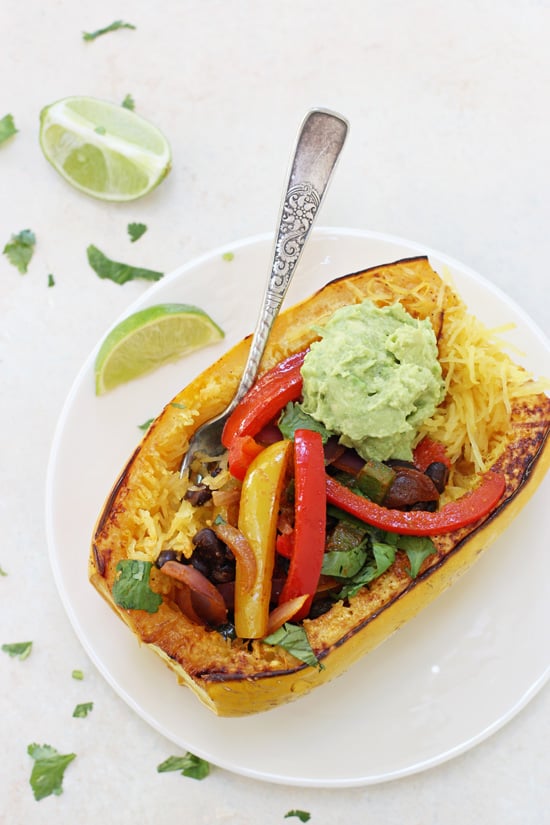 Additional Meatless Mexican Recipes You Might Enjoy:
Did you make this recipe? Rate and review it down below! I'd love to hear from you.
Veggie Fajita Stuffed Spaghetti Squash
Total Time:
1 hour
5 minutes
Easy and fun, these veggie fajita stuffed spaghetti squash make for a fantastic meatless meal! With tender squash stuffed with sautéed veggies, black beans and finished with plenty of guacamole. Dairy free, gluten free and vegan.
Ingredients
For the squash:
2 medium spaghetti squash
olive oil, for brushing
salt and pepper, for sprinkling
For the filling:
2 ½ tablespoons olive oil
1 medium red onion, sliced
1 medium red bell pepper, sliced
1 medium yellow bell pepper, sliced
1 medium jalapeno, seeded and sliced
3 cloves garlic, minced
1 teaspoon chili powder
1 teaspoon cumin
¾ teaspoon smoked paprika
½ teaspoon salt
¼ teaspoon cayenne pepper, or to taste
1 (15 ounce) can black beans, drained and rinsed
For serving:
2 medium ripe avocados, pitted
good squeeze of fresh lime juice
salt and pepper, to taste
chopped fresh cilantro
lime wedges
Instructions
For the squash:
Preheat the oven to 400ºF. Line a large rimmed baking sheet with aluminum foil and set aside.
Cut off the stems of the spaghetti squash. Next, cut each squash in half lengthwise. Spaghetti squash can be hard to cut, so work carefully. Use a spoon to scoop out the seeds and the attached stringy, darker flesh – discard.
Brush some olive oil on the inside of each squash half and then sprinkle with salt and pepper. Place the squash face down on the baking sheet.
Bake for about 40 to 50 minutes, or until the squash is tender (if you take a fork, the flesh should easily scrape into spaghetti-like strands). Let cool for about 5 to 10 minutes, so they are easier to handle.
For the filling:
After the squash has been baking for about 30 to 35 minutes, add the olive oil to a large skillet set over medium heat.
When hot, add in the onion, peppers and jalapeno. Cook for about 5 to 8 minutes, until crisp tender to your liking. Stir in the garlic, chili powder, cumin, paprika, salt and cayenne and cook for about 1 minute, until fragrant and toasted.
Remove from the heat and stir in the black beans. Taste and adjust the seasonings as needed (I usually add a bit more salt).
To serve:
Scoop the flesh of the avocados into a medium bowl. Mash with a fork until mostly smooth. Add in the lime juice, salt and pepper. Mix to combine. Taste and adjust any seasonings as desired.
Flip over the spaghetti squash halves and use a fork to scrape / fluff the squash into spaghetti like strands (leaving a thin layer of flesh around the edges to maintain the shape).
Top each with an equal amount of the filling and a generous dollop of the guac. Sprinkle the tops with cilantro and serve with lime wedges on the side!
Nutrition Information:
Yield:

4
Serving Size:

1
Amount Per Serving:
Calories:

486
Total Fat:

24g
Saturated Fat:

4g
Trans Fat:

0g
Unsaturated Fat:

19g
Cholesterol:

0mg
Sodium:

771mg
Carbohydrates:

65g
Fiber:

20g
Sugar:

17g
Protein:

12g
Nutrition data shown is an estimate provided by an online calculator and is for informational purposes only. It should not be considered a substitute for a medical professional's advice.
This post is sponsored by USA Pulses & Pulse Canada. However, all opinions and content are completely my own. As always, thank you for reading and letting me share brands & sponsors that I love!