Lemon Thyme English Muffin Bread
Bright and herby, this lemon thyme english muffin bread makes for the best toast! Simple to make and no kneading required, you'll have delicious homemade bread in no time. And it freezes beautifully. Dairy free and vegan.
I am fully convinced that homemade bread has magical powers.
Between the smell, the taste! I mean, how can it not make just about any day happier and brighter?
Yes, I am that person who just claimed that bread has magical powers. I swear, I am totally normal.
Now, please don't go running away if you have never made bread before. Because this lemon thyme english muffin bread? It's a most excellent place to start.
The dough comes together super fast in a stand mixer (no kneading required) and there's only one short rise before baking in the oven.
Which will make your house smell, well, magical.
So. The base of this bread recipe is an absolute go-to at my house. It's quite fast as far as bread recipes go, and it toasts up just beautifully. Crisp on the outside and wonderfully soft on the inside.
And as for this fall-inspired flavor? You get just a touch of herby-ness from the fresh thyme and brightness from the lemon. There's nothing super overpowering, just enough to make it a bit different.
Tips & Tricks For This Lemon Thyme English Muffin Bread
This bread freezes incredibly well. Make the loaf and let it cool completely. You can either slice it up OR just pop fully intact into the freezer. If you go the slicing route, you can toast the slices straight from the freezer (adding a touch of extra time – just depending on your individual toaster).
Let's talk the actual process. For those of you who are used to making bread, this dough is quite different than most recipes. It's really sticky and soft. And you'll definitely want to use a spatula to help scrape it into the loaf pan.
As far as the rise time, this can vary a bit depending on the conditions in your house (how warm, cold, etc.). Try to find a nice and warm spot to let the bread rise – I like to stick the loaf pan in my laundry room when the dryer is running (multi-tasking for the win!). It's a small enough space that the dryer keeps the air at that perfect temp for the bread.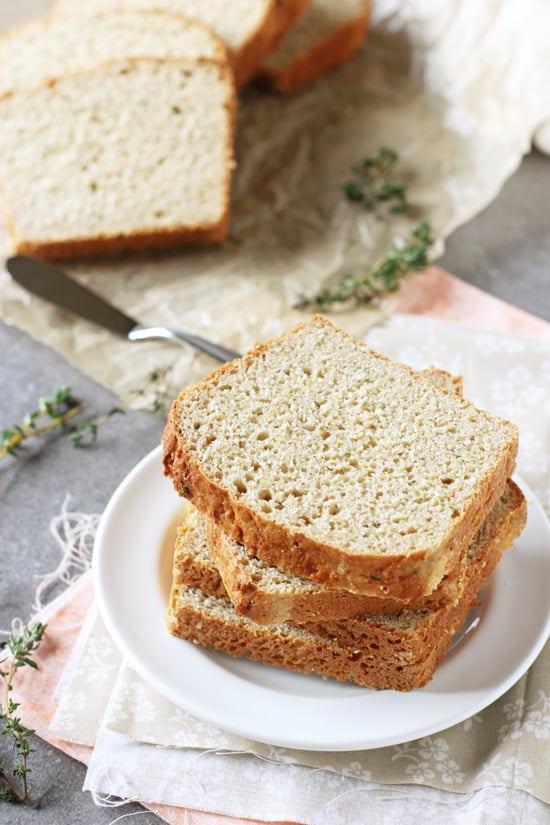 Tools I Love & Use To Make This Recipe (may contain affiliate links):
Thermapen Instant Read Thermometer – This little guy is a bit pricey for a thermometer but it is one of the best investments I've made for my kitchen. I've had mine for years and years and I love it to death! Perfect for ensuring your homemade bread bakes up to just the right temperature!
Additional Homemade Breads You Might Enjoy:
Did you make this recipe? Rate and review it down below! I'd love to hear from you.
Lemon Thyme English Muffin Bread
Additional Time:
50 minutes
Total Time:
1 hour
35 minutes
Bright and herby, this lemon thyme english muffin bread makes for the best toast! Simple to make and no kneading required, you'll have delicious homemade bread in no time. And it freezes beautifully. Dairy free and vegan. 
Ingredients
cornmeal, for dusting
1 tablespoon lemon zest
2 tablespoons granulated sugar
1 ½ cups white whole wheat flour
1 ½ cups all-purpose flour
1 tablespoon minced fresh thyme
1 ½ teaspoons salt
¼ teaspoon baking soda
1 tablespoon active dry yeast
1 cup unsweetened plain almond milk (or milk of choice), 120 to 130ºF
⅓ cup water, 120 to 130ºF
2 tablespoons olive oil
Instructions
Grease an 8 ½ by 4 ½ inch loaf pan with nonstick cooking spray. Sprinkle the bottom and sides of the pan with cornmeal and set aside.
In the bowl of a stand mixer fitted with the paddle attachment, add the lemon zest and granulated sugar. Use your fingers to massage the zest into the sugar, so it is moist and fragrant.
Add in both kinds of flour, the fresh thyme, salt, baking soda and yeast. Mix on low for a few seconds to combine.
Add in the milk, water and olive oil. Beat on high speed for 1 minute. The dough will be quite sticky and really soft (i.e. not like a typical yeasted bread recipe).
Use a lightly greased spatula to help scrape / transfer the dough into the prepared pan and spread evenly in the pan. Spray one side of a piece of plastic wrap with nonstick cooking spray and use it to cover the pan (greased side down).
Let rise in a warm place for about 45 minutes to 1 hour, until the dough just barely clears the top of the pan.
Preheat the oven to 400ºF.
Remove the plastic wrap. Bake for about 25 to 30 minutes, until golden brown and the internal temperature is 190ºF. If the top starts to brown too quickly, tent loosely with aluminum foil (I usually do this about halfway through).
Let cool in the pan for about 5 minutes, then remove to a wire rack to cool completely before slicing.
Nutrition Information:
Yield:

15
Serving Size:

1
Amount Per Serving:
Calories:

151
Total Fat:

3g
Saturated Fat:

1g
Trans Fat:

0g
Unsaturated Fat:

2g
Cholesterol:

2mg
Sodium:

244mg
Carbohydrates:

27g
Fiber:

2g
Sugar:

3g
Protein:

4g
Nutrition data shown is an estimate provided by an online calculator and is for informational purposes only. It should not be considered a substitute for a medical professional's advice.