Homemade Freezer Garlic Bread
It's time! Time for our annual turkey day recipe bonanza!
Are you excited? Because I sure am.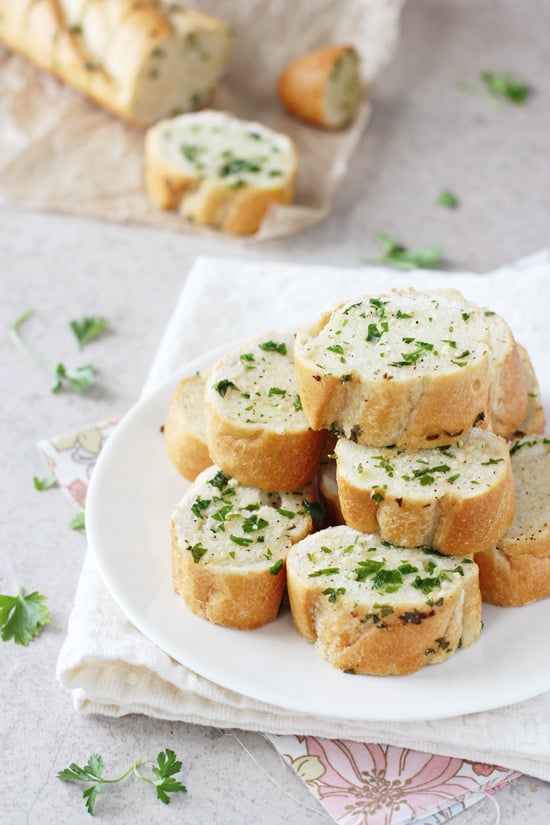 Actually, exited doesn't even begin to cover how I feel right now because … I finally have a kitchen again (!!). It's a whole big long saga of a story for another time, but suffice it to say that I have never been happier to be back cooking up a storm.
And just in time for the holidays.
So, today we kick things off with a recipe that is most definitely not at all just for the holiday season, BUT is one that I think you should have up your sleeve for Thanksgiving, Christmas and pretty much any sort of holiday merriment and entertaining!
Homemade freezer garlic bread.
So incredibly simple, yet so deliciously awesome. Because, carbs. Buttery, herby, garlicky carbs. Yessss.
We start with a baguette (store-bought or homemade – pick your poison!), slather it up with that awesome buttery mixture, and then pop in the freezer. It's then ready to bake off straight from the freezer whenever you wish!
Tips & Tricks For This Freezer Garlic Bread
It is SUPER important to start with a fresh baguette here! Don't buy anything that is stale, m'kay? Nice and fresh. And then come home, prep it and stick in the freezer right away. This results in the best taste after baking.
You can use either a regular white baguette or a whole wheat baguette – both are most excellent choices.
Try to be gentle when you are smearing the butter into the slits. If you do accidentally break the loaf, don't worry! Just push it back together and wrap tightly in the plastic wrap. It will freeze back together and will be totally fine after baking.
It does get a tad bit messy when slathering the butter in the bread! But it's fun, I promise.
And yes, these are a sort of copycat version of the Alexia frozen garlic bread you can buy at the store. Which I love, but it is definitely cheaper to make yourself!
Now let's all bask in the crispy, buttery glory that is homemade garlic bread.
Additional Homemade Bread Recipes You Might Enjoy!
Did you make this recipe? Rate and review it down below! I'd love to hear from you.
Homemade Freezer Garlic Bread
Easy, fast and delicious homemade freezer garlic bread! Have this crispy, herby and buttery bread ready to go whenever you need it!
Ingredients
1 (about 11 to 13 ounce) baguette
6 tablespoons unsalted butter, soft room temperature
2 to 3 large cloves garlic, minced (to taste)
¼ cup lightly packed fresh parsley, minced
¼ teaspoon onion powder
¼ teaspoon salt
pinch of pepper
Instructions
Set the baguette on a work surface. Using a serrated knife, make deep slices into the baguette every 1 to 1 ¼ inches down it's length - you want to cut about ¾ of the way through the loaf but not quite all the way so that the loaf is still intact.
In a small bowl, add the butter, garlic, parsley, onion powder, salt and pepper. Mix until well combined. Gently smear some of the butter mixture into each of the slits of the bread (I've found that an actual butter knife - the kind you put out with a butter dish - works best here!). Wrap the baguette tightly in plastic wrap (I do at least two layers and tape the ends closed), then place in your freezer.
When you are ready to bake, preheat the oven to 375ºF. Line a baking sheet with parchment paper. Set the frozen baguette (remove the plastic wrap first!) on the prepared baking sheet. Bake for about 15 to 18 minutes, until the loaf is golden brown. Remove from the oven and let cool slightly. Use a sharp knife to slice the loaf, using the slits that are already in the baguette. Serve immediately!
Notes
You could also certainly bake this right away. Just keep an eye on it, as it will likely need less time in the oven.
Be sure to start with a really fresh loaf of bread for this! You could also use a different size baguette (or even a different bread), but you'll just have to adjust the amount of buttery filling and also possibly the bake time.
Nutrition Information:
Yield:

10
Serving Size:

1
Amount Per Serving:
Calories:

151
Total Fat:

8g
Saturated Fat:

4g
Trans Fat:

0g
Unsaturated Fat:

3g
Cholesterol:

18mg
Sodium:

250mg
Carbohydrates:

17g
Fiber:

1g
Sugar:

2g
Protein:

4g
Nutrition data shown is an estimate provided by an online calculator and is for informational purposes only. It should not be considered a substitute for a medical professional's advice.