Buttery Honey Beer Bread with Honey Butter
Whew.  That's a long title.  But it seemed a shame to leave any of it out, so I'm just going to roll with it.  This beer bread is exactly that – buttery with a touch of honey and undertones of your favorite beer.  Oh and then go ahead and top it with a good smear of compound honey butter.  Yeah – this disappeared pretty quickly at our house.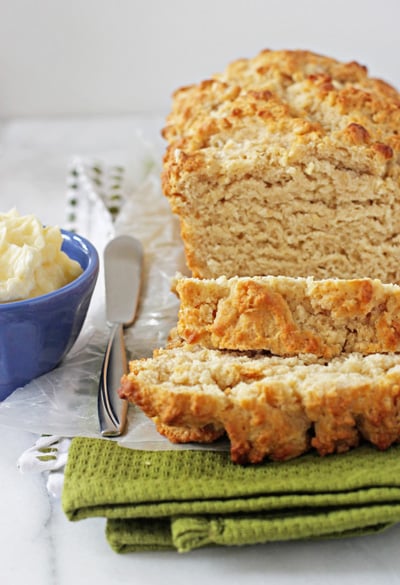 Beer bread is one of those recipes that I am so glad to have finally made from scratch.  I've had plenty of beer bread at parties over the course of the last few years, but it always came from a mix.  I've wanted to make it homemade for a long time and St. Patrick's Day finally gave me an excuse to go ahead and do so.
The downside to this?  I have a feeling I'm going to turn into a bit of a snob when it comes to beer bread.  This version is just so. much. better.  It's soft and slightly chewy on the inside but has this awesome crunchy crust on the outside.  The honey butter is totally optional, but when it melts into a slice of the slightly warm bread?  Swoon.  I'm getting hungry just thinking about it.  And another bonus? It's still super fast – it only takes 5 minutes to get the batter in the oven.
Buttery honey beer bread?  Just do it.  You'll be happy you did.
Buttery Honey Beer Bread with Honey Butter
Recipe for quick and easy buttery honey beer bread. Buttery bread with honey and undertones of your favorite beer. Top with a compound honey butter.
Ingredients:
For the beer bread:
2 cups all-purpose flour
1 cup bread flour*
1 tablespoon granulated sugar
1 tablespoon baking powder
1 teaspoon salt
3 tablespoons honey
1 bottle (12 ounce) your favorite beer
4 tablespoons unsalted butter, melted and cooled slightly
For the honey butter:
½ cup (8 tablespoons) unsalted butter, at soft room temperature
1 tablespoon honey
¼ teaspoon salt
Directions:
To make the beer bread – preheat the oven to 350 degrees. Grease a 9 by 5 inch loaf pan with nonstick cooking spray or butter. Set aside.
In a large bowl, whisk together both kinds of flour, the sugar, baking powder and salt. Add in the honey and beer and mix until just combined. Spread the batter evenly in the prepared pan. Evenly pour the melted butter over the top of the batter.
Transfer the pan to the oven and place a baking sheet on the lower rack to catch any butter that may drip from the pan. Bake for 50 to 60 minutes, until a cake tester inserted in the middle comes out clean and the top is golden brown.
To make the honey butter – in a small bowl add the butter. Add in the honey and salt. Mix until well combined. (This is the way I've been making this honey butter for a few years. Feel free to adjust the amount of honey and salt to your own taste.)
*If you don't have bread flour on hand, you can substitute all-purpose flour.
Beer bread adapted from Ezra Pound Cake.  Honey butter from Cook Nourish Bliss.