Chocolate Almond Olive Oil Cake
This fudgy chocolate almond olive oil cake is oh-so-festive for the holiday season! With a rich chocolate base, a dreamy coconut milk frosting and spiced sugared cranberries, it's seriously delicious. Dairy free and soy free.
This post is sponsored by Bob's Red Mill.
Are you at all surprised that these homemade spiced sugared cranberries are making an appearance this holiday season? I mean, they are just so sparkly and fun!
And this year, I made us a cake to put them on.
A chocolate almond olive oil cake to be exact. Fudgy, chocolate-y, dreamy. Plus, how can you not smile by just looking at this pretty little number?
Holiday cheer to the max!
I wanted to get this recipe up now since I think it is fantastic for both Thanksgiving AND Christmas.
And while the cake definitely looks impressive, there's nothing at all fancy about whipping it up. Yes, you do have to make the cake, frosting and cranberries, but each step is nice and simple, I promise.
The end result?
We have that slightly fudgy chocolate base. A layer of perfectly light and creamy coconut milk frosting (spiked with almond extract). And then those sweet and tart cranberries which are the perfect contrast to the rich base.
It's holiday happiness.
Bob's Red Mill AP Flour + Almond Flour
So, today's cake is coming atcha' in partnership with Bob's Red Mill. I think at this point you know how much I adore this company and their products, and the fact that I genuinely buy so very many of their items on a regular basis to use in my kitchen.
For this chocolate cake, we are using not one, but two of their flours.
Their Organic Unbleached All-Purpose White Flour, which is super versatile and perfect for all your holiday baking needs. It helps keep the cake from getting overly heavy.
And, we are also using their Super-Fine Almond Flour, which is ground from whole, blanched sweet almonds and adds the perfect touch of nuttiness to today's baked treat.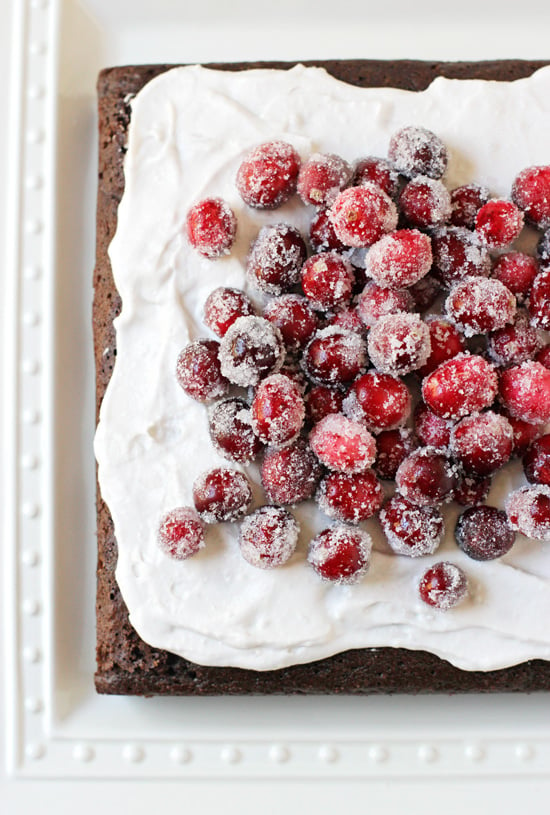 Tips & Tricks For This Chocolate Olive Oil Cake
Be sure to plan ahead for the coconut milk frosting. The can of coconut milk needs to be refrigerated at least overnight in order for the cream to harden and separate from the liquid.
On that note, every so often I'll get a bum can of coconut milk, where the cream just doesn't separate (which is totally fine for other recipes, but not here). So, I like to keep an extra can in the fridge at all times just in case this happens.
You can substitute lightly packed brown sugar for the coconut sugar if desired.
Like with most baking recipes – keep in mind that all ovens are different. Keep an eye on the cake and check for doneness with a cake tester. 33 minutes is perfect in my oven – the cake is done but not over-baked (which will dry it out). If you do happen to under-bake the cake – the center may sink a bit after removing from the oven. Don't panic though. You can cover that right up with the frosting (and let's be honest, the cake is so crazy fudgy this way that I'm not sure it's a bad thing??).
I personally think this cake is best at room temp. However, because of the coconut milk, it needs to be stored in the fridge (in an airtight container) once frosted. So. Just keep that in mind. You can serve it cold … or let it come back to room temp. Or. Just frost right before serving and sprinkle on those darling cranberries!
Additional Olive Oil Desserts You Might Enjoy:
Did you make this recipe? Rate and review it down below! I'd love to hear from you.
Chocolate Almond Olive Oil Cake
Yield: 1 (8x8 inch) cake

Prep Time: 20 minutes

Cook Time: 30 minutes

Total Time: 50 minutes

This fudgy chocolate almond olive oil cake is oh-so-festive for the holiday season! With a rich chocolate base, a dreamy coconut milk frosting and spiced sugared cranberries, it's seriously delicious. Dairy free and soy free.
Ingredients
For the cake:
1 cup Bob's Red Mill Organic Unbleached All-Purpose White Flour
½ cup Bob's Red Mill Super-Fine Almond Flour
½ cup unsweetened cocoa powder
½ teaspoon baking soda
¼ teaspoon baking powder
¼ teaspoon salt
2 large eggs
1 cup coconut sugar
½ cup olive oil
¾ cup unsweetened vanilla almond milk
¾ cup dark chocolate chips*
For topping:
1 (13.5 ounce) can full-fat coconut milk, refrigerated overnight
¼ cup powdered sugar
½ teaspoon almond extract
Instructions
For the cake:
Preheat the oven to 350ºF. Line an 8×8 inch baking dish with parchment paper (cut a big enough piece so that the paper hangs over the edges of the pan on two sides). Spray lightly with olive oil or nonstick cooking spray and set aside.
In a medium bowl, whisk together the flour, almond flour, cocoa powder, baking soda, baking powder and salt until well combined.
In a large bowl, whisk together the eggs, sugar, oil and milk until well combined. Add in the flour mixture and mix until just incorporated. Fold in the dark chocolate.
Transfer the batter to the prepared pan and spread evenly.
Bake for about 30 to 35 minutes, or until a cake tester inserted into the middle comes out clean.
Set the pan on a wire rack. Let the cake cool completely, then use the parchment overhang to carefully lift out of the pan.
For the topping:
Place a medium-sized mixing bowl in the freezer for 5 minutes to chill.
Open the can of coconut milk and scoop the hardened coconut cream into the chilled mixing bowl (leaving behind the liquid - save this for smoothies!). Using a hand mixer, whip the cream until fluffy.
Add in the powdered sugar and almond extract and whip again until incorporated.
Spread the frosting gently over the cooled cake. Top with the sugared cranberries as desired.
Notes
*To keep this dairy free - be sure to use dairy free chocolate chips.

Once frosted, the cake must be stored in the refrigerator (in an airtight container). Wait to top with the sugared cranberries until just before serving (i.e. don't put them on the cake if putting in the fridge! The sugar will sort of melt off them from the frosting).
Nutrition Information:
Yield: 16 Serving Size: 1
Amount Per Serving: Calories: 298Total Fat: 19gSaturated Fat: 8gTrans Fat: 0gUnsaturated Fat: 10gCholesterol: 24mgSodium: 95mgCarbohydrates: 29gFiber: 2gSugar: 18gProtein: 5g

Nutrition data shown is an estimate provided by an online calculator and is for informational purposes only. It should not be considered a substitute for a medical professional's advice.

This post is sponsored by Bob's Red Mill. However, all opinions and content are completely my own. As always, thank you for reading and letting me share brands that I love!