Soft & Chewy Whole Wheat Gingerbread Cookies
Cookies!! Soft & chewy whole wheat gingerbread cookies to be exact!
And oh this recipe. I am SO excited to share this one with you.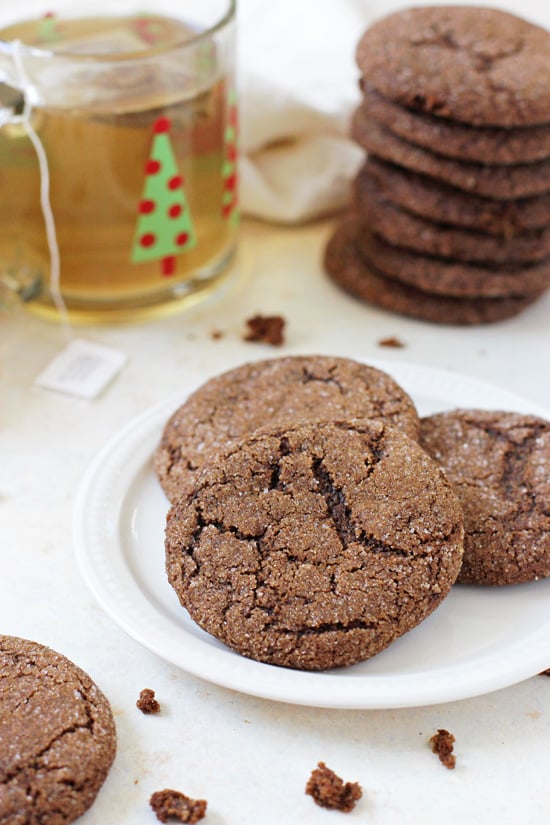 Because these little nuggets of goodness? Perfectly chewy and perfectly soft. They are filled with the flavors of the season AND have a delightful little crunch from a quick roll in sugar before baking.
I may even go so far as to say that these are my favorite cookies I've ever made.
So do I even need to keep talking???
Ha. Like I would stop talking. I don't know that I'm capable of that. But seriously. These cookies.
And let me let you in on a little secret. They have some healthier swaps and are totally dairy free. BUT! You won't even be able to tell. I was super tricky and tested these on our Thanksgiving guests and no one was the wiser. I call that a win in my book!
The cookies are made entirely with white whole wheat flour, giving them this sort of hint of nuttiness. We have some coconut oil and some coconut sugar, along with a touch of molasses and plenty of warming spices. Combining into one glorious gingerbread Christmas cookie. Can you tell I really really like these??
So, let's move on to some tips & tricks for the recipe!
I have long been obsessed with using coconut oil in cookies ever since I started having some issues with dairy. But this is the first time I've tried beating it like you would softened butter. The result? Amazing.
So, let's discuss this. You want the coconut oil to be softened, but not melted. I pop mine in the microwave for about 10 seconds and that's all it needs (keeping in mind that my coconut oil starts out completely hard this time of the year since it's slightly chilly in the house).
Also, when you beat together the softened coconut oil and the sugar, it will get sort of fluffy in the two minutes of beating. But … it won't look quite as fluffy as it would with regular butter. So just keep that in mind.
DO NOT skip the dough chill time for the recipe!! This is important for them to bake up with the perfect texture.
Also key for texture? Making sure that you don't over bake these! 9 minutes is perfect in my oven, but this may vary slightly for you.
Soooo important question. If I've already made five, count em' 'five, batches of these cookies … what's an acceptable amount of time to wait before making them again? Inquiring minds need to know.
Soft & Chewy Whole Wheat Gingerbread Cookies
Prep Time: 50 minutes
Cook Time: 9 minutes
Total Time: 59 minutes
Perfectly soft & chewy whole wheat gingerbread cookies! Made with healthier swaps but still out of this world good! A holiday staple!
Ingredients:
1 ½ cups white whole wheat flour
1 ½ teaspoons baking soda
¼ teaspoon salt
¾ teaspoon ground ginger
¾ teaspoon ground cinnamon
⅛ teaspoon ground nutmeg
⅛ teaspoon ground cloves
½ cup solid-state coconut oil, softened (but not melted!)
½ cup plus 2 tablespoons coconut sugar
3 tablespoons unsulphured molasses
1 large egg
1 teaspoon vanilla extract
granulated sugar, for rolling
Directions:
In a medium bowl, whisk together the flour, baking soda, salt, ginger, cinnamon, nutmeg and cloves. In a large bowl, beat together the coconut oil and coconut sugar with a hand mixer for 2 minutes, until sort of fluffy (it won't be as fluffy as with regular butter!). Add in the molasses, egg and vanilla and beat again until combined. Slowly add in the flour mixture and beat on low until just combined. Transfer the bowl to the refrigerator and chill for 30 to 35 minutes.
Preheat the oven to 350ºF. Line a large baking sheet with parchment paper.
Scoop about 1 ½ to 2 tablespoons of the chilled dough and form into balls (about 1 ½-inch in size). Roll the balls in the granulated sugar and place on the prepared baking sheet about 2 to 3 inches apart.
Bake for about 8 to 9 minutes, until the tops of the cookies have cracked / crinkled (do not over bake these!). Let the cookies cool directly on the baking sheet.
Prep time includes 30 minutes for the dough to chill in the fridge. Hands on time is only 20 minutes!