Coconut Oil Oatmeal Cookies
Who's ready to do a little baking? With these perfectly soft & chewy coconut oil oatmeal cookies!
Packed with plenty of rolled oats, a good amount of melt-y dark chocolate chips and the perfect touch of warm cinnamon and nutmeg, these super easy cookies are bound to please.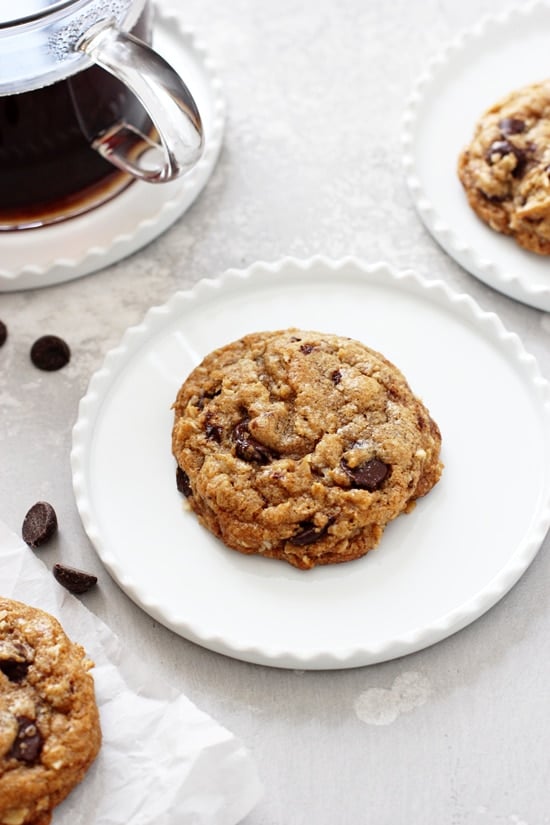 And should absolutely be added to your cookie baking repertoire!
Because we all need a killer oatmeal cookie recipe, yes? Yes.
Now, what we have here today is a crazy simple dough – no mixers required. Just a few bowls, a whisk and a spatula.
Not to mention that you have options when it comes to the mix-ins. You can go classic and add all chocolate chips. OR my personal favorite combo of half dark chocolate chips + half juicy raisins. OR! Go with raisins + chopped nuts! All delicious. All most excellent choices.
So, errrr, maybe that's a reason to make three different batches? I wouldn't discourage this behavior.
Because oatmeal cookies make the world go round. <— That's a fact!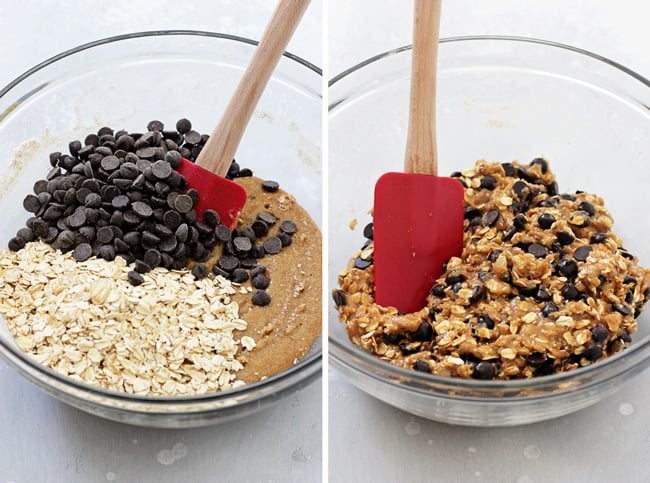 How To Make Coconut Oil Cookies
So, we start by whisking together some white whole wheat flour, baking soda, salt and a few warm spices. Next, in a separate bowl, we combine our sugars, coconut oil, egg and vanilla. The two get mixed together, before we fold in plenty of rolled oats and chocolate chips.
NOW. The important part. We then transfer our dough to the refrigerator to chill for about 45 minutes. This step is essential for preventing the cookies from spreading like crazy in the oven. So don't skip it!
And finally, we drop our dough onto a baking sheet and pop in the oven until chewy, golden perfection.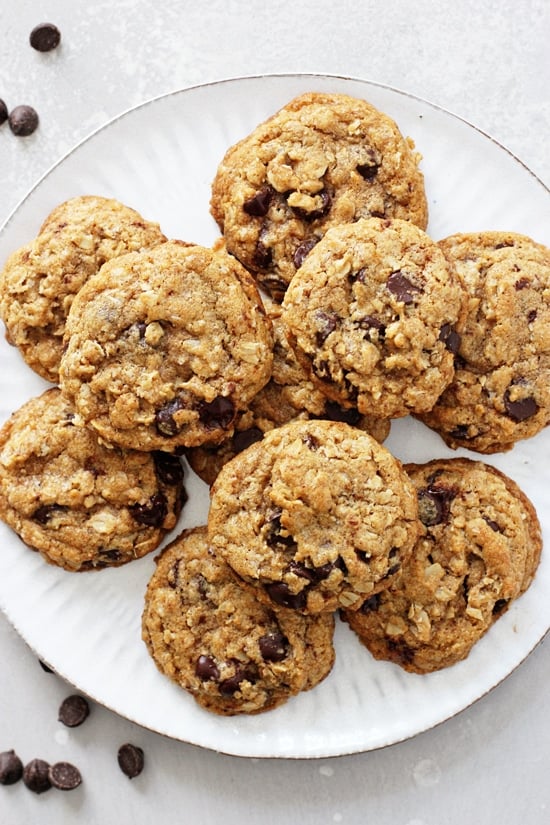 Tips & Tricks For These Coconut Oil Oatmeal Cookies
First things first. Let's talk measuring out your flour. Fluff the flour in the bag / container, then scoop into your measuring cup with a spoon and level off. Don't dunk your cup straight into the bag as you'll likely use too much.

Now, let's move on to the coconut oil. I melt my oil first and then let it cool for 5 minutes while I get out all the other ingredients / bowls / measuring cups / etc. for the recipe. I find this is the perfect amount of time to let it cool slightly before using.

You can substitute lightly packed brown sugar for the coconut sugar if desired.

Be sure to use dairy free chocolate chips if needed for your diet. My favorite brand for dairy free baking chocolate is Enjoy Life. <— Not sponsored! Just what I use and love!

The cookie dough should be slightly hard to scoop after chilling, but not overly so. If you find it's too hard, let it sit at room temperature for a few minutes to soften just a bit so that you can scoop. I personally find it gets a touch too hard when I use a glass mixing bowl instead of my more insulated ones.

And finally, the centers of the cookies may look a tad bit under baked at the 9 to 11 minute mark, but you don't want to overcook these. Just make sure that the edges are set / lightly browned and then remove from the oven!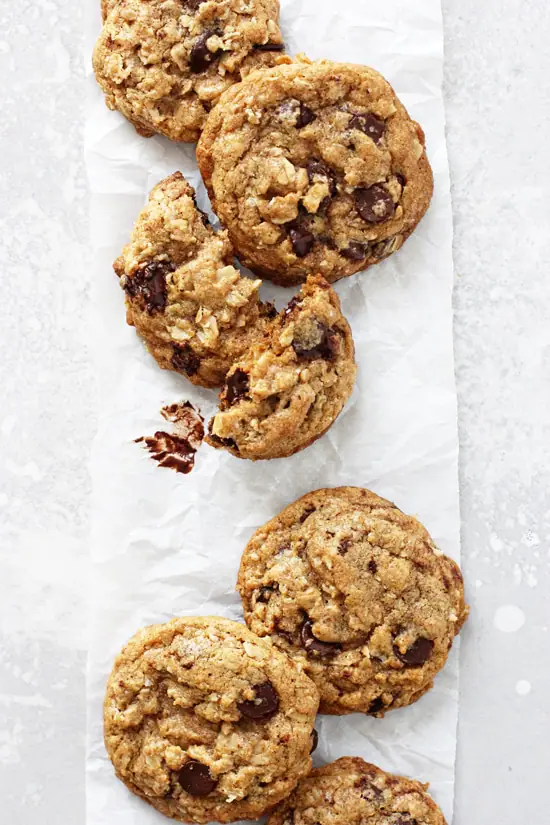 Make Ahead & Storage Options
These cookies keep for about two to four days stored in an airtight container at room temperature. With that said, I find that these are really best enjoyed fresh (i.e. within about 24 hours). For some reason I find they don't keep as well as other cookies.
So! What I like to do is bake off whatever I need and then freeze the remaining cookie dough for another time. To do this, scoop your cookie dough balls and place on a parchment lined baking sheet (they can be close together), then transfer to your freezer. Once hard, add the balls to a freezer safe bag or container, then keep in your freezer for up to 3 months.
When you're ready to enjoy, bake them straight from the freezer. You might need to add 1 to 2 minutes to the cook time – keep an eye on them the first time you do this, as you may not need to add any time at all!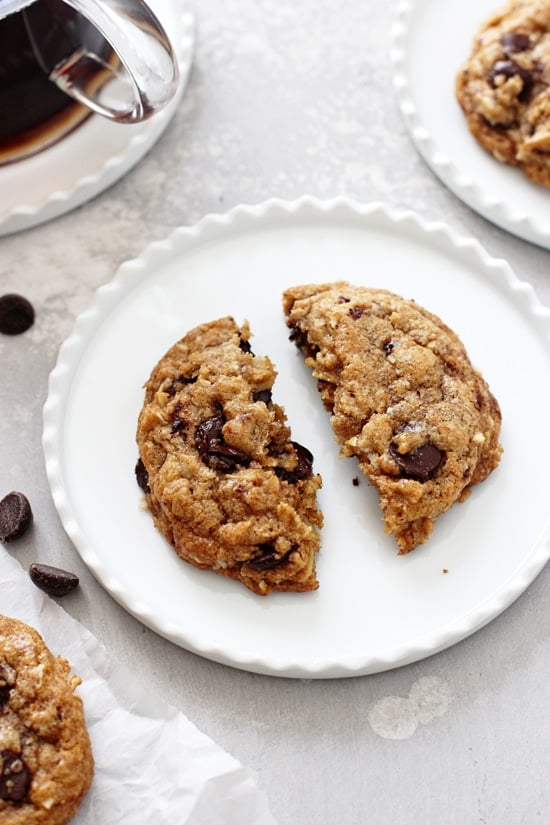 Additional Coconut Oil Cookie Recipes You Might Enjoy!
Did you make this recipe? Rate and review it down below! I'd love to hear from you.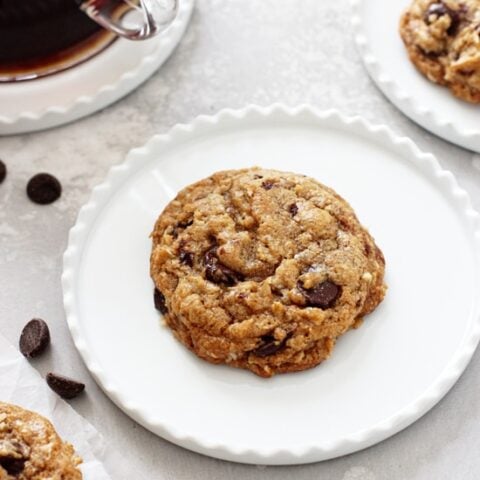 Coconut Oil Oatmeal Cookies
Yield:
about 22 to 24 cookies
Additional Time:
45 minutes
Total Time:
1 hour
15 minutes
Perfectly soft and chewy coconut oil oatmeal cookies! Super easy to make and no mixer required! Packed with rolled oats and dark chocolate chips, these dairy free cookies are excellent for any day of the week!
Ingredients
¾ cup plus 1 tablespoon white whole wheat flour
¾ teaspoon baking soda
¼ teaspoon fine sea salt
½ teaspoon ground cinnamon
⅛ teaspoon ground nutmeg
½ cup pure cane sugar
¼ cup coconut sugar
½ cup melted coconut oil, cooled slightly*
1 large egg
1 teaspoon vanilla extract
1 cup old-fashioned rolled oats
1 cup dark chocolate chips**
Instructions
In a medium bowl, whisk together the flour, baking soda, salt, cinnamon and nutmeg. In a large bowl, whisk together the cane sugar, coconut sugar, coconut oil, egg and vanilla extract for about 30 seconds. Add in the flour mixture and mix until just incorporated, then fold in the oats and chocolate chips until well combined (it will take a bit of arm power!). Transfer the bowl to the refrigerator and chill for 45 minutes.
Meanwhile, preheat the oven to 350ºF. Line a large baking sheet with parchment paper.
Scoop about 1 ½ to 2 tablespoons of the chilled dough (I use my large cookie scoop) and drop onto the prepared baking sheet about 2 to 3 inches apart.
Bake for about 9 to 11 minutes, until lightly browned and the edges are set (don't over bake these!). Let the cookies cool directly on the baking sheet.
Notes
*Be sure to melt your coconut oil first and then measure out the correct amount. Otherwise you may use too much.
**If you want to switch things up, you can use any number of things here in place of the dark chocolate chips! Semi-sweet chocolate would of course work as well, or you can do a combo of chocolate and raisins (MY FAVORITE!). Or raisins + chopped nuts. Really, whatever mix-in you'd like - just be sure to use 1 cup (it's important to keep this same amount).
Nutrition Information:
Yield:

24
Serving Size:

1
Amount Per Serving:
Calories:

120
Total Fat:

7g
Saturated Fat:

5g
Trans Fat:

0g
Unsaturated Fat:

1g
Cholesterol:

8mg
Sodium:

66mg
Carbohydrates:

13g
Fiber:

1g
Sugar:

10g
Protein:

1g
Nutrition data shown is an estimate provided by an online calculator and is for informational purposes only. It should not be considered a substitute for a medical professional's advice.