Slow Cooker Spinach Feta Egg Casserole
Today, today I bring you the world's ugliest egg casserole.
Okay fine. Mayyyyybe this slow cooker spinach feta egg casserole isn't the worst looking thing on the block.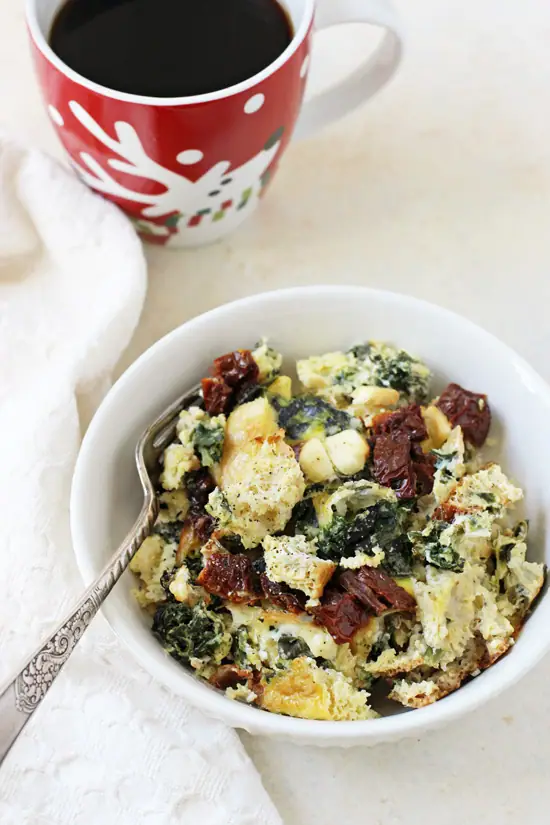 But, let's all agree that it isn't winning any beauty contests anytime soon.
However! While it may be ugly breakfast food, it most definitely is pretty darn tasty! And I figure taste trumps looks, yes??
Now, I've been waiting to share this casserole until the holiday season because I think it would be a most excellent thing to make for a holiday brunch or for Christmas morning!
But the idea has been floating around in my head since the days of our kitchen reno. During which I lived at Starbucks for breakfast and ordered more of their spinach feta wraps than I can count. Oompf. Three cheers for being able to cook again!!
So, as you can imagine, today's casserole is a fun take on those wraps. We have eggs. We have spinach. A dose of feta. A smidge of sun-dried tomatoes! All tied together with a bit of cubed up bread.
It all gets dumped into a crockpot and then you have plenty of time to unwrap presents or watch Christmas movies while it cooks.
Perfect for the holidays! Or perfect to make on a weekend so breakfast is ready to go throughout the week! Pick your poison!
Let's move on to some tips & tricks for the recipe.
Be sure to grease both the bottom and the lower sides of your crockpot with the nonstick spray. This helps with cleanup and just the general cooking process for the casserole!
Regular milk can be substituted for the almond milk. I'd strongly encourage you to stick with 2% or higher.
Try to use sun-dried tomatoes that come packed in oil! It adds a boost of extra flavor to the dish!
Leftovers keep well in an airtight container in the fridge for several days. Just pop in the microwave briefly to warm up (not for long though or the texture will get funny!).
Finally, be sure to read the notes section in the recipe for info about the cook time. You definitely do not want to overcook the casserole or the eggs get rubbery – major yuck!
This casserole + coffee + opening Christmas presents?? I mean, does it get any better? Wait. Yes. Throw in some gooey cinnamon rolls too. NOW we're talking!
Yield: about 6 to 8 servings
Slow Cooker Spinach Feta Egg Casserole
Prep Time: 15 minutes
Cook Time: 3 hours
Total Time: 3 hours 15 minutes
With just 15 minutes of prep, this slow cooker spinach feta egg casserole couldn't be easier! Perfect for a holiday brunch OR a make-ahead breakfast!
Ingredients:
12 large eggs
¾ cup unsweetened plain almond milk
½ teaspoon salt
½ teaspoon pepper
½ teaspoon garlic powder
¼ teaspoon onion powder
3 cups cubed (½ inch chunks) crusty bread*
1 (8 ounce) package frozen chopped spinach, thawed and squeezed dry
½ cup crumbled feta cheese
½ cup chopped sun-dried tomatoes (patted dry first)
Directions:
Generously grease a large slow cooker with nonstick or olive oil spray.
In a large bowl, whisk together the eggs until well combined. Add in the milk, salt, pepper, garlic powder and onion powder and whisk again until well combined. Set aside.
Place the bread cubes in the crockpot in an even layer. Sprinkle evenly with the spinach (breaking it up with your fingers), the feta cheese and the sun-dried tomatoes. Pour the egg mixture evenly over the top. If needed, push down the bread and toppings gently so they are mostly covered by the liquid.
Cover and cook on low for about 3 hours**(see notes!). When done, the eggs should be set and it should be golden brown around the edges (and pulling away from the sides of the crockpot).
*Try to use at least one day old bread for this casserole. I like to use a multigrain or whole wheat loaf! Sourdough is also great here!
**Three hours is perfect in my crockpot but keep an eye on the casserole the first time you make it. All crockpots cook a little different and your casserole may be done a bit sooner or later than the three hours. You do not want to overcook this or the eggs will get rubbery – which we do not want!!
Looking for more cozy Christmas ideas? Be sure to check out the recipe I created for Oh My Veggies!
Grab it here! —> Sweet Potato Scones with Cardamom Glaze