Baked Sweet Potato Falafel
These baked sweet potato falafel? My goodness have they been a long time coming!
I've had the recipe ready to go for well over two months. And yet every single time I went to take photos, something came up. Like clockwork. To the point where it got a wee bit eerie. <— Seriously, it was pretty creepy!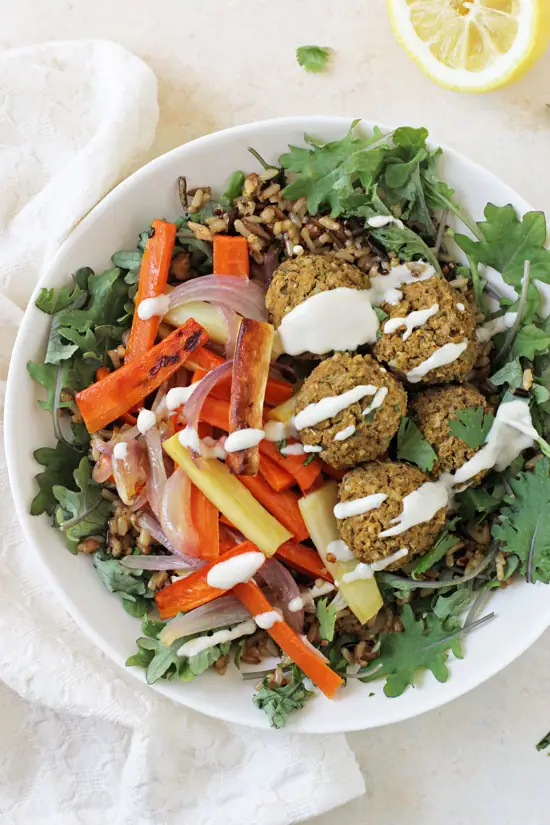 But! Last week the falafel gods must have been smiling down on me because hey-o! We have pictures!
Success!! And oh am I glad. Because these pop-able falafel bites are just too darn delicious. They have this sort of cozy warmness … very a la the flavors in this sweet potato hummus with roasted garlic (total favorite of mine!).
AND they are super simple to make. We pulse together most of the ingredients in a food processor and then mix with some sweet potato puree, flour and egg in a bowl. Form that mixture into balls and off they go to cook in the oven! They bake up soft and moist (yes, I said it!), with a slightly crisp exterior. Now that's how we do a fun spin on falafel!
How To Serve Sweet Potato Falafel
My go-to? With roasted veggies (carrots, parsnips and red onion, please and thank you!), a grain of some sort and tahini sauce for drizzling.
On top of a big ol' delicious salad or stuffed into a pita / wrap.
As an appetizer with the lemon yogurt sauce from these spinach chickpea falafel!
All most excellent choices. All you should totally give a try.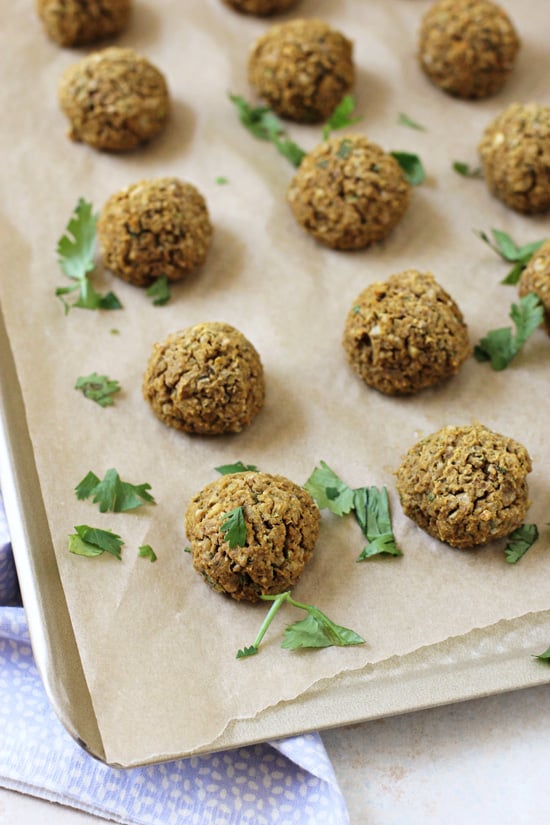 Tips & Tricks For These Baked Sweet Potato Falafel
I personally love to use oat flour in these falafel for it's sort of sweet, subtle flavor. But! You could absolutely use another flour, like all-purpose or white whole wheat.
I feel like a bit of a broken record, but a cookie scoop is your best friend when forming the falafel mixture into balls. It makes the process must faster and you'll wind up with bites that are all the same size. Along those lines, clean hands will help when rolling the mixture into balls (this is more towards the end of the process – if you find the mixture sticking a lot just rinse your hands quickly and get back to it!).
As for the sweet potato puree, you can use either homemade or store

–

bought. I will admit that I tend to use store

–

bought for the sake of convenience (you can typically find canned sweet potato puree in the same area as canned pumpkin!).
And finally, these falafel freeze beautifully. When ready to enjoy, I like to thaw out overnight in the fridge and then pop back onto a baking sheet to rewarm briefly in the oven.
I'm thinking you just might have a falafel-filled meal in your near future! Let's do this!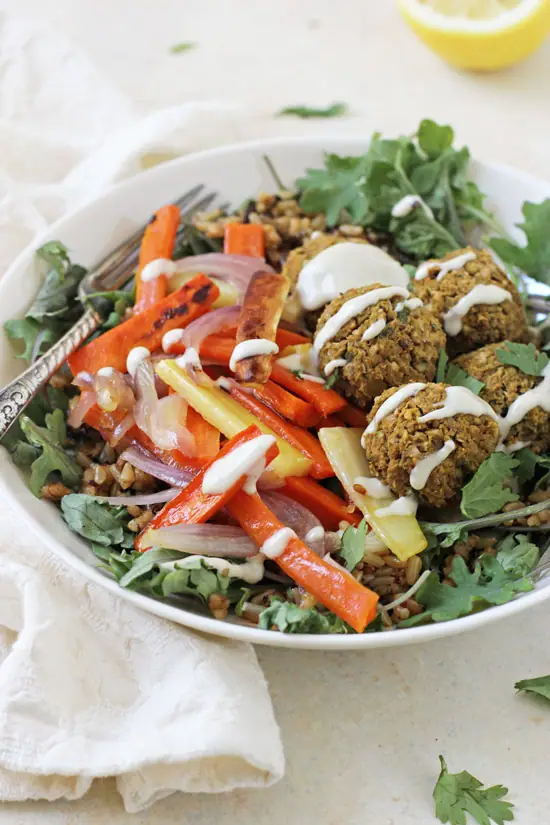 Did you make this recipe? Rate and review it down below! I'd love to hear from you.
Baked Sweet Potato Falafel
Yield:
about 28 to 30 falafel bites
These baked sweet potato falafel are easy to make and irresistible! With warm spices, fresh herbs and sweet potato puree!
Ingredients
2 (15 ounce) cans chickpeas, drained and rinsed
½ cup raw walnuts
½ cup thinly sliced green onion
½ cup fresh cilantro leaves
3 large cloves garlic, roughly chopped
¾ teaspoon ground cumin
⅛ teaspoon ground cinnamon
juice of ½ a medium lemon
½ cup sweet potato puree
½ cup plus 2 tablespoons oat flour
½ to ¾ teaspoon fine sea salt
¼ teaspoon pepper
1 large egg, lightly beaten
Instructions
Preheat the oven to 350°F. Line a large baking sheet with parchment paper and set aside.
To the bowl of a food processor, add the chickpeas, walnuts, green onion, cilantro, garlic, cumin, cinnamon and lemon juice. Pulse until the mixture is well combined and very finely chopped, scraping down the bowl as needed (it should start to pull towards the sides of the bowl). Transfer the mixture to a large bowl. Add in the sweet potato puree, flour, salt and pepper. Mix until combined and the flour is mostly absorbed, then taste and season with additional salt / pepper as needed. Add in the egg and mix again until well combined (if the mixture is too wet to form into balls, add additional flour 1 tablespoon at a time. Don't add too much, or you'll dry them out!).
Form the mixture into balls about 1 ½ inches in diameter (a cookie scoop works great here) and place on the prepared baking sheet. Mist the tops of the balls lightly with nonstick or olive oil spray. Bake for about 30 to 35 minutes, until firm.
Nutrition Information:
Yield:

6
Serving Size:

1
Amount Per Serving:
Calories:

284
Total Fat:

9g
Saturated Fat:

1g
Trans Fat:

0g
Unsaturated Fat:

7g
Cholesterol:

31mg
Sodium:

712mg
Carbohydrates:

41g
Fiber:

9g
Sugar:

12g
Protein:

12g
Nutrition data shown is an estimate provided by an online calculator and is for informational purposes only. It should not be considered a substitute for a medical professional's advice.