Sweet Potato Hummus with Roasted Garlic
Creamy and cozy sweet potato hummus with roasted garlic! Healthy and packed with flavor, it makes an excellent appetizer or snack!
Alright, alright, alright! Said in my best Matthew McConaughey impression. Which, let's be honest, is not very good.
But! All is well because it is Friday! And as promised, I'm here squeezing in one more recipe before the weekend. So today, we chat about this sweet potato hummus!
Creamy, dreamy, cozy. Full of fall flavors! All of which is definitely quite alright in my book! <— Can you hear that? It's me laughing over here because I am cracking myself up. I think I may be slightly delusional from all the dust.
But anyway. I'll stop with my corny jokes and we can get back to the task at hand.
Sweet potato hummus with roasted garlic! And oh can this dish serve ever so many purposes. It's total game day food. It's also just regular ol' snacking food. AND it absolutely qualifies as Thanksgiving appetizer food. Yup, I said it. Thanksgiving! But, we won't get too ahead of ourselves. We're just going to throw the word out there at this point. Table it for later.
So, this is another one of those recipes that I have been sitting on since last fall. I feel like a bad friend since I made batch after batch and snacked on it pretty much all throughout the fall and winter. Total favorite at our house. Forgive me?
It's savory. It's got just a touch of sweetness. And with the soft and almost buttery flavor from the roasted garlic? Pure magic. It's pure magic, my friends.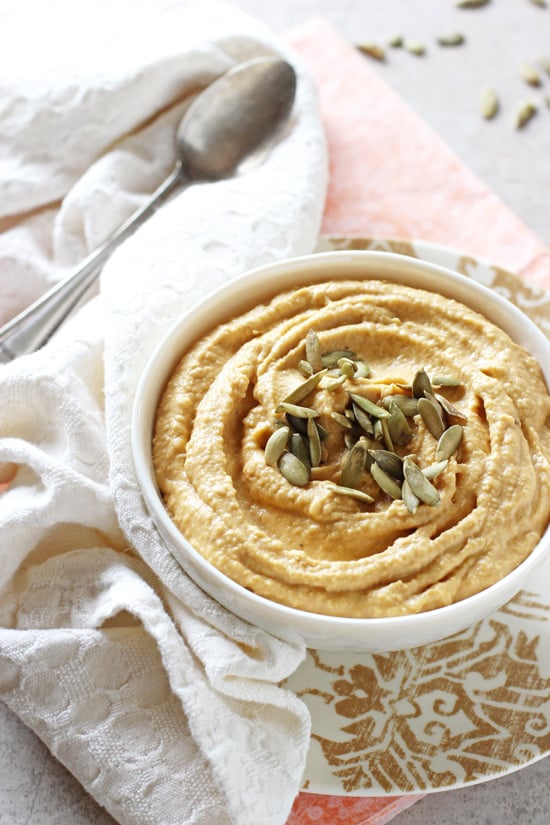 Tips & Tricks For This Sweet Potato Hummus
First off, please don't be scared away by the total recipe time! It includes 50 minutes for the garlic to roast in the oven – which is completely hands off! There's only about 10 minutes of active time for the recipe – and I promise it is super easy!
Along those lines, you can absolutely roast the garlic in advance. Which is what I like to do. Roast the garlic, mash it into a paste and then store in an airtight container in the fridge until ready to use.
To keep this recipe vegan, use the maple syrup (and not the honey).
Feel free to play around and tinker with the spices, the amount of garlic, etc.! I love it as written but adjust to your own taste!
I am slightly obsessed with topping this hummus with the pepitas (otherwise known as pumpkin seeds!), since it is just so perfect for fall. But garnish however you like! Or just leave plain – you can't go wrong any which way!
Plus, can we talk about the color?? This hummus sure is purdy!
Additional Homemade Hummus Recipes You Might Enjoy!
Did you make this recipe? Rate and review it down below! I'd love to hear from you.
Sweet Potato Hummus with Roasted Garlic
Creamy and cozy sweet potato hummus with roasted garlic! Healthy and packed with flavor, it makes an excellent appetizer or snack!
Ingredients
For the roasted garlic:
1 medium head garlic
olive oil, for drizzling
salt and pepper, for sprinkling
For the hummus:
¾ cup sweet potato puree, homemade or store-bought
1 (15-ounce) can chickpeas, drained and rinsed
1 tablespoon olive oil
3 tablespoons tahini
juice of 1 medium lemon
1 ½ teaspoons honey or pure maple syrup
½ teaspoon salt
pinch of pepper
½ teaspoon ground cumin
pinch of ground cinnamon
pepitas, for garnish
pita chips, crackers, bread, veggies, for serving
Instructions
For the roasted garlic:
Preheat the oven to 375ºF.
Cut the top end off the head of garlic, so that the bulb remains intact and the cloves are exposed. Remove any of the really loose outer layers. Place on a piece of aluminum foil, then drizzle with olive oil and sprinkle with salt and pepper. Wrap in the foil then bake for about 50 minutes, until tender and the cloves are golden brown. Once cool enough to handle, squeeze the cloves out of the peel, then use a fork to mash into a paste.
Measure out 1 tablespoon of the mashed garlic to use in the hummus. Any extra can be stored in a container in the fridge for use in whatever you like (use it in place of regular garlic in other recipes!).
For the hummus:
Add the 1 tablespoon mashed roasted garlic, the sweet potato puree, chickpeas, olive oil, tahini, lemon juice, honey, salt, pepper, cumin and cinnamon to the bowl of a food processor. Process until smooth, scraping down the sides of the bowl as needed (I process it for about 45 seconds to 1 minute in my food processor to get it smooth, stopping once to scrape down the bowl). Taste and season with additional salt if needed.
Transfer the hummus to a serving dish and garnish with pepitas. Totally optional, but you can also drizzle a little extra olive oil over the top. Serve with crackers, pita chips, bread, veggies, whatever you would like!
Notes
The recipe time listed above includes time to roast the garlic. If you make the garlic in advance, this comes together super quick (in about 5 to 10 minutes)!
This is one of those recipes where the flavors come out more and more as the hummus sits. I like to give it plenty of time to chill in the fridge before serving, so the flavors can really develop. It keeps great in an airtight container in the fridge (and then I just garnish it with the pepitas right before serving)!
Nutrition Information:
Yield:

12
Serving Size:

1
Amount Per Serving:
Calories:

117
Total Fat:

5g
Saturated Fat:

1g
Trans Fat:

0g
Unsaturated Fat:

4g
Cholesterol:

0mg
Sodium:

233mg
Carbohydrates:

16g
Fiber:

3g
Sugar:

7g
Protein:

3g
Nutrition data shown is an estimate provided by an online calculator and is for informational purposes only. It should not be considered a substitute for a medical professional's advice.