Vegetable Taco Pasta Salad
In my mind, July 4th weekend means that we've reached the midway point of summer. Which I'm fully aware is in no way technically true. But you know. Maybe it's because it gets hot here so early (my flip-flops have been out since May!), but I feel like we've been doing this summer thing for some time.
So with the holiday weekend upon us and this whole midway thru summer business, it's time for a killer pasta salad recipe. Because you're more than likely coming up on a potluck / party / summer gathering scenario!
Which brings us to today's vegetable taco pasta salad – healthy, light and oh so very tasty. It's a perfect side for all your summer faves, or even makes a fantastic main dish (especially for lunch!).
Now, one of my all-time favorite non-mayo pasta salads (<— can I just admit that they make me almost squeamish??? Just so not my thing!) is this smoked mozzarella caprese pasta salad. Or, or (!!) this mediterranean farfalle pasta salad.
But. I like having options. Options are good.
And today's little number gives me a solid third recipe to put in my rotation.
We have some nutty whole wheat pasta. We have loads of freshness from a smorgasbord of veggies and herbs. And then, then there's an awesome, creamy taco-y dressing. Made with lime juice, honey, plenty of spices and … wait for it … almond butter! But don't be scared – it's not an in-your-face almond butter dressing, but more like a whoa, that's a nice and slightly creamy kind of dressing!
So much fun.
PS – I may or may not have forgotten to take photos with the salad dressing actually on the pasta. Fail. When it's all mixed together, it's a bit darker in color and looks all taco-y and cool. Seriously, major fail.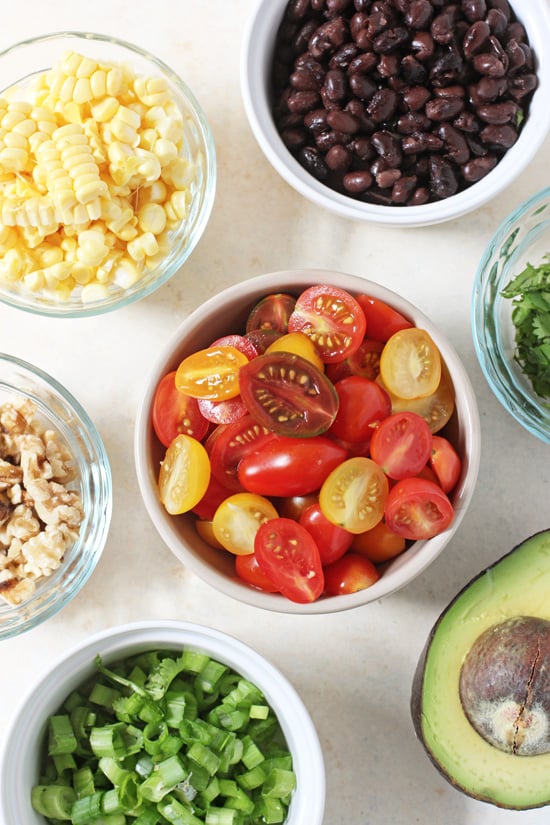 Tips & Tricks For This Vegetable Taco Pasta Salad
Let's talk making this ahead of time. Because of the almond butter in the dressing, it almost sort of hardens up a bit in the fridge (for lack of a better way to describe it). SO! This is what I do to prevent that. Prep everything for the pasta portion of the recipe as directed and store in the fridge. Mix together the dressing and keep it at room temp. Before serving, toss the dressing with the pasta and then add in the avocado. Boom! It's time to enjoy.
Now, let's talk if you have leftovers (which do need to be kept in the fridge). I would suggest letting them sit at room temp for a bit to take off some of the chill before chowing down. I prefer this salad when it's all just freshly mixed, but it's still pretty darn tasty as leftovers too.
The almond butter! I use a natural, no sugar added almond butter that's on the drippy side of things. If your almond butter is more on the thick side, you may need to add a smidge of water to your dressing to get it to thin out.
To make this recipe vegan, use maple syrup instead of honey.
To make this gluten free, use your favorite gluten free pasta!
And finally, let's chat the recipe time. If you prep everything (i.e. chop the veggies / mix up the dressing) while the pasta is cooking, the total recipe time will be less than what's listed down below. I just wanted to keep the two times separate so you could see the hands on / active time.
So, what are you planning on cooking for the holiday??? I have one more recipe that would be perfect for a party coming at you later this week (it's an updated and improved recipe from the archives, so make sure you follow via email or social media to be notified when it's ready!).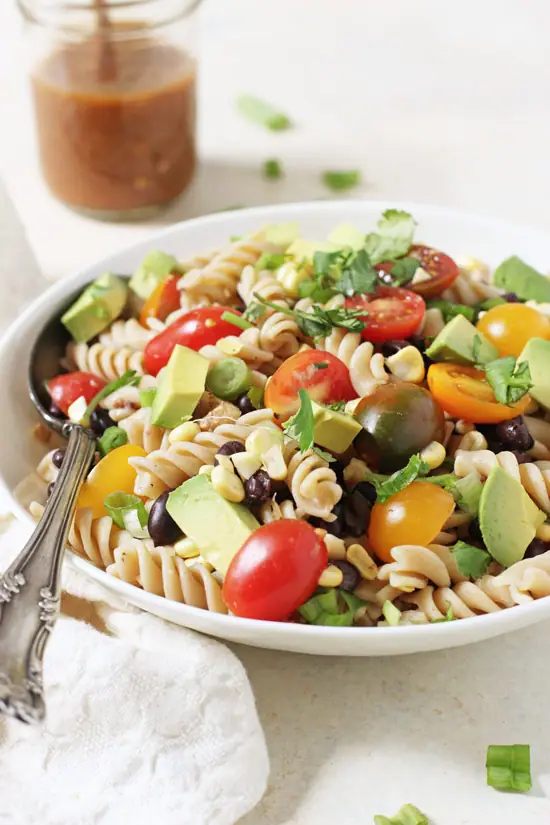 Did you make this recipe? Rate and review it down below! I'd love to hear from you.
Vegetable Taco Pasta Salad
Yield:
about 6 to 8 servings, as a side
Fresh and fun vegetable taco pasta salad! Packed with veggies, herbs, whole wheat pasta and a creamy, dreamy dressing!
Ingredients
For the pasta:
10 ounces uncooked whole wheat fusilli pasta
1 ½ cups halved cherry tomatoes
1 cup fresh corn kernels
½ cup thinly sliced green onion
½ cup fresh cilantro leaves, chopped
1 (15 ounce) can black beans, drained and rinsed
½ cup raw walnuts, chopped
For the dressing / serving:
¼ cup olive oil
2 tablespoons lime juice
2 tablespoons creamy plain almond butter
1 tablespoon honey
1 clove garlic, minced
½ teaspoon chili powder
¼ teaspoon smoked paprika
¼ teaspoon fine sea salt
pinch of pepper
1 medium avocado, pitted and chopped
Instructions
For the pasta:
Bring a large pot of lightly salted water to a boil. Add in the pasta and cook until al dente according to the package directions. Drain, rinse well with cold water and add to a large bowl.
Add in the tomatoes, corn, green onion, cilantro, black beans and walnuts and toss to combine.
For the dressing / serving:
In a small bowl, vigorously whisk together the olive oil, lime juice, almond butter, honey, garlic, chili powder, paprika, salt and pepper until smooth. Pour the dressing into the bowl with the pasta and toss to combine. Taste and season with additional salt / pepper as needed (I usually add a pinch or so of extra salt).
Add in the avocado and toss again to combine. Serve!
Notes
See post above for important tips & tricks for this recipe!
Nutrition Information:
Yield:

8
Serving Size:

1
Amount Per Serving:
Calories:

410
Total Fat:

18g
Saturated Fat:

2g
Trans Fat:

0g
Unsaturated Fat:

15g
Cholesterol:

0mg
Sodium:

199mg
Carbohydrates:

54g
Fiber:

11g
Sugar:

5g
Protein:

14g
Nutrition data shown is an estimate provided by an online calculator and is for informational purposes only. It should not be considered a substitute for a medical professional's advice.