Garlic Ginger Summer Veggie Stir-Fry
It's official. I am a stir-fry-aholic. Not that this is anything new, judging by the sheer number of stir-fry recipes that I have on this site. But still. It's gotten a bit out of hand as of late.
And yet, here I am shamelessly sharing yet another recipe. But this garlic ginger summer veggie stir-fry? Sooo worth it. And you absolutely need it in your life.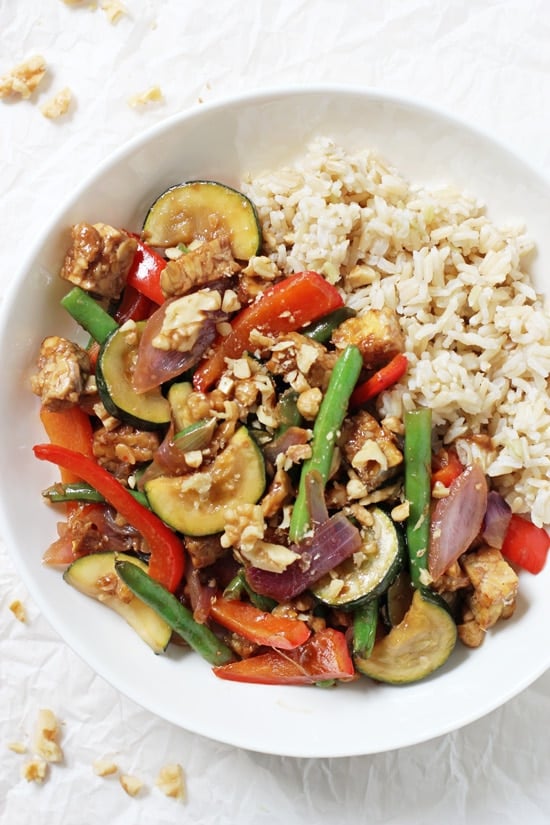 Because it's super flexible and customizable … kinda like a pick your own adventure. Oh yes, we're having some fun here today.
Now, I've made this dish a ridiculous amount of times so far this summer and I'm here to tell you that really anything goes.
So, let's discuss the components and all your options:
The protein: Tempeh, chicken, chickpeas, beef! You name it, I've tried it (ahem, I really have made this far more times than I should admit). All are delicious, all are nice and simple. Pick your poison.
The veggies: I've listed my favorite combination down in the recipe, but you absolutely have options here. Use any colored bell pepper. Yellow squash instead of zucchini. Broccoli florets or asparagus instead of the green beans. Just be sure to stick with the same total amount and use veggies that will cook in approximately the same time (i.e. don't use sweet potatoes or something that will take much longer to get tender).
The nuts: Don't dig walnuts? Use pecans or cashews. Or sprinkle on some sesame seeds at the very end instead.
But!! There's one thing that I'll ask you not to change – the sauce. Because oooooo do I love this sauce. It's my go-to for any on the fly stir-fry. Made with all pantry staples (like soy sauce and rice vinegar) and plennnnnty of ginger + garlic, it is just dang good. The bee's knees. The cat's meow. The queen of stir-fry sauces! So just do it, okay?
30 minutes. Healthy. Easy. Compatible with plenty of different diets depending on what you choose. Vegan, gluten free, dairy free, vegetarian!
So peace out takeout – we have this dinner thing covered.
Tips & Tricks For This Garlic Ginger Summer Veggie Stir-Fry
Let's first talk about the protein. You want somewhere right around 1 ½ to 2 cups, which I think is a good balance to the veggies. This is about 1 (8 ounce) package of tempeh, 1 (15 ounce) can of chickpeas or 2 large chicken breasts. I've also used about 1 pound of steak tips (which is a little more than what you need, but not a big deal – just as long as you're somewhere near that general amount!). We're super flexible here today.
Keep in mind that if you need to cook your protein first, this will add a few extra minutes to the recipe time (about 5 to 8 minutes, depending on what you're using). You can also absolutely prep the protein in advance.
If you have fresh basil on hand, it is EXCELLENT as a garnish for this stir-fry. Adds a lovely touch of spicy freshness. Yum, yum.
And finally, you also have lots of options for how to serve. You can go classic and spoon the stir-fry over brown rice (or quinoa or another grain of choice). Or go with cauliflower rice or even zoodles! Really, it's totally up to you.
So, looking for more stir-fry goodness? This orange chickpea and broccoli stir-fry and this peanut ginger vegetable stir-fry are both favorites round these parts!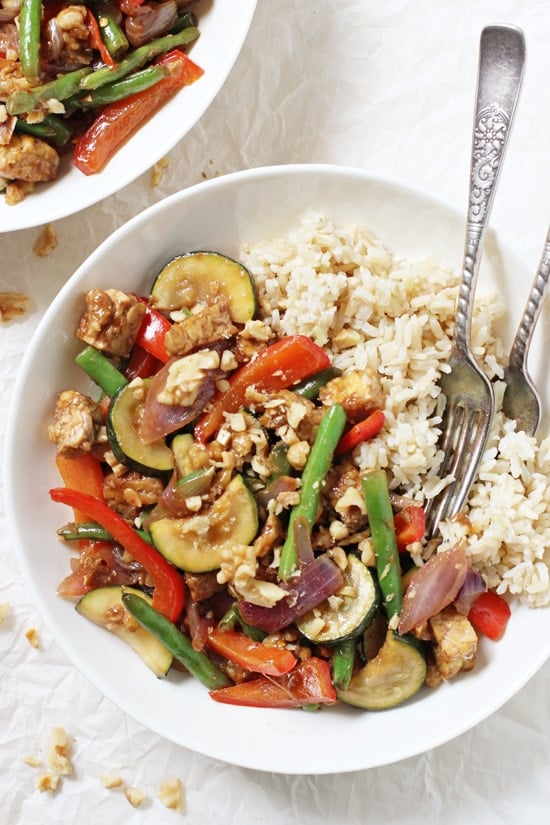 Did you make this recipe? Rate and review it down below! I'd love to hear from you.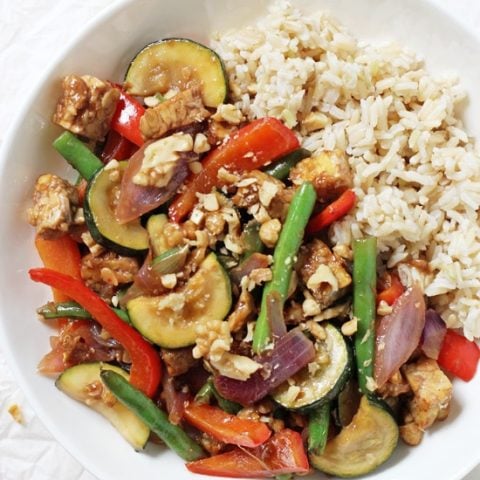 Garlic Ginger Summer Veggie Stir-Fry
30 minute garlic ginger summer veggie stir-fry! This healthy & easy meal is completely customizable and perfect for warm weather! Including the most delicious sauce!
Ingredients
For the sauce:
¼ cup low-sodium soy sauce or tamari
1 tablespoon rice vinegar
1 tablespoon honey or pure maple syrup
¼ to ½ teaspoon red pepper flakes, to taste
3 large cloves garlic, minced
1 tablespoon grated fresh ginger
2 teaspoons organic cornstarch
For the stir-fry:
2 tablespoons olive oil or coconut oil
1 large red onion, sliced
1 large red bell pepper, sliced
1 large zucchini, halved lengthwise then sliced
8 ounces fresh green beans, halved (about 2 ½ cups)
1 ½ to 2 cups cooked and chopped protein of choice*
½ cup raw walnuts, chopped
cooked brown rice or quinoa, for serving
Instructions
For the sauce:
In a small bowl, whisk together all the ingredients for the sauce. Set aside.
For the stir-fry:
Add the oil to a large skillet set over medium heat. When hot, add in the onion and cook for about 2 to 3 minutes, until it starts to soften. Add in the pepper, zucchini and green beans and cook for about 6 to 8 minutes, until tender to your liking. Add in your protein of choice, the walnuts and sauce (give it a quick whisk first). Continue to cook for about 1 minute, stirring frequently, until the sauce has thickened. Remove from the heat and serve as desired!
Notes
*Any cooked protein of choice will work here! I've done tempeh, chicken, beef, chickpeas. Really anything goes! To make clean up easy, I usually just cook whatever my protein is in the large skillet first and remove to a bowl. Then just follow the recipe as directed!
Nutrition Information:
Yield:

4
Serving Size:

1
Amount Per Serving:
Calories:

386
Total Fat:

26g
Saturated Fat:

4g
Trans Fat:

0g
Unsaturated Fat:

22g
Cholesterol:

0mg
Sodium:

711mg
Carbohydrates:

26g
Fiber:

7g
Sugar:

13g
Protein:

18g
Nutrition data shown is an estimate provided by an online calculator and is for informational purposes only. It should not be considered a substitute for a medical professional's advice. For this recipe, the info shown uses tempeh as the protein and does not include a grain for serving.