Bell Pepper, Snap Pea and Zucchini Stir-Fry
A simple, 30-minute bell pepper, snap pea and zucchini stir-fry that is perfect for summer! Filled with walnuts, basil and so much healthier than take-out!
Stir-fries. Filled with all their sauce-y, veggie-packed goodness! They just speak to me, you know? Which would explain why they appear at least once a week on our dinner menu. Sometimes more. It just happens. I can't help it – they are so easy!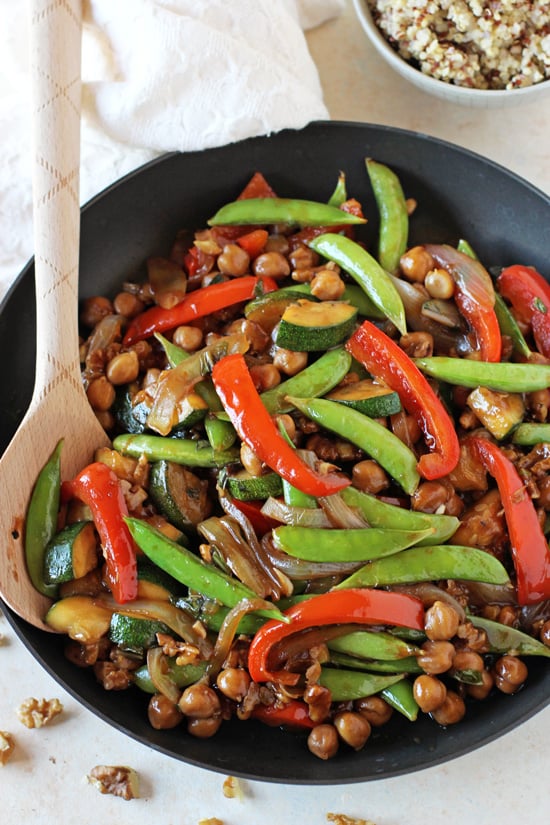 And today's zucchini stir-fry (summer lovin'!) is no different. Totally speaks to me. 30 minutes. Packed with flavor. Done and done. <— Dinner that is.
But the real beauty of this recipe? You kinda sorta can't screw it up. It's very flexible, if you will.
Let's just, um, imagine for a second, yes? Say perhaps you happen to be running through the grocery store and are not totally paying attention to your shopping list because you so need to get home in time for an appointment. And because of this, you accidentally pick up snow peas instead of sugar snap peas (along with, might I add, the wrong kind of almond milk – ugh).
And then later in the week, you prep everything for the recipe and still somehow don't realize that you purchased the wrong kind of peas until literally seconds before you throw them into the skillet.
Moral of the story? Either kind work. Use whatever you can find (or mistakenly grab). All will be well either way!
Just remember to trim the peas first if needed – i.e. remove those tough strings along the edges! Because if you don't, or happen to miss a few because you get lazy, you'll never hear the end of it from your husband when he's eating his bowl come dinner. I kid, I kid! But not really.
Tips & Tricks For This Bell Pepper Stir-Fry
To recap the semi-long story above, snow peas work just fine instead of the listed sugar snap peas!
Any color bell pepper will work, and you could even use yellow squash instead of the zucchini if desired. See, totally flexible!
Walnuts + basil = stir-fry magic. <— Truth. But. If you don't have walnuts on hand, another kind of nut will work fine too. I'll allow it.
For those of you who aren't down with the chickpeas: I think chicken or even beef would work great here as well. I would cut into pieces and then cook in the skillet first with a little olive oil, salt and pepper. Remove from the skillet and then follow the recipe below. Add the meat back in when you would add the chickpeas. You want about 1 ½ cups of whatever you choose to use (to keep the dish nice and sauce-y!).
Delicious. Easy. So much healthier than take-out. Check check check!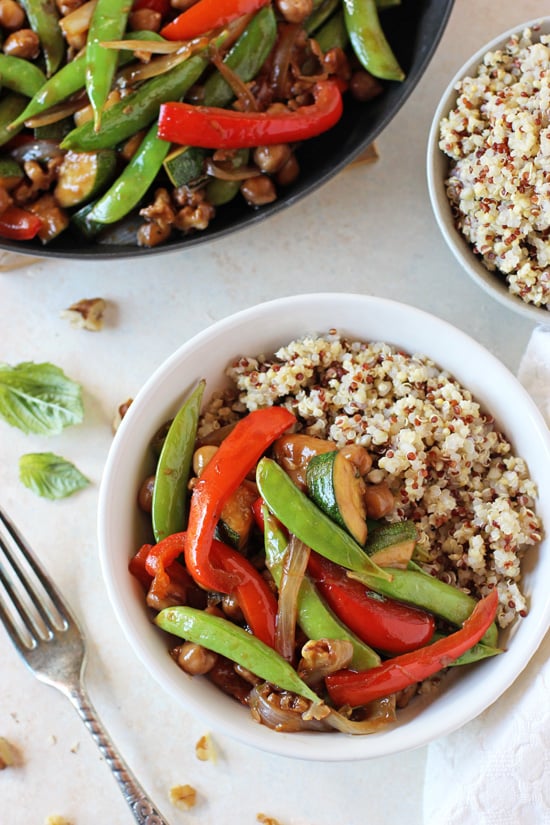 Additional Stir-Fry Recipes You Might Enjoy!
Did you make this recipe? Rate and review it down below! I'd love to hear from you.
Bell Pepper, Snap Pea and Zucchini Stir-Fry
Yield:
about 4 to 5 servings
A simple, 30-minute bell pepper, snap pea and zucchini stir-fry that is perfect for summer! Filled with walnuts, basil and so much healthier than take-out!
Ingredients
For the sauce:
¼ cup low-sodium soy sauce or tamari
2 tablespoons hoisin sauce
1 tablespoon rice vinegar
1 teaspoon grated fresh ginger
2 cloves garlic, minced
¼ to ½ teaspoon red pepper flakes
1 teaspoon orange zest
1 ½ tablespoons orange juice
2 teaspoons cornstarch
For the stir-fry:
2 tablespoons olive oil
1 medium onion, sliced
1 medium red bell pepper, sliced
1 medium zucchini, chopped
2 cups trimmed sugar snap peas
1 (15 ounce) can chickpeas, drained and rinsed
½ cup raw walnuts, chopped
¼ cup chopped fresh basil
brown rice, quinoa or another grain, for serving
Instructions
For the sauce:
In a small bowl, whisk together all the ingredients for the sauce. Set aside.
For the stir-fry:
Set a large nonstick skillet over medium heat. Add in the olive oil. When hot, add in the onion and cook for 2 to 3 minutes, until it starts to soften. Add in the pepper and zucchini and cook for 5 to 7 minutes, until tender but still just a touch crisp. Add in the peas, chickpeas and the sauce. Continue to cook for about 2 minutes, stirring frequently, until the sauce has thickened. Remove from the heat and stir in the walnuts and basil.
Serve as desired!
Nutrition Information:
Yield:

5
Serving Size:

1
Amount Per Serving:
Calories:

302
Total Fat:

15g
Saturated Fat:

2g
Trans Fat:

0g
Unsaturated Fat:

13g
Cholesterol:

0mg
Sodium:

1010mg
Carbohydrates:

32g
Fiber:

8g
Sugar:

11g
Protein:

12g
Nutrition data shown is an estimate provided by an online calculator and is for informational purposes only. It should not be considered a substitute for a medical professional's advice.