Honey Corn Bread Muffins (Gluten Free)
These honey corn bread muffins were originally published in April 2012. The post has been updated as of March 12, 2018 with new photos, text and a revamped recipe!
Cold, rainy and / or snowy weather calls for a killer corn bread recipe, yes?!
Actually, let me revise that statement. Chilly weather most definitely calls for a piping hot bowl of soup + some fluffy, moist and delicious corn bread. Yes to the yes.
So! In celebration of the dreary mess that is currently taking place outside my window, today we are revisiting these honey corn bread muffins from wayyyyy back in the archives.
Because after six years, I've most definitely learned a whole lot about baking and cooking. And, um, well, these bad boys definitely needed a little bit of fine tuning.
And fine tuning they received! After a bunch of tweaking and testing, I present to you the new and improved recipe! Let's discuss.
They are super easy and simple to pull together … I promise you that they are barely harder to make than the kind from a box! They are light, fluffy and perfectly moist in texture AND have a delightful bit of sweetness from the honey. Did I mention that they are gluten free? Without the use of any weird or funny ingredients?
Oh homemade corn bread, I sure do love you!
Pssst – looking for a non gluten-free recipe? This light and fluffy cornbread (made with whole wheat flour) is also a favorite at our house!
So, let's move along to a few tips & tricks for the recipe:
Measuring out your flours! Be sure to scoop them into your measuring cup with a spoon and then level off with the back of a knife. Otherwise, you'll likely use too much.
Be sure to use coconut milk that is at room temperature – i.e. use it straight from your pantry. If it's chilled, it can cause the coconut oil to harden up.
Don't skip the 5 minute rest time for the batter, please and thank you! It's important to let it rest before scooping into the prepared muffins tins.
And finally, if you don't need to keep your muffins dairy free, you should be able to use melted butter and regular milk (in place of the melted coconut oil and coconut milk). I haven't tested this myself, but I think it will work just fine.
Fluffy, fresh, fantastic muffins? Don't mind if I do!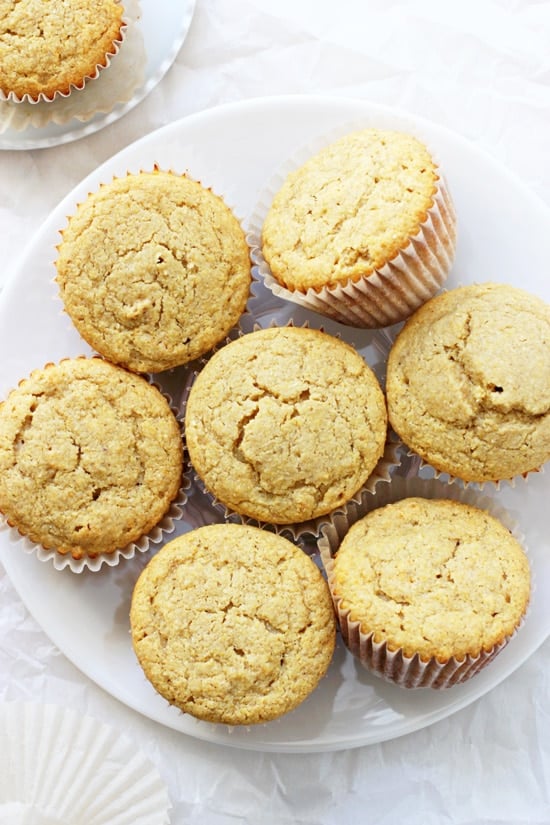 Honey Corn Bread Muffins (Gluten Free)
Prep Time: 15 minutes
Cook Time: 15 minutes
Total Time: 30 minutes
Homemade fluffy honey corn bread muffins! These super simple muffins are moist, easy to make and so much better than the kind from a box!
Ingredients:
1 cup fine ground yellow cornmeal
¾ cup oat flour
2 ½ teaspoons baking powder
½ teaspoon fine sea salt
1 large egg
⅓ cup melted coconut oil, cooled slightly*
⅓ cup light honey
¾ cup canned light coconut milk, at room temp
Directions:
Preheat the oven to 375ºF. Line a muffin pan with liners and set aside.
In a medium bowl, whisk together the cornmeal, oat flour, baking powder and salt. In another medium bowl, whisk together the egg, coconut oil, honey and milk. Add to the bowl with the dry ingredients and mix until just combined. Let the mixture stand for 5 minutes untouched.
Give the batter a light stir, then divide evenly in the prepared muffin tins, filling each about ¾ of the way full (a muffin scoop works great here!).
Bake for about 15 to 18 minutes, until a toothpick inserted into the middle comes out clean (a few loose crumbs attached is okay!). Let cool for about 5 minutes, then remove the muffins to a wire rack to cool completely.
*Be sure to melt the coconut oil first and then measure out the correct amount.