Honey Chipotle Beer Bread Muffins
With a soft and chewy inside, a crunchy top and a bit of heat, these honey chipotle beer bread muffins are irresistible! Just one bowl and a few minutes of prep!
With a long holiday weekend (!!) upon us, I feel like I need to leave you with a fantastic recipe.
You know, in case you want to get your bake on in the kitchen over the next few days. <— Isn't this what everyone does with their long weekends??? Or is that just me?
ANYWAY, today we chat these beer bread muffins!!! Yes, three exclamation points are totally warranted because holy smokes are these good.
And! I have one of you, my wonderful readers, to thank for the idea. Seriously, you guys are the best.
Quite a few months back, I got a request for a chipotle bread recipe – as in one with the chipotle incorporated into the actual dough.
I've been thinking about it ever since and FINALLY have a recipe to share. A bit delayed, but I couldn't be happier with it.
Now, beer bread has long been one of my favorite treats and this buttery honey beer bread always hits the spot. BUT. Beer bread muffins?? They mayyyy just be my new go-to instead of the typical loaf. Because:
They bake up much faster in the oven, which means you get to eat them much faster. <— Always important.
You get even more of that crunchy, awesome top. Which is what the husband and I tend to fight for whenever I make a regular loaf of beer bread (although, let's be real, the soft & slightly chewy interior is also awesome).
And as for the flavor? Oh me oh my. A little sweetness from the honey. Some kick and smoke from the chipotle pepper. And of course that yeasty flavor from the beer.
There's just a touch over 10 minutes of prep and only one bowl involved to get you on your way to major homemade bread happiness. Does it get any better? I think not my friends, I think not.
Tips & Tricks For These Honey Chipotle Beer Bread Muffins
While there is not a super strong beer flavor in the muffins, I would still encourage you to use something that you like. Because you do taste it! I personally like to use a beer on the lighter side (in terms of flavor), so that it doesn't overpower the honey and chipotle.
If you don't drink alcohol, I've had readers comment on my beer bread recipe that seltzer water or club soda will work in place of the beer. I haven't tried this myself though!
Let's talk about the heat level from the minced chipotle peppers in adobo sauce. If you use the full 2 tablespoons, these definitely have a good amount of kick! With the 1 ½ tablespoons, you get a bit more of the yeast flavor from the beer and less of the smokiness / heat. Along those lines, you could absolutely drop down the amount even more, or just leave it out entirely for a more classic flavor. Just play around and find what you like best!
And finally, I find that 1 tablespoon of the melted coconut oil / butter is plenty for me here for the topping. But again, find what you like!
One final piece of advice. Serve these bad boys warm. Big time swoon.
Additional Simple Bread Recipes You Might Enjoy!
Did you make this recipe? Rate and review it down below! I'd love to hear from you.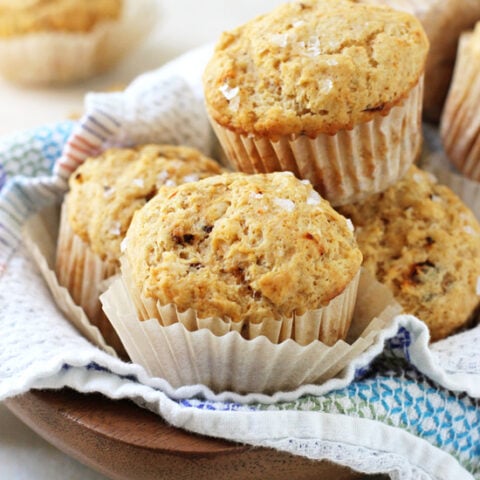 Honey Chipotle Beer Bread Muffins
With a soft and chewy inside, a crunchy top and a bit of heat, these honey chipotle beer bread muffins are irresistible! Just one bowl and a few minutes of prep!
Ingredients
2 cups all-purpose flour
1 cup bread flour*
1 tablespoon baking powder
1 teaspoon fine sea salt
¼ cup light honey
1 tablespoon grapeseed oil (or another neutral oil)
1 ½ to 2 tablespoons minced chipotle pepper in adobo sauce
1 (12 ounce) bottle beer
1 to 2 tablespoons unsalted butter, melted and cooled slightly**
flaky sea salt, for sprinkling
Instructions
Preheat the oven to 375ºF. Line a muffin pan with liners and set aside.
In a large bowl, whisk together the all-purpose flour, bread flour, baking powder and salt. In a small bowl or a liquid measuring cup, mix together the honey, oil and minced chipotle pepper. Add the mixture to the bowl with the flour, along with the beer, and mix until just combined. Scoop the batter evenly into the prepared muffin tins, filling each almost all of the way full. Gently brush the melted butter evenly over the tops of the muffins, then sprinkle lightly with the flaky salt.
Bake for about 20 to 22 minutes, until golden brown and a toothpick or cake tester inserted into the middle comes out clean. Let the muffins cool for about 5 minutes, then remove to a wire rack.
Notes
*If you don't have bread flour on hand, you can substitute all-purpose flour.
**To keep these dairy free, you can either just omit the step of brushing these with melted butter OR you can brush them with melted butter flavored coconut oil! Also delicious!
Nutrition Information:
Yield:

12
Serving Size:

1
Amount Per Serving:
Calories:

181
Total Fat:

4g
Saturated Fat:

1g
Trans Fat:

0g
Unsaturated Fat:

2g
Cholesterol:

5mg
Sodium:

355mg
Carbohydrates:

32g
Fiber:

1g
Sugar:

6g
Protein:

4g
Nutrition data shown is an estimate provided by an online calculator and is for informational purposes only. It should not be considered a substitute for a medical professional's advice.