Wheat Pizza Dough
This foolproof recipe for wheat pizza dough will have you making perfect pizza at home! Crispy on the outside and chewy on the inside, it's easy to make, freezer friendly and utterly delicious. Dairy free, soy free and vegan.
This wheat pizza dough was originally published in May 2012. The post has been updated as of April 30, 2018 with new photos, text and improved recipe instructions.
I'm 100% convinced that really good pizza starts with really good pizza crust.
We're talking perfectly crispy and crunchy on the outside, while all soft and tender and chewy on the inside.
And today's wheat pizza dough? It absolutely delivers on these fronts.
Not to mention that it's really easy to pull together, freezer friendly and is pretty much foolproof when it comes to pizza dough.
Yes, even if you are scared of working with yeast! Trust me, this recipe is a great place to start.
It uses just a few basic ingredients – water, yeast, olive oil, salt and flour. No sugar, no crazy long list. Just straight up pantry staples.
Now, let's get to an all-important question.
What is the best flour to use in pizza dough?
I've done a whole lot of experimenting over the last seven or so years and I'm gonna go ahead and declare that it's a combo of bread flour + whole wheat flour.
The whole wheat flour adds this delightful bit of nuttiness to the dough (plus, makes it a tad bit healthier) and the bread flour is what brings the chew.
And personally, a little bit of chew in pizza crust is a must.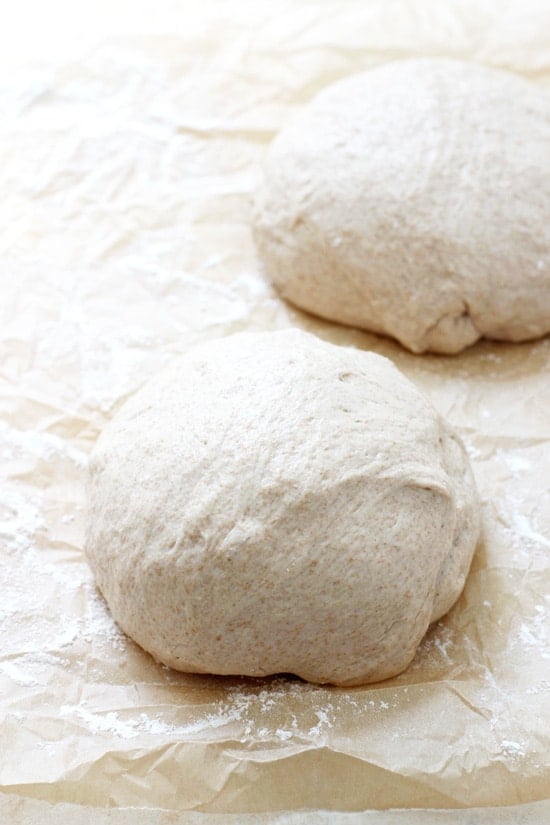 Tips & Tricks For This Wheat Pizza Dough
Let's talk about measuring out your flours. First, fluff / loosen the flour up in the bag. Next, scoop it with a spoon into your measuring cup and then level off with the back of a knife. If you dunk the cup directly into the flour bag, you'll likely use more flour (i.e. the dough will be heavier).

Keep in mind that the temperature and humidity level in your house will affect the consistency of the dough. For example, I usually need to add a decent amount of extra flour to get it to the right consistency – but this may be different for you! I included more info on this in the notes section down below – so be sure to read.

Along those lines, I'd encourage you to experiment and find the sweet spot in your house for where to let the dough rise. For me, it's our laundry room (it tends to run a bit warmer than the rest of our house – especially when I have a load of laundry in the dryer – which is perfect for bread proofing).
Additional Bread Recipes You Might Enjoy:
Did you make this recipe? Rate and review it down below! I'd love to hear from you.
Wheat Pizza Dough
Yield:
2 medium-large pizzas
Additional Time:
1 hour
45 minutes
Total Time:
2 hours
12 minutes
This foolproof recipe for wheat pizza dough will have you making perfect pizza at home! Crispy on the outside and chewy on the inside, it's easy to make, freezer friendly and utterly delicious. Dairy free, soy free and vegan.
Ingredients
1 ¾ cups warm water (about 110ºF)
2 ¼ teaspoons instant yeast
2 tablespoons olive oil
2 ½ cups bread flour, plus extra as needed
1 ½ cups 100% whole wheat flour
1 ½ teaspoons fine sea salt
Instructions
Add the warm water to a small bowl or large liquid measuring cup, then sprinkle in the yeast. Mix gently with a fork to combine. Add in the olive oil and mix again briefly.
Add the bread flour, the whole wheat flour and salt to the bowl of a stand mixer fitted with the paddle attachment. Mix on low for a few seconds to combine. With the mixer on low, slowly pour in the liquid ingredients in a steady stream and mix until the dough becomes a cohesive mass.
Stop the mixer and switch to the dough hook. Knead the dough for about 5 minutes on low speed, until the dough is smooth and elastic (see the notes section below).*
Shape the dough into a ball and then place in a large oiled bowl. Turn the dough once to coat, then cover with plastic wrap or a clean kitchen towel. Let rise for about 1 ½ to 2 hours, until the dough has doubled in size.
With lightly floured hands, press down the dough gently to deflate. Split the dough into two equal pieces and shape into balls.
If you are not using the pizza dough right away: Wrap each ball tightly in plastic wrap, then place in a freezer safe plastic bag and freeze. When ready to use, thaw out in the refrigerator (I typically move it to the fridge the morning of when making pizza for dinner).
If you are using the dough right away: Preheat the oven to 500ºF. Place a pizza stone in the oven and allow the stone to heat for at least 15 minutes (but ideally 30!). Turn a dough ball out onto a lightly floured surface. Allow the dough to relax for about 10 minutes (but no longer than 30 minutes). Shape the dough and then transfer to a piece of parchment the size of your pizza stone that has been lightly dusted with cornmeal. Top as desired. Place the parchment with your dough directly onto the heated pizza stone. Bake until the crust is browned and the cheese is golden and bubbly, about 10 to 14 minutes.
Notes
*If the dough is too tacky and sticky, add in additional bread flour as needed, about 1 tablespoon at a time, until the dough is smooth and elastic – you want it to clear the sides of the bowl but stick to the bottom. I usually check the dough after about 1 to 2 minutes of kneading, and then add additional flour as needed and continue kneading to the full 5 minutes (I usually need to add somewhere around ¼ cup of extra flour - but this may vary for you).
Adapted from Brown Eyed Baker
Nutrition Information:
Yield:

16
Serving Size:

1
Amount Per Serving:
Calories:

132
Total Fat:

2g
Saturated Fat:

0g
Trans Fat:

0g
Unsaturated Fat:

2g
Cholesterol:

0mg
Sodium:

200mg
Carbohydrates:

24g
Fiber:

2g
Sugar:

0g
Protein:

4g
Nutrition data shown is an estimate provided by an online calculator and is for informational purposes only. It should not be considered a substitute for a medical professional's advice.