Roasted Red Potatoes
These roasted red potatoes were originally published in May 2012. The post has been updated as of October 6, 2017 with new photos, text and improved recipe instructions!
It's roasted vegetable season!!
Which may or may not be apparent because yes, I am that person who roasts veggies allllll throughout the dead of summer (oh hey there crazy hot kitchen).
However, we have finally reached that point in the year when the weather is cooling down and therefore a big tray of roasted veggies seems much more acceptable. Which is why today we chat these super simple and super delicious roasted red potatoes!
Now, I'll be the first to admit that I absolutely love potatoes cooked any and all ways. BUT! Roasted potatoes are just the best. The bee's knees! The cat's pajamas! <— Yup, I am all kinds of cool.
ANYWAY. These potatoes are one of the very first things that I learned to make in the kitchen and they have remained a total staple oh so many years later.
They're crispy, they're creamy, they're filled with herb-y goodness! They are also downright addictive, incredibly easy to pull together and classic enough to go with just about anything. ANYTHING. And when you get to scrape those super crispy bits from the warm baking sheet and shove them straight into your mouth??? Pure potato happiness.
Crispy taters here we come!
So, let's move onward to a few simple tips & tricks for the recipe:
You could absolutely use any combo of herbs you would like here. Think of this recipe more as a base to customize to your heart's content.
Be sure to use a spatula to scrape / toss the potatoes while they are baking. They do stick a bit to the pan and the spatula works much better here than a wooden spoon.
These taters are definitely best enjoyed freshly made. For that crisp factor! However, they absolutely still taste great as leftovers (it's just that the crispness does disappear).
Oh! One last suggestion! These potatoes + these sweet and spicy green beans??? The BEST simple side dish combo.
Deeeelicious! We are so all over this side dish game. Like a champ.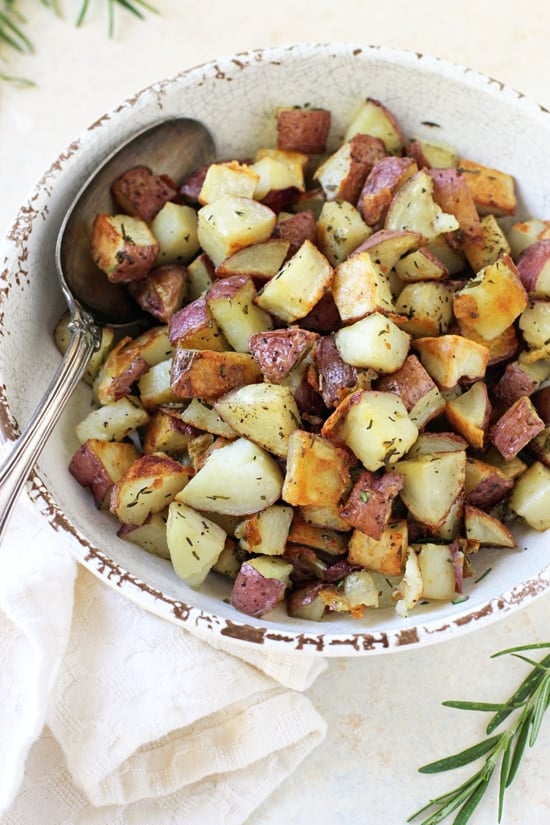 Yield: about 3 to 4 servings
Roasted Red Potatoes
Prep Time: 10 minutes
Cook Time: 50 minutes
Total Time: 1 hour
Crispy, creamy roasted red potatoes! This simple side is a perfect addition to any meal! With garlic, rosemary and thyme!
Ingredients:
5 medium-large red potatoes (about 2 pounds), cut into ¾ inch chunks
2 ½ tablespoons olive oil
½ teaspoon garlic powder
½ teaspoon dried rosemary (or 1 ½ teaspoons minced fresh rosemary)
½ teaspoon dried thyme (or 1 ½ teaspoons minced fresh thyme)
½ teaspoon fine sea salt
¼ teaspoon pepper
Directions:
Preheat the oven to 400ºF.
Add the potatoes to a large rimmed baking sheet. Drizzle with the olive oil, then sprinkle with the garlic powder, rosemary, thyme, salt and pepper. Toss until well combined and the potatoes are coated with the oil / seasonings. Spread evenly on the baking sheet.
Bake for about 45 to 50 minutes, until the potatoes are golden brown and crisp – use a spatula to stir / scrape the potatoes every 15 minutes, so that they cook evenly. Serve immediately!