Blueberry Buttermilk Cake
This blueberry buttermilk cake was originally published in May 2012. The post has been updated as of June 28, 2017 with new photos, text and improved recipe instructions (including a dairy free option)!
It's time for cake! Simple, no fuss, delicious berry-filled cake.
Do you feel me? <— Pretend I didn't just say that.
No but really. This baked treat. Oh my. It's completely perfect in that lovely everyday sort of way. Simplicity at its best!
And I am absolutely 100% kicking myself in the pants for forgetting about it over the last several years. It's another one of those recipes from the very very early days of this website – we're talking a recipe I posted in this blog's second month of existence. And with all the new recipe ideas I have floating around in my brain, well, this poor cake got overlooked.
But now? It's all I can think about. Because it's just so darn good.
We're talking cake that is packed to the brim with fresh blueberries. It's sweet but not cloyingly so, and is soft, fluffy and moist (I know, I know, but it needed to be said!). There's a touch of lemon zest that adds a bit of brightness, and the whole thing is finished off with a quick sprinkle of coarse sugar over the top for some crunch.
It's light but still totally treat-worthy, know what I mean? Which would explain why I've made it three times over the last few weeks. Happy feelings all around! Because it's straight up blueberry loaded love. ♡
So, like always, let's get to some tips & tricks for the recipe!
First up! Check on your cake toward the earlier end of the listed bake time. Because it's a thinner-style cake, it can bake up pretty quickly. And we don't want to overcook it, no sir!
Let's talk about the batter. While mixing it up, you alternate back and forth between adding in the flour and the buttermilk. Each time you add some in, let it absorb into the batter and then keep going.
If you enjoy this cake freshly baked, you get a hint of that aforementioned crunch from the coarse sugar. But! The cake also keeps well for several days and personally I think it gets even better as it sits. You lose that crunch on top but it gets even moister in a fantastic sort of way.
I think this cake is perfect just as is (all naked and such!), but you could absolutely serve up with a dollop of whipped cream (or whipped coconut cream if dairy free!) and some sliced strawberries to make it nice and festive for the summer holidays!
And finally, you could definitely sub in other berries for the blueberries. BUT BUT BUT! I would stick with either raspberries or blackberries. Strawberries put off a ton of moisture when cooked and won't work as well here.
And now, it's time to make more cake. My baking game is SO on point right now! I feel like this blueberry pistachio coffee cake OR this blueberry lime coconut cobbler may also need to happen this weekend. Hmmmm… decisions decisions.
Blueberry Buttermilk Cake
Prep Time: 15 minutes
Cook Time: 25 minutes
Total Time: 40 minutes
This simple blueberry buttermilk cake is perfect for any occasion! Light, fluffy & filled with plenty of fresh blueberries! Includes a dairy free option!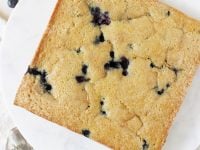 Ingredients:
1 cup all-purpose flour
½ teaspoon baking powder
½ teaspoon baking soda
¼ teaspoon salt
¼ cup unsalted butter, room temperature*
⅔ cup granulated or cane sugar
1 teaspoon lemon zest
½ teaspoon vanilla extract
1 large egg
½ cup buttermilk**
1 cup fresh blueberries
1 tablespoon coarse sugar (or more granulated / cane sugar)
Directions:
Preheat the oven to 400ºF. Line an 8×8-inch baking dish with parchment paper (cut a big enough piece so that the paper hangs over the edges on two sides). Mist lightly with nonstick or olive oil spray and set aside.
In a small bowl, whisk together the flour, baking powder, baking soda and salt. Set aside. Add the butter, sugar and lemon zest to the bowl of a stand mixer fitted with the paddle attachment. Beat on medium high speed for about 2 minutes, until light and fluffy. Add in the vanilla and egg, and beat until combined. With the mixer on low speed, add in one third of the flour mixture, then half of the buttermilk. Repeat this process, adding another third of the flour mixture, then the remaining half of the buttermilk. Finally, add in the last third of the flour mixture and mix until combined.
Transfer the batter to the prepared baking dish and spread evenly in the pan. Sprinkle the blueberries and then the coarse sugar evenly over the top of the batter.
Bake for about 25 to 30 minutes, until the cake is golden brown and a toothpick inserted into the middle comes out clean. Remove from the oven and place the pan on a cooling rack. Let cool for at least 20 minutes (or completely!), then lift the cake out of the pan with the parchment overhang. Cut into squares to serve.
*For a dairy-free option! Use ¼ cup solid state coconut oil in place of the butter. You want the coconut oil to be softened, but not melted. During the summer, my coconut oil is already soft due to the heat, so I just use it straight out of the jar. But if your house is cold and the oil is completely hard – just pop in the microwave for about 5 to 10 seconds to soften slightly (but don't melt it!! The time may vary in your microwave!). Beat with the sugar and zest as directed in the recipe – it won't be light and fluffy as it would be with butter in terms of appearance at this step, but just beat as directed for the 2 minutes and proceed with the recipe. It works beautifully in the final cake!
**For a dairy-free buttermilk option! Mix together 1 (14 ounce) can light coconut milk (shake it up well first!) and 2 tablespoons white distilled vinegar in a small bowl. Let the mixture sit for 10 minutes, then use as desired (you'll only need some for this cake). You can store the "buttermilk" in an airtight container in the fridge for up to one week!
And just because this picture still completely cracks me up, here's a photo from the original post. Emma on the other hand … not so pleased with our antics.