Sausage, Mozzarella and Basil Pizza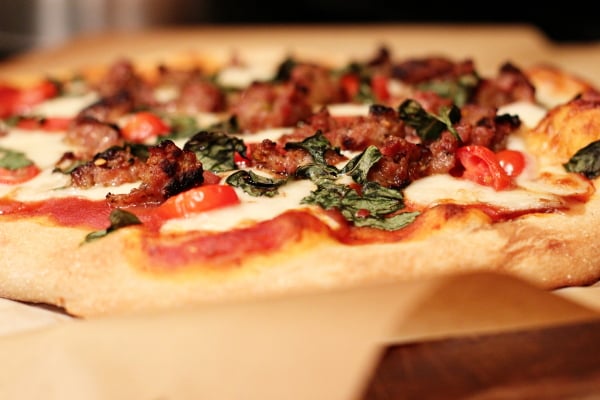 We really like homemade pizza in our house.  So much in fact that I can't even remember the last time we ordered pizza.  Since I learned to set the oven temperature at 500 degrees and preheat the stone for at least 30 minutes before using, we've had our pizzas turn out great every single time.  It's awesome.
We like trying different varieties of pizza toppings and when I came across this recipe I had a feeling it would be a winner.  Then again my husband instantly declares anything with sausage "awesome."
Aside from the sausage, we really enjoyed how simple the combination was of mozzarella, tomatoes and basil.  The sausage was just the added bonus.  I have a feeling this pizza will make regular appearances at our dinner table…
Yield: one medium large pizza
Sausage, Mozzarella and Basil Pizza
Recipe for sausage, mozzarella and basil pizza. Homemade pizza topped with sweet sausage, fresh tomatoes, basil and balsamic vinegar!
Ingredients:
1 ball pizza dough
2 links sweet Italian sausage, casings removed
¼ to ½ cup of your favorite pizza sauce (I used closer to ¼ cup)
sliced fresh mozzarella (I used about 6 ounces)
thinly sliced tomatoes (since I only had cherry tomatoes on hand, I sliced up a handful of them)
5 basil leaves, roughly chopped
½ to 1 tablespoon balsamic vinegar
red pepper flakes, to taste
Directions:
Preheat the oven to 500 degrees. Place a pizza stone on a lower rack in the oven and allow the stone to heat for at least 30 minutes.
Place the dough ball on a lightly floured surface and allow to relax for about 10 minutes (but no longer than 30). Roll out and shape the dough and then transfer to a piece of parchment the size of your pizza stone that has been lightly dusted with cornmeal.
Meanwhile, crumble the sausage in a skillet until it is cooked through and browned.
Add a thin layer of pizza sauce to the shaped dough. Next add the slices of mozzarella, then the thinly sliced tomatoes. Top with the crumbled sausage and basil. Drizzle with the balsamic vinegar and then finally the red pepper flakes.
Place the parchment with your dough directly onto the pizza stone. Bake until the crust is golden, about 8 to 12 minutes.