Spiced Rosemary and Thyme Nuts
These spiced rosemary and thyme nuts were originally published in October 2012. The post has been updated as of October 4, 2017 with new photos, text and improved recipe instructions!
Allow me to reintroduce you to a recipe that is a complete staple at our house during the holiday season.
I've been making these spiced nuts on the regular since I posted them five (!!) years ago and I figured it was high time for a bit of a facelift. Because goodness me the writing in the original post was all sorts of horrific! And don't even get me started on the photos.
BUT ANYWAY. Let's talk nuts! Totally savory, a touch sweet and a tad bit spicy, these super simple rosemary and thyme nuts are all kinds of addictive.
With a mixture of warm cumin, fresh rosemary and thyme, sweet brown sugar and a touch of spicy cayenne, I'm going to go ahead and bet that you won't be able to keep your fingers off of the baking sheet all warm from the oven.
And did I mention that they also make your house smell all kinds of fantastic?! Breathe it in – that roasty, toasty, herby, holiday aroma!
So, let me suggest a few ways for you to put them to use … now that I have you all convinced to make them, yes???
Serve them up for a holiday gathering with some crackers, cheese, fruit and the like! Or perhaps package them up in adorable little containers for a hostess or holiday gift. Maybe serve them on their own as part of a game day spread? Or, you know, make a batch just because.
Snack time has never looked so good.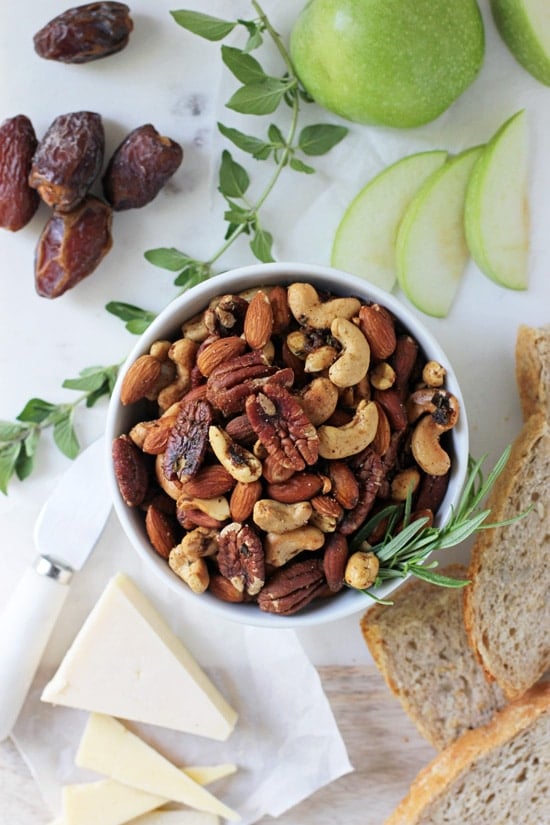 So, let's move right on along to a few basic tips & tricks for the recipe:
While I completely dig the combo of fresh rosemary and thyme, I've also made these with all rosemary. Also FANTASTIC.
Please, please, please be sure to use raw nuts!! You don't want anything that has already been roasted, seasoned or salted. Capeesh?
Lastly, I've tried making these with coconut sugar instead of the listed brown sugar (since that's what I tend to keep on hand) and quite frankly the coconut sugar just doesn't work as well. For whatever reason, it causes the coating to not stick as nicely to the nuts. So for now, go with the brown sugar and I'll be sure to report back if I do find a way to make it behave.
So lemme leave you with a little math … wine (or warm cider???) + these spiced nuts + cheese and crackers = some excellent fall weekend plans.
Spiced Rosemary and Thyme Nuts
Prep Time: 10 minutes
Cook Time: 20 minutes
Total Time: 30 minutes
These super easy spiced rosemary and thyme nuts are a fantastic appetizer, snack or gift! Savory, a touch sweet and a tad bit spicy!
Ingredients:
2 ½ cups mixed raw nuts (such as walnuts, pecans, almonds, peanuts)
1 tablespoon packed light brown sugar
1 teaspoon ground cumin
1 teaspoon fine sea salt
½ teaspoon pepper
⅛ to ¼ teaspoon cayenne pepper, to taste
2 tablespoons olive oil
1 tablespoon minced fresh rosemary
½ tablespoon minced fresh thyme
Directions:
Preheat the oven to 300ºF.
Add the mixed nuts, the sugar, cumin, salt, pepper and cayenne to a large bowl and toss to combine. Set aside.
Add the olive oil to a small saucepan set over medium low heat. When warm, add in the rosemary and thyme and cook for about 1 minute, stirring frequently, until fragrant. Pour the mixture into the bowl with the nuts and mix until everything is evenly coated. Spread the mixture on a large rimmed baking sheet.
Bake for about 20 minutes, stirring occasionally, until the nuts are toasted and fragrant. Remove from the oven and let cool completely (the coating will dry as it cools). Store the nuts in an airtight container for up to four days!