Oreo Football Truffles
These adorable oreo football truffles are perfect for game day! With a simple homemade oreo truffle coated in chocolate and finished off with white chocolate stitching, they're too much fun. Vegetarian.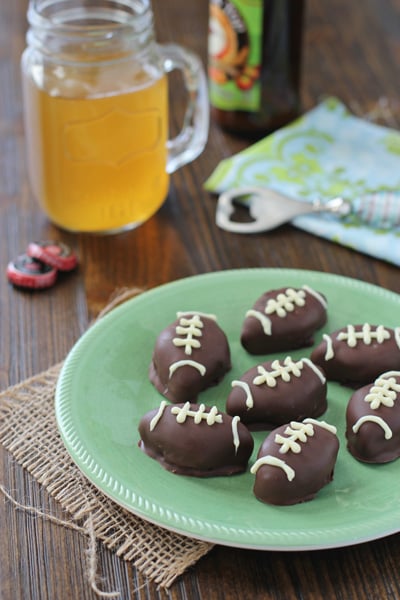 Note: This recipe is NOT dairy free. It was published before Cook Nourish Bliss transitioned to dairy free recipes and remains popular with long time readers. You can try using substitutions to make it dairy free, however I have not tested this myself and can't say how it will turn out.
Let's talk about a little problem I have – an obsessive need to be doing something at all times. It's really bad.
Don't get me wrong, I spend plenty of time with friends and do fun things … but I can't sit still when I'm at home.
I also talk too much according to my husband. Which feeds into the whole need-to-be-doing-something-at-all-times thing … or chatting. I do like to chat.
So this is what happens when I get bored. And the husband tells me to shush because he's trying to do work (or watch TV … let's be real here).
My mind inevitably wanders to food and I head into the kitchen to make cute little football-shaped truffles.
Because that's what most people do with their time, right? Well, at least I sure do.
So let's turn our attention to these little truffles.
An easy oreo base coated in chocolate and then finished off with some white chocolate "stitching."
The hardest part is waiting for the chocolate to set so that you can dig in and enjoy.
Additional Game Day Recipes You Might Enjoy:
Did you make this recipe? Rate and review it down below! I'd love to hear from you.
Oreo Football Truffles
Total Time:
1 hour
30 minutes
These adorable oreo football truffles are perfect for game day! With a simple homemade oreo truffle coated in chocolate and finished off with white chocolate stitching, they're too much fun. Vegetarian. 
Ingredients
30 oreo sandwich cookies
1 (8-ounce) package cream cheese, softened
16 ounces semi-sweet chocolate, coarsely chopped
4 ounces white chocolate or white candy melts
piping bag and small tip
Instructions
Add the oreo cookies (cream and all) to the bowl of a food processor and process until they have a fine consistency. Transfer to a medium bowl and add in the cream cheese. Use a wooden spoon to mash the two together. Mix until well combined.
Line a baking sheet with wax paper (preferably one that will fit inside your freezer).
Roll the oreo mixture into small balls about 1-inch in size and then shape into a football (I found it was easiest to put the round ball on the baking sheet and then flatten the top a bit and kind of pinch the edges to shape into the football).
Once you have shaped all the truffles, place the baking sheet in the freezer for about 45 minutes so they can harden before dipping in the chocolate.
Add the semi-sweet chocolate to a microwave safe bowl. Microwave at 50 percent power for 30 second intervals until the chocolate is completely melted, stirring after each. Alternatively, use a double boiler to melt the chocolate.
Dip the truffles into the melted chocolate so they are well coated, shake off the excess and then place back on the prepared baking sheet to dry (I've found that the easiest way to dip is with two forks, so you can gently shake off the excess chocolate).
Once the chocolate is set, melt the white chocolate using the same method described above. Spoon the chocolate into a piping bag fitted with a small tip (I used a #2 tip). Pipe the stitching onto each football. I did a few test runs on the wax paper to make sure the chocolate wasn't too runny and would hold its shape (let it cool slightly if it won't).
Let the chocolate set completely before removing the truffles from the baking sheet (I usually stick them in the refrigerator to speed up the process). Refrigerate until ready to serve.
Nutrition Information:
Yield:

32
Serving Size:

1
Amount Per Serving:
Calories:

162
Total Fat:

10g
Saturated Fat:

5g
Trans Fat:

0g
Unsaturated Fat:

3g
Cholesterol:

8mg
Sodium:

69mg
Carbohydrates:

19g
Fiber:

1g
Sugar:

14g
Protein:

2g
Nutrition data shown is an estimate provided by an online calculator and is for informational purposes only. It should not be considered a substitute for a medical professional's advice.