Maple Roasted Vegetables with Toasted Walnuts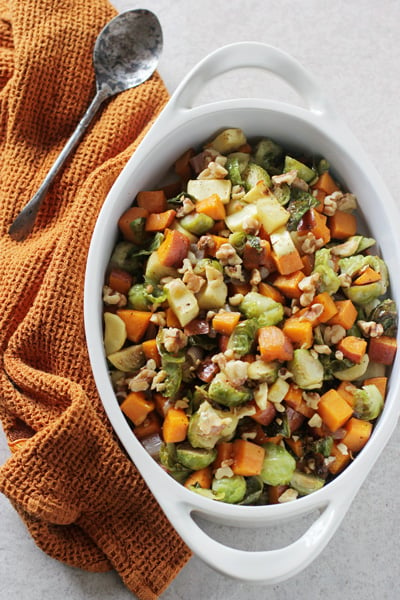 Time to chat about veggies! For turkey day of course.
As much as I profess how much I adore carbs and all of those types of side dishes, my love for veggies runs deep. And I really like to keep everything balanced on the big day so there are lighter dishes to counteract all that brown butter I plan to consume.
So today we are talking about my latest favorite combination of vegetables to roast in the oven. We have some shallots. Some sweet potatoes. Parsnips! Even brussels sprouts!
And it all gets cooked with some pure maple syrup to give just a slighttttt hint of sweetness. Nothing crazy. We'll also top it all off with some toasted walnuts. For toasty toasty goodness. Combining into a dish that is simple, not complicated and certainly not fussy.
And this dish is not just for holidays. I'll roast these babies up one day during the week and we'll enjoy it as a side over the next few days.
The takeaway of this fun fact? You can absolutely make these ahead of time and just reheat on Thanksgiving day.
I'm allll about minimizing stress and work on the big day itself.
Because let's face it. As much as I love cooking and hosting, you better believe I will be sitting with a big ol' glass of this apple cider sangria snacking on the cheese plate. And enjoying myself and chatting it up.
Because in case you couldn't tell, I really like to talk. Like, a lot.
Maple Roasted Vegetables with Toasted Walnuts
Prep Time: 15 minutes
Cook Time: 30 minutes
Total Time: 45 minutes
Recipe for maple roasted vegetables with toasted walnuts. Simple and unfussy. Filled with shallots, sweet potatoes, parsnips and brussels sprouts!
Ingredients:
2 medium shallots, chopped
2 medium sweet potatoes, cut into ½ inch chunks
1 pound brussels sprouts, trimmed and halved lengthwise (quartered if really large)
1 large parsnip, peeled and cut into ½ inch chunks
2 tablespoons olive oil
¼ cup pure maple syrup
¾ teaspoon salt
¼ teaspoon pepper
½ cup raw walnuts
Directions:
Preheat the oven to 400ºF.
Add the shallots, sweet potatoes, brussels sprouts and parsnip to a large rimmed baking sheet. Drizzle with the olive oil and the maple syrup, then sprinkle with the salt and pepper. Toss to combine then spread in an even layer.
Bake for about 25 to 30 minutes, stirring once halfway through, until tender and starting to brown. Taste and season with additional salt and pepper as needed.
Meanwhile, set a small skillet over medium heat. When hot, add the walnuts and cook, stirring occasionally, until fragrant and lightly browned / toasted, about 3 minutes. Chop then set aside.
Transfer the vegetables to a serving bowl. Top with the toasted walnuts.