Holiday Corn
This holiday corn was originally posted in November 2012. The post has been updated as of December 14, 2017 with new photos, text and improved recipe instructions (including a dairy free / vegan option)!
Today I bring you a recipe that at first glance may seem, well, kinda boring and just not very exciting. BUT. Wait right there!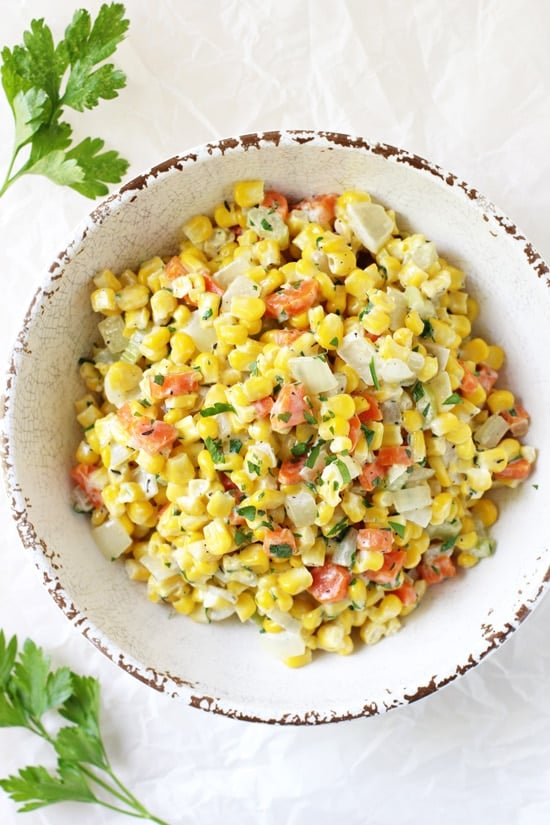 Because looks can absolutely be deceiving and I promise you that this holiday corn is completely worthy of your time. It's outrageously easy and simple and basic but OH SO GOOD.
Now, if you have been with me since the very very beginning, you may recognize this dish – or as I was originally calling it "company corn." <— I mean seriously, what was that? Such a weird name.
So I hereby re-christen it to holiday corn, because at least that makes a wee bit more sense and isn't quite so corny.
ANYWAY. Let's actually talk about what's in this corny corn, yes?!
We start by sautéing the ever-classic combo of onion, celery and carrots in a little bit of butter or olive oil under tender. Next, we stir in some cooked frozen corn and a few simple spices (both fresh and dried!). Then, then, we finish it off with a touch of sour cream (or cashew cream for dairy free!). And wham bam we are done!
It's classic, it's creamy, it's filled with flavor! And yet it's still light enough that it doesn't feel overly rich and heavy.
Making it a most excellent side for company your holiday table!
So, let's get to a few tips & tricks for the recipe:
This is a FANTASTIC make ahead dish for the holidays. You can make the entire thing in advance. Let it cool to room temperature, then store in an airtight container in the fridge. All you'll need to do is reheat on Thanksgiving / Christmas / whenever!
I tend to stick with the listed fresh parsley when making this corn, but I think some minced fresh rosemary or even fresh thyme (instead of the dried!) would be delightful! Really, this is a great base for just about any fresh herb.
And finally, I've only ever made this dish with frozen corn since I tend to make it during cooler weather. But! If you are making this during the summer I think it would be fantastic with fresh! You'll want to cook the fresh corn until tender and then just proceed with the recipe!
Looking for more holiday side dish ideas!? These savory mashed sweet potatoes and these maple roasted vegetables are crowd pleasing favorites!
Yield: about 6 to 8 servings
Holiday Corn
Prep Time: 7 minutes
Cook Time: 18 minutes
Total Time: 25 minutes
This creamy holiday corn is perfect for the season! Simple to make and filled with celery, carrots and herbs! A great make ahead dish!
Ingredients:
2 (10 ounce) packages frozen corn
3 tablespoons unsalted butter*
1 small onion, chopped
1 large rib celery, chopped
1 large carrot, peeled and chopped
2 tablespoons minced fresh parsley
½ teaspoon fine sea salt
¼ teaspoon pepper
¼ teaspoon dried thyme
⅓ cup sour cream (light or regular)**
Directions:
Cook the frozen corn until tender according to the package directions (don't add any salt when cooking). Drain then set aside.
Meanwhile, add the butter to a large skillet set over medium heat. When melted and warmed, add in the onion, celery and carrot. Cook, stirring occasionally, for about 6 to 8 minutes, until tender. Turn the heat down to low, then stir in the drained corn, parsley, salt, pepper, thyme and sour cream. Mix until well combined, then remove from the heat. Taste and season with additional salt / pepper as desired. Serve!
*For a dairy free / vegan option – use olive oil or coconut oil in place of the butter.
**For a dairy free / vegan option – use cashew sour cream in place of the regular sour cream! I use this recipe from Oh She Glows. If you are using the cashew sour cream, be sure to plan ahead to allow time for the cashews to soak AND for the finished cream to chill / thicken up in the fridge before using in this dish.