Blueberry Peanut Butter Smoothie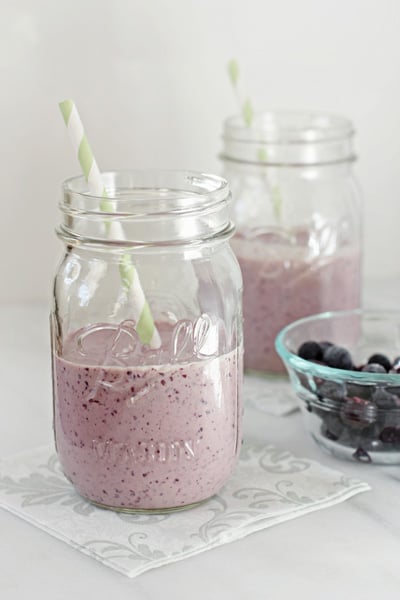 This smoothie was created out of pure desperation.  I woke up starving last weekend and realized that we were completely out of food.  Eggs?  Gone.  English muffins?  Nowhere to be found.  I did find some shredded chicken, but no thank you – that's not my thing when it comes to breakfast.  I decided I was too hungry (and grouchy) to attempt a trip to the grocery store before eating, so gosh darn it I was going to make something out of a little milk, yogurt and frozen blueberries.  Smoothie it was.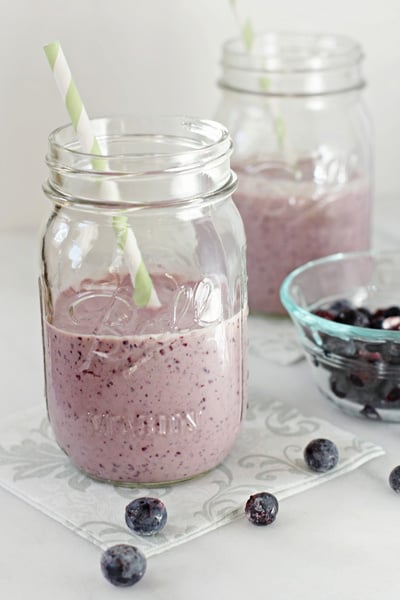 Except the smoothie seemed a little plain to me, so why not throw in some peanut butter?  You know, kind of like a peanut butter and jelly sandwich?  My husband thought I was a little crazy for doing it, and I probably wasn't in the best frame of mind at the time, but hey, why not?  Turns out that I really liked the end result.  The hint of peanut butter and sweetness from the honey made this smoothie seem a little special (but still with the same base that I love with all the frozen berries and yogurt).  So if you're feeling a little adventurous give this a try.  It wasn't my husband's thing – he likes his smoothie with all fruit – but I figure that some of you may be like me and will enjoy this.
I don't think I can ever say no to peanut butter…
Blueberry Peanut Butter Smoothie
Recipe for a creamy blueberry peanut butter smoothie. Filled with greek yogurt, milk, blueberries, peanut butter and sweetened with a bit of honey.
Ingredients:
1 cup plain greek yogurt
1 cup milk
1 cup ice cubes
1 cup frozen blueberries
2 tablespoons creamy peanut butter
2 tablespoons honey
splash of vanilla extract
2 tablespoons ground flaxseed (optional)
Directions:
Add all ingredients to a blender. Process until the mixture is completely smooth. Use additional milk to thin out the smoothie if needed. Add additional honey if needed, depending on desired sweetness. Serve immediately.