Soft Chocolate Sugar Cookies with Strawberry Frosting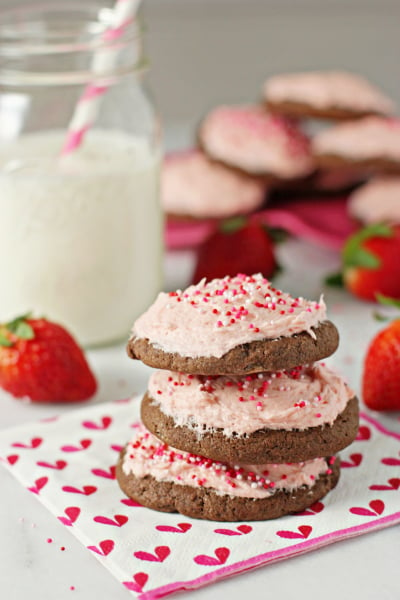 Alright, so here is the last dessert recipe that I have to share with you before Valentine's Day.  As I've mentioned before, I love the combination of chocolate and strawberry and happen to think that it is perfect for this holiday.
Let's forget about the chocolate cookies for a second and instead focus on this frosting.  It's good.  Really good.  Like please go make this as soon as possible good.  It has a wonderful strawberry flavor that comes from nothing artificial – 100% fresh strawberries.  And that pretty pink color?  Yep, that's also just from real fresh strawberries.  No food coloring required.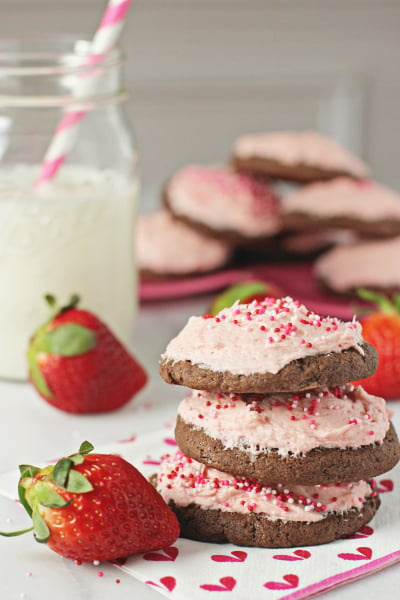 So then combine this strawberry frosting with a chocolate sugar cookie that is sweet yet not too sweet.  As an added bonus, it is soft yet still slightly chewy, a great compliment to the berry frosting.  You can leave these plain or go wild and decorate with lots of fun pink sprinkles.  I definitely support decorating them with lots of sprinkles.  And if you happen to spill the entire container all over your counter and floor?  Totally okay, that's all part of the process : )
Soft Chocolate Sugar Cookies with Strawberry Frosting
Recipe for soft chocolate sugar cookies with strawberry frosting. A soft yet chewy chocolate cookie topped with frosting made from real strawberries.
Ingredients:
For the cookies:
2 cups all-purpose flour
½ cup dutch-process cocoa powder
½ teaspoon baking powder
¼ teaspoon baking soda
½ teaspoon salt
½ cup granulated sugar
½ cup lightly packed light brown sugar
9 tablespoons unsalted butter, room temperature
2 tablespoons sour cream
1 large egg
1 large egg yolk
½ tablespoon vanilla extract
For the frosting:
8 ounces strawberries, hulled and cut in half
16 tablespoons (2 sticks) unsalted butter, room temperature
3 cups confectioners' sugar, sifted
¼ teaspoon salt
1 teaspoon vanilla extract
Directions:
To make the cookies – Preheat the oven to 350 degrees. Line two baking sheets with parchment paper and set aside.
In a medium bowl, whisk together the flour, cocoa powder, baking powder, baking soda and salt. Set aside.
In the bowl of a stand mixer fitted with the paddle attachment, add both kinds of sugar, the butter and sour cream. Beat on medium speed until light and fluffy, about 3 minutes. Add in the egg, egg yolk and vanilla. Beat until combined. With the mixer on low speed, slowly add in the flour mixture. Mix until just incorporated (the dough will be fairly thick).
Scoop about 2 tablespoons of dough (I used my large dough scoop) and roll into a ball. Place the balls on the preparing baking sheet and flatten each to about ½ inch thick (I found that using the bottom of a glass worked great here). The cookies will not spread very much during baking.
Bake for 9 to 10 minutes. Let the cookies cool for 5 minutes on the baking sheet then transfer to a wire rack to cool completely before frosting.
To make the frosting – Add the strawberries to the bowl of a food processor. Process until smooth. Strain the puree through a fine mesh sieve to remove the seeds (using a wooden spoon to help it through). Measure out ⅓ cup of the strawberry puree and set aside.
Add the butter to the bowl of a stand mixer fitted with the paddle attachment. Beat on medium speed for about 2 minutes, until light and fluffy. With the mixer on low, slowly add in the confectioners' sugar. Once incorporated, increase the speed to medium and beat until well combined. Add in the salt, vanilla, and the ⅓ cup of the strawberry puree. Beat on low speed until incorporated and then increase the speed to high and beat for about 2 to 3 minutes, until fluffy. If you need to thin out your frosting, you can add milk 1 tablespoon at a time. Add more sifted confectioners' sugar to thicken your frosting.
Spread the frosting on the cooled cookies. Use sprinkles to decorate as desired.
I had a little bit of frosting leftover. However, I don't think that I frost as heavily as others. So depending on how much frosting you like, you can adjust the quantities if desired.