Chopped Southwestern Salad with Lemon Chipotle Dressing
Let's talk about the fact that my kitchen gets ridiculously hot in the summer.  It gets pretty warm in there all year round but during the summer months?  Forget about it.  Anything I can do to keep the oven off is very helpful for the temperature level.  Unfortunately for me I love to bake (and use my oven) so a lot of the time I just power through.  I like to cook in my pajamas or workout clothes, so if I have on pants I roll them up to keep my legs cool.  I look ridiculous of course and clearly the obvious solution would just be to change into shorts.  It doesn't help that you can kinda sorta see into our kitchen from the road … my husband constantly tells me that people probably think I'm nuts.  Oh well.  Maybe they think I'm super stylish.
So, where does this chopped southwestern salad fit in?  It's a simple and quick dinner idea that doesn't require the oven.  I'll take what I can get.  Did I already mention that it was simple?  This is very important if you have people (i.e. your husband) asking you as soon as you get home when dinner will be ready : )  Because they're hungryyyyy.
This salad is full of some of my very favorites, like black beans, roasted corn and avocado.  While it is filling and more than satisfying, it still feels light.  Perfect for the summer months.  But the dressing is what makes this meal a little special.  A lemon chipotle dressing with a little dijon mustard and honey.  It pairs incredibly well with all the components of the salad and gives it a little kick.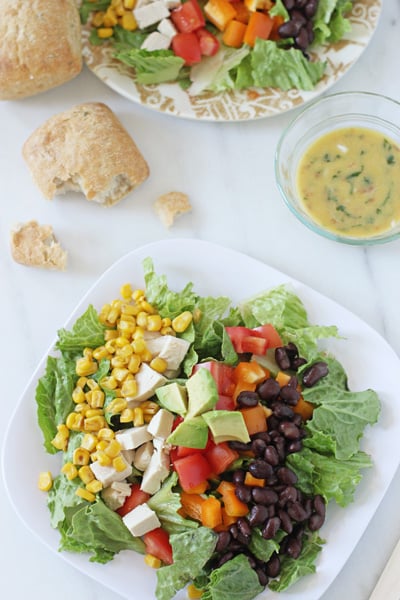 So get in your kitchen and make this salad.  And if you have on long pants, roll them up so we can be cool together.  And stylish … don't forget that.
Chopped Southwestern Salad with Lemon Chipotle Dressing
Recipe for chopped southwestern salad with a lemon chipotle dressing. Quick, light and satisfying.
Ingredients:
For the dressing:
2 tablespoons dijon mustard
2 tablespoons freshly squeezed lemon juice
1 teaspoon honey
6 tablespoons olive oil
⅓ cup cilantro, finely chopped
1 shallot, minced
1 ½ teaspoons minced chipotle peppers in adobo sauce
salt and pepper, to taste
For the salad:
2 large chicken breasts, cooked and chopped into bite-sized pieces*
1 ½ cups fresh or frozen corn
2 to 3 romaine hearts, torn into bite-sized pieces
1 can black beans, drained and rinsed
1 orange pepper, diced
2 to 3 roma tomatoes, diced
1 avocado, diced
Directions:
To make the dressing – whisk together the mustard, lemon juice and honey in a small bowl. Next add in the olive oil, 1 tablespoon at a time, whisking well after each addition. Add in the cilantro, shallot and minced chipotle peppers. Whisk to combine. Taste and then season with salt and pepper if needed.
To make the salad – add the chopped chicken to a small bowl. Add ¼ cup of the salad dressing to the bowl and mix to combine. Set aside while you prep the rest of the salad.
Set a medium skillet over medium high heat. Add in the corn (do not add any oil). Cook for about 6 to 8 minutes, stirring occasionally, until roasted and brown spots start to appear. Remove from the heat and allow to cool slightly.
To serve, put some of the lettuce on each plate. Top with the chicken, corn, black beans, pepper, tomatoes and avocado. Drizzle with the salad dressing and serve immediately. Alternatively, add to a large bowl and toss to combine.
I used chicken breasts that I cooked a previous night, but you could definitely use a rotisserie chicken here to make this meal even easier.