Spinach Power Salad with Yogurt Dressing
Crunchy almonds! Juicy grapes! Creamy avocado! An herby dressing! These are just a few of my favorite things about this spinach power salad.
Yes, power salad!! Because I'm super cool like that.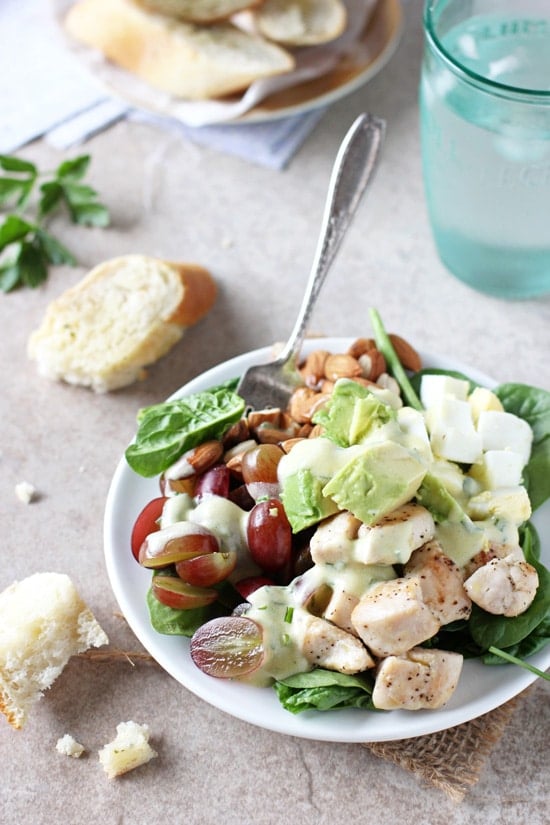 Ummm, not really. I'm just about the least trendy person around.
But a power salad? I mean, yes please! It's just so fun to say. And! It keeps you nice and full … thereby helping you power through whatever it is you need to get done. Or um, have been procrastinating doing.
Which is pretty much the story of my life lately. I'm all fall is here! Let's bake cookies! And make cozy meals! And go into our closets and stare at our pretty scarves (because, you know, it's still way too warm to actually wear them).
I'm telling you, this season is just all kinds of magical.
Butttt maybe not so magical in terms of my productivity. Oops.
About This Salad
SO! Let's refocus our attention (or really my attention) on today's salad.
We have a spinach base that is loaded up with fruit, nuts, hard-boiled eggs and a little bit of sautéed chicken.
It's finished off with a simple yogurt dressing that is jazzed up with a good amount of fresh herbs and a smidge of honey.
All combining into one colorful, hearty and texture-packed meal!
It's healthy, it's simple AND you can have it on the table in just under 25 minutes. Which means that you can then spend the rest of your night baking fall inspired treats! Eeek! Such fun!
Tips & Tricks For This Spinach Power Salad
For my vegetarian friends! You can absolutely omit the chicken and instead top the salad with another protein of choice. I have been itching to try this topped with crispy tofu but alas, I keep forgetting. I think it's time for me to bust out my post-it notes.
I always make the hard-boiled eggs for this salad in advance. If you are making them the night of, it will add a bit more time to the recipe (but not a ton).
Feel free to play around with the herbs in the yogurt dressing. While I am completely partial to the ones listed below, I think any number of different combinations could be delicious here!
And finally, I didn't give an amount for the spinach base since I feel like salads can be very personal / to taste. So use however much you would like! Or even feel free to use another salad green of choice.

Whatever floats your boat.
Additional Hearty Salad Recipes You Might Enjoy!
Did you make this recipe? Rate and review it down below! I'd love to hear from you.
Spinach Power Salad with Yogurt Dressing
Just 25 minutes to this spinach power salad with yogurt dressing! Filled with juicy grapes, crunchy almonds, sautéed chicken and avocado!
Ingredients
For the chicken:
2 large boneless skinless chicken breasts, cut into chunks
salt and pepper, for sprinkling
1 ½ tablespoons olive oil
For the dressing:
⅓ cup plain greek yogurt (or plain dairy free yogurt)
¼ cup olive oil
1 teaspoon red wine vinegar
1 teaspoon honey
¼ teaspoon fine sea salt
pinch of pepper
1 clove garlic, minced
1 tablespoon minced fresh chives
1 tablespoon minced fresh parsley
For the salad:
baby spinach leaves
2 to 3 large hard-boiled eggs, chopped
1 medium avocado, diced or sliced
2 cups red grapes, halved
½ cup raw almonds (or walnuts, pecans, etc.), roughly chopped
Instructions
For the chicken:
Season the chicken with a little bit of salt and pepper. Add the olive oil to a large skillet set over medium heat. When hot, add the chicken to the pan. Toss to coat and cook for about 5 minutes, or until cooked through and lightly browned on all sides. Remove the chicken to a plate.
For the dressing:
In a small bowl, vigorously whisk together all the ingredients for the dressing until smooth. Taste and adjust the seasonings as desired.
For the salad:
To assemble, add some of the spinach leaves to a bowl. Top with some of the chicken, eggs, avocado, grapes and almonds. Drizzle with the desired amount of dressing and serve immediately!
Notes
As with all salads, feel free to adjust the amounts of the toppings to your own taste!
Nutrition Information:
Yield:

4
Serving Size:

1
Amount Per Serving:
Calories:

544
Total Fat:

38g
Saturated Fat:

6g
Trans Fat:

0g
Unsaturated Fat:

29g
Cholesterol:

192mg
Sodium:

341mg
Carbohydrates:

24g
Fiber:

6g
Sugar:

15g
Protein:

31g
Nutrition data shown is an estimate provided by an online calculator and is for informational purposes only. It should not be considered a substitute for a medical professional's advice.