Raspberry Cornbread Muffins
I think these raspberry cornbread muffins are the prettiest muffins I've ever made.  With the beautiful red berries and the sparkling tops from the coarse sugar?  Just gorgeous, if I do say so myself.
I already have a favorite cornbread recipe for pairing with savory dishes, like soup, but I wanted to make a version that was on the sweeter side, for things like snacking.  Or breakfast.  Or more snacking.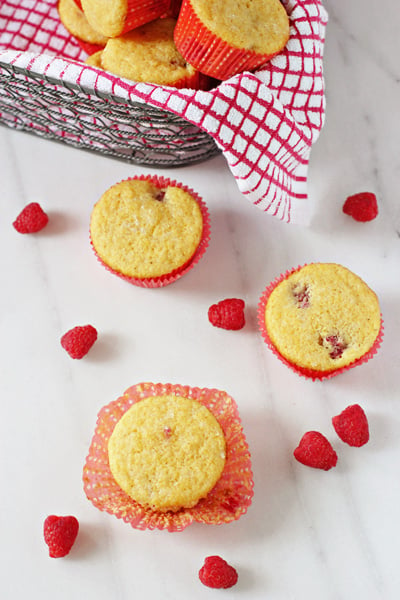 And that's where these muffins came in.  They are sweet without being overly sweet.  You still get that wonderful cornbread flavor, yet with little bursts of tart freshness from the berries.  The coarse sugar also gives the muffins even more texture on the top, finishing them off with a sort of sugary crust.  And did I mention that they look pretty?  Oh yes, yes I did.
Now if only I had a few more of these to snack on right now…
Raspberry Cornbread Muffins
Recipe for raspberry cornbread muffins. A sweeter cornbread muffin filled with fresh raspberries and a light topping of coarse sugar.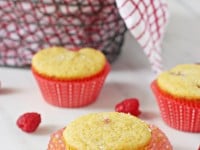 Ingredients:
1 cup all-purpose flour
1 cup fine ground yellow cornmeal
½ cup granulated sugar
1 tablespoon baking powder
¼ teaspoon baking soda
½ teaspoon salt
1 ¼ cups buttermilk
6 tablespoons unsalted butter, melted and cooled slightly
2 large eggs, lightly beaten
1 teaspoon vanilla extract
1 teaspoon lemon zest
1 cup fresh raspberries
1 tablespoon coarse sugar
Directions:
Preheat the oven to 400 degrees. Line a muffin tin with baking cups and set aside.
In a large bowl, whisk together the flour, cornmeal, sugar, baking powder, baking soda and salt.
In a medium bowl or liquid measuring cup, whisk together the buttermilk, butter, eggs, vanilla extract and lemon zest. Pour the wet ingredients into the bowl with the dry ingredients and mix until just incorporated (do not over mix). Add in the raspberries and gently fold into the batter.
Evenly scoop the batter into the 14 prepared muffin tins. Sprinkle the tops of the batter evenly with the 1 tablespoon coarse sugar.
Bake for about 12 to 14 minutes, or until a toothpick inserted into the middle of a muffin comes out clean. Cool the muffins in the pan for about 5 minutes, then remove to a wire rack to cool completely.