Crockpot Tiramisu Bread Pudding
This crockpot tiramisu bread pudding is a fun spin on a classic dessert! With bread soaked in an espresso Kahlua mixture and finished off with a creamy mascarpone topping. Vegetarian.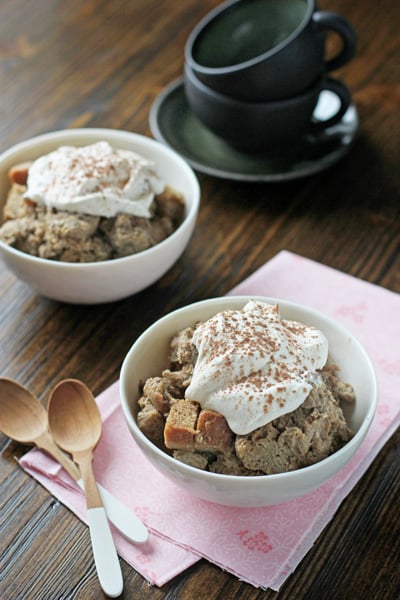 Note: This recipe is NOT dairy free. It was published before Cook Nourish Bliss transitioned to dairy free recipes and remains popular with long time readers. You can try using substitutions to make it dairy free, however I have not tested this myself and can't say how it will turn out.
Well, we're at the end of Crocktoberfest. And I'm a little sad. I've gotten into saying the word Crocktoberfest. It makes me crack up every time. The little things that amuse me, I tell you.
So to finish the week out right, we are talking about dessert today.
And honestly, before Crocktoberfest, I never actually thought to use my crockpot to make dessert. I debated for a long time about what I wanted to make and finally settled on this bread pudding.
And please don't judge this dish by its looks. *Side note – can we talk about how the weather has been horrible for over a week now, making it almost impossible to get good lighting for photos?? I have a bone to pick with you mother nature.*
But seriously, even with good lighting, bread pudding isn't exactly a looker.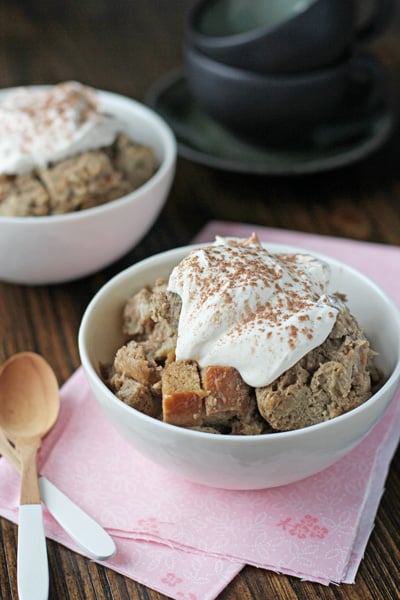 But, I do promise that this dessert is worth making.
The bread is soaked in an espresso / Kahlua mixture and the dish is finished off with a creamy mascarpone topping and a light dusting of cocoa powder – so reminiscent of tiramisu. I could eat that topping all by itself with a spoon.
Which may have happened.
Head down below the recipe for all the other Crocktoberfest desserts!
Additional Crock Pot Recipes You Might Enjoy:
Did you make this recipe? Rate and review it down below! I'd love to hear from you.
Crockpot Tiramisu Bread Pudding
Cook Time:
2 hours
10 minutes
Total Time:
2 hours
25 minutes
This crockpot tiramisu bread pudding is a fun spin on a classic dessert! With bread soaked in an espresso Kahlua mixture and finished off with a creamy mascarpone topping. Vegetarian.
Ingredients
For the bread pudding:
½ cup water
½ cup granulated sugar
1 tablespoon espresso powder*
2 tablespoons Kahlua
1 ½ cups whole milk
½ cup heavy cream
5 large eggs
8 cups cubed (1-inch pieces) french bread
For the topping:
½ cup heavy cream
⅓ cup mascarpone cheese
1 tablespoon granulated sugar
1 teaspoon vanilla extract
unsweetened cocoa, for dusting
Instructions
To make the bread pudding:
Generously spray your crockpot with nonstick cooking spray.
In a small saucepan, add the water, sugar and espresso powder. Bring the mixture to a boil over medium high heat, stirring until the sugar dissolves. Once boiling, remove from the heat. Stir in the Kahlua. Set aside and let cool for about 15 minutes.
In a large bowl, add the milk, cream and eggs. Whisk until well combined. Add in the cooled espresso mixture, whisking to combine. Add in the bread cubes and mix until all the bread is coated with the mixture.
Transfer the mixture to the prepared crockpot. Cover and cook on low for about 2 hours or until set.
To make the topping:
Add the cream, mascarpone, sugar and vanilla to the bowl of a stand mixer fitted with the whisk attachment. Beat on high until thickened (and some peaks form - it won't be as stiff as whipped cream).
Scoop the bread pudding into bowls. Add a generous dollop of the topping and then dust with the cocoa powder.
Notes
*Espresso powder is an ingredient you can't usually find at your regular grocery store. You can buy it online or at specialty stores like Sur La Table, Williams and Sonoma, etc.
Adapted from Cooking Light
Nutrition Information:
Yield:

8
Serving Size:

1
Amount Per Serving:
Calories:

430
Total Fat:

25g
Saturated Fat:

14g
Trans Fat:

1g
Unsaturated Fat:

9g
Cholesterol:

180mg
Sodium:

350mg
Carbohydrates:

39g
Fiber:

1g
Sugar:

22g
Protein:

11g
Nutrition data shown is an estimate provided by an online calculator and is for informational purposes only. It should not be considered a substitute for a medical professional's advice.
Crocktoberfest Desserts
So just like during the rest of Crocktoberfest, I've teamed up with some of my friends to bring you other awesome dessert recipes to check out:
Pumpkin Rice Pudding from Around My Family Table
Crock Pot Baked Apples from Eat Drink Love
Crock Pot Pumpkin Coffee Cake from A Night Owl
Slow Cooker Moist Chocolate & Caramel Cake from 365 Days of Crockpot
Cherry Cobbler in the Slow Cooker from Curry & Comfort
Caramelized Apples in the Slow Cooker from Peanut Butter and Peppers
Crock Pot Rocky Road Chocolate Cake from White Lights on Wednesday
Fudgy Peanut Butter Cake from Pink Cake Plate