Crockpot French Onion Soup
This cheesy crockpot french onion soup is hard to beat! Let your slow cooker do all the work for this classic soup made with dreamy caramelized onions and crusty bread.
Note: This recipe is NOT dairy free. It was published before Cook Nourish Bliss transitioned to dairy free recipes and remains popular with long time readers. You can try using substitutions to make it dairy free, however I have not tested this myself and can't say how it will turn out.
Are you ready for part two of Crocktoberfest? I bet your crockpot is definitely ready.
Because today we are sharing main dish recipes. Which is probably what I use my own crockpot for most often.
And my contribution? Crockpot french onion soup. And oh is this a good one.
For years (no joke) I've tried to find my favorite way to make french onion soup – this search began long before I even started this blog. After a lot of experimentation, I decided I preferred to do it in the crockpot.
But then I couldn't find a recipe that I liked enough to make over and over again. Let's just say that we've eaten quite a bit of french onion soup over time.
But my husband and I finally agree – this is our personal favorite.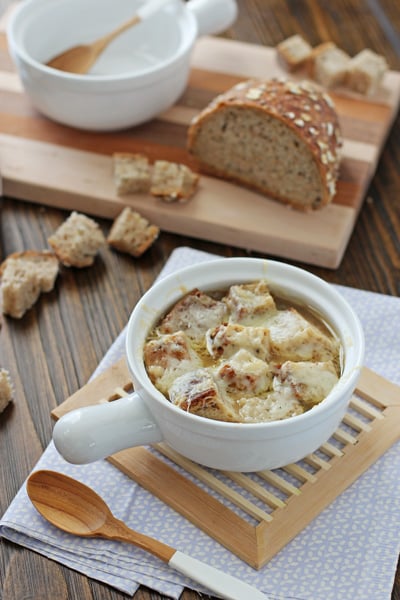 Now this is not a set it and forget it type of recipe. But the crockpot still does most of the work for you and in my opinion is definitely worth it for the end result.
The onions get so wonderfully caramelized over time, which creates the perfect base for this soup.
So plan to make this a weekend type of recipe. And it makes a ton of food – we always freeze at least half for another time.
Head down below the recipe for all the other Crocktoberfest recipes!
Additional Crockpot Recipes You Might Enjoy:
Did you make this recipe? Rate and review it down below! I'd love to hear from you.
Crockpot French Onion Soup
Yield:
about 8 to 10 servings
Cook Time:
8 hours
20 minutes
Total Time:
8 hours
35 minutes
This cheesy crockpot french onion soup is hard to beat! Let your slow cooker do all the work for this classic soup made with dreamy caramelized onions and crusty bread.
Ingredients
For the base:
6 tablespoons unsalted butter, cut into pieces
4 large yellow onions, thinly sliced
8 cups low sodium beef broth
1 bay leaf
2 cloves garlic, minced
¾ teaspoon salt
½ teaspoon pepper
For serving:
4 to 5 cups cubed crusty bread (I use a multi-grain loaf)
freshly shredded gruyere cheese
Instructions
Turn on your crockpot and set it to high. Add in the butter chunks and then put on the cover. Once the butter is melted, add in the onions. Mix to combine.
Put on the cover and let cook for about 1 hour.
After the first hour, give the onions a good stir. Place a double layer of paper towels under the lid (which will help to absorb some of the moisture - you'll want to replace this layer about 2 to 3 times during the cooking process).
Continue to cook on high for about 5 to 6 additional hours, stirring the onions about every 35 to 45 minutes.* You want the onions to be a nice caramel color. Toward the end of the cooking time, keep a closer eye on the onions (you don't want to let them burn and may need to stir them more often).
Discard the paper towels. Turn down the crockpot to low. Add in the broth, bay leaf, garlic, salt and pepper. Cover and cook for 1 hour. Discard the bay leaf and then taste and adjust with additional salt/pepper if needed.
Preheat your broiler. Place oven-safe bowls or crocks on a baking sheet. Spoon the soup into the bowls. Place a handful of bread cubes in each bowl and then sprinkle the top with some of the cheese.
Broil for about 2 to 4 minutes, until the cheese is golden and bubbly.
Notes
*I have a small 4-quart crockpot, so it may take less time for caramelizing your onions if your own crockpot is larger. Just keep an eye on them.
Depending on your broth, you'll need to adjust the amount of salt to your taste. I've found that different brands of low sodium broth will vary in how salty they are - so just taste and adjust as needed. You can always add more salt later, so start with a lower amount and go from there.
Nutrition Information:
Yield:

8
Serving Size:

1
Amount Per Serving:
Calories:

296
Total Fat:

19g
Saturated Fat:

11g
Trans Fat:

0g
Unsaturated Fat:

7g
Cholesterol:

56mg
Sodium:

1006mg
Carbohydrates:

17g
Fiber:

2g
Sugar:

5g
Protein:

14g
Nutrition data shown is an estimate provided by an online calculator and is for informational purposes only. It should not be considered a substitute for a medical professional's advice. Nutrition info is based on using 1/4 cup cheese per serving.
Crocktoberfest Dinners
So once again I've teamed up with my friends to bring you delicious main dish crockpot recipes! Be sure to check them out:
Baja Chicken Soup from Around My Family Table
Crockpot Pot Roast from Eat Drink Love
Crockpot French Dip from White Lights on Wednesday
Grammy's Crock Pot Turkey Legs from Dizzy Busy & Hungry
Beef & Barley Soup from Peanut Butter & Peppers
Beef Stew from Curry & Comfort
Crock Pot Green Chili Chicken from Mom Endeavors
Slow Cooker Carnitas from Foodie Tots
Italian Pork Chops with Parmesan Noodles from Pink Cake Plate
Slow Cooker 15 Bean Soup from 365 Days of Crockpot
Slow Cooker Tomato & Brown Sugar Pork Chops from Brie Brie Blooms
Slow Cooker Sesame Beef from Slender Kitchen
Slow Cooker Italian Beef Sandwiches from Dinners, Dishes, & Desserts
Refried Beans without Lard from Kitchen Treaty