Salted Pecan Pie Cookie Bars
These bars.  You guys.  I am actually considering changing my Thanksgiving menu because I feel like I absolutely need to eat these again soon.  Like very soon.  Like I don't want to waste my time on any other Thanksgiving dessert and instead will be happy to just swim in a pile of these salted pecan pie cookie bars forever and ever.
Can you tell that I liked these?  My husband was a huge fan too.  And he fully supports the idea of making these again for the big day.
So let's talk about these cookie bars for a second, shall we?  Buttery and soft delicious crust – check.  Gooey, caramelly center filled with nutty goodness – check.  A sprinkle of sea salt for that always amazing salty / sweet combo – anddd check.
See, it's hard to go wrong with these.  Plus, I have a thing for turning pies into little handheld portions – like these apple pie bars.  And now we have pecan pie.  Pies are just so much better in cookie bar form.  Well, that may just be me but I promise you'll still love these bars.
Just go ahead and put on your stretchy yoga pants for Thanksgiving.  Because you are going to want plenty of room to eat a few of these.
Yield: 20 to 30 bars, depending on size
Salted Pecan Pie Cookie Bars
Recipe for salted pecan pie cookie bars. A favorite Thanksgiving dessert in bar form. With a buttery crust, caramel pecan center and finished with sea salt.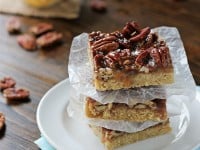 Ingredients:
For the crust:
18 tablespoons unsalted butter, room temperature
¾ cup packed light brown sugar
½ teaspoon flaky sea salt
3 cups all-purpose flour
For the filling:
8 tablespoons unsalted butter
½ cup packed light brown sugar
6 tablespoons honey
2 tablespoons granulated sugar
2 tablespoons heavy cream
¼ teaspoon flaky sea salt
½ teaspoon vanilla extract
2 ½ cups pecan halves
For the topping:
about 1 teaspoon flaky sea salt
Directions:
Preheat the oven to 375 degrees. Line a 9×13 inch baking pan with aluminum foil, leaving an overhang on all sides. Spray lightly with nonstick cooking spray and set aside.
To make the crust – add the butter and brown sugar to the bowl of a stand mixer fitted with the paddle attachment. Cream on medium speed until light and fluffy, about 2 minutes. Add in the salt and mix briefly to combine. With the mixer on medium speed, add in the flour 1 cup at a time, beating until incorporated after each addition. After all the flour is incorporated, the dough should come together into large clumps.
Transfer the dough to the prepared baking dish and use your fingers to press into an even layer in the pan. Use a fork to prick the dough. Transfer the pan to the refrigerator and chill for 20 minutes.
Remove from the refrigerator and bake for about 18 to 20 minutes, until golden brown. Set the pan on a wire rack to cool for 20 to 30 minutes.
To make the filling – reduce the oven temperature to 325 degrees. Add the butter, brown sugar, honey, granulated sugar, cream and salt to a medium saucepan. Set the pan over high heat, stirring occasionally to combine the ingredients, and bring to a boil. Stir the mixture constantly until it coats the back of a spoon, about 1 minute. Remove from the heat and stir in the vanilla and pecans. Pour the filling onto the crust. Use a spatula to spread evenly in the pan.
Bake for about 15 to 20 minutes, until the filling is bubbling slightly. Remove from the oven and transfer the pan to a wire rack. Sprinkle immediately with the flaky sea salt. Let cool completely. Once cool, use the foil overhang to lift out of the pan. Cut into bars.