Raspberry Pumpkin Ricotta Pie
This gorgeous raspberry pumpkin ricotta pie is perfect for the holidays! With a sweet gingersnap crust, a pumpkin ricotta filling and tons of fresh raspberries, it's a fun twist on the classic dish.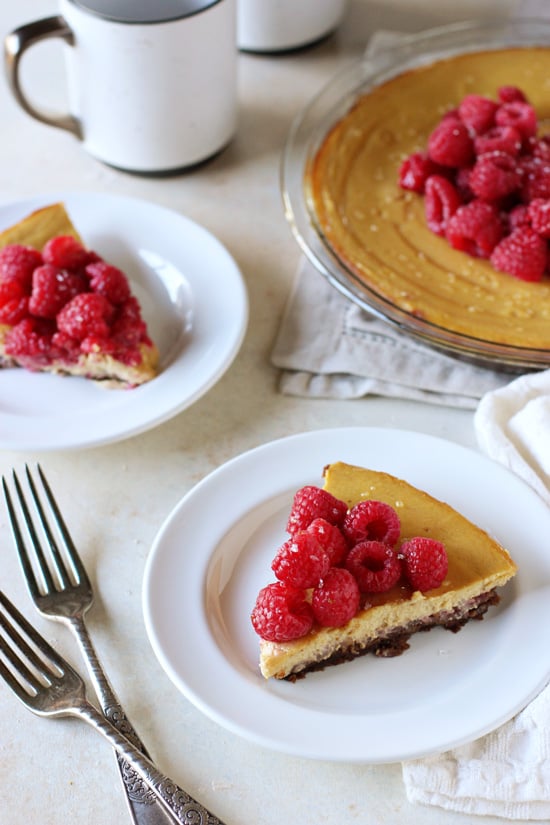 This post is sponsored by Driscoll's. Visit http://www.driscolls.com/raspberry for more berry recipes & holiday sweepstakes!
Note: This recipe is NOT dairy free. It was published before Cook Nourish Bliss transitioned to dairy free recipes and remains popular with long time readers. You can try using substitutions to make it dairy free, however I have not tested this myself and can't say how it will turn out.
Is this raspberry pumpkin pie a stunner or what? Between those gorgeous plump raspberries and that little touch of sparkling sugar, I must admit that I am completely smitten.
Which is something I never thought I would say about any sort of pumpkin pie. The one baked goodie that I would happily pass over come Thanksgiving for just about any other option.
That is, until now.
This holiday season Driscoll's is encouraging cooks to taste a new sweet tradition with raspberries (and raspberry pie!).
Which got me to thinking about how I could use their delicious berries to reinvent and brighten up that classic holiday staple.
And let me just say, mission accomplished.
How To Make Raspberry Pumpkin Pie
We'll start with an incredibly simple gingersnap crust. Finely crushed cookie crumbs are mixed together with some melted butter and pressed into a pie plate.
Next, we'll use a fork to mash up some Driscoll's raspberries, along with just a touch of maple syrup, to make a sort of faux-jam. This mixture is then spread in a thin layer on top of the prepared crust.
Then! We move on to the filling. I absolutely love whipping ricotta in my food processor and that serves as the base for this pie.
Ricotta, some pumpkin puree, maple syrup, an egg and spices are whipped together until smooth, luscious and oh so creamy.
It's poured into the pie dish and then off it goes to bake until set in the oven.
Once completely cool, we'll top the pie off with plenty more fresh raspberries and just a touch of sparkling sugar.
Gorgeous, am I right?
Between that spicy gingersnap crust, the creamy almost cheesecake-like filling and all those raspberries, this is definitely how I plan to do holiday pie from now on.
The fresh raspberries are the perfect sweet and tart contrast to the rich ricotta filling.
And the same goes for that layer of mashed raspberries – it's not in-your-face there, but just adds this slight bit of almost jam-iness to the pie. So awesome. And not at all hard to pull together!
Additional Thanksgiving Desserts You Might Enjoy:
Did you make this recipe? Rate and review it down below! I'd love to hear from you.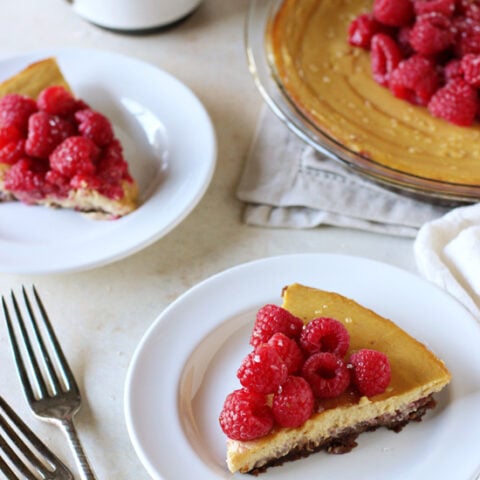 Raspberry Pumpkin Ricotta Pie
This gorgeous raspberry pumpkin ricotta pie is perfect for the holidays! With a sweet gingersnap crust, a pumpkin ricotta filling and tons of fresh raspberries, it's a fun twist on the classic dish. 
Ingredients
For the crust:
1 ½ cups finely crushed gingersnap crumbs
4 tablespoons unsalted butter, melted
For the raspberry layer:
4 ounces Driscoll's raspberries
1 teaspoon pure maple syrup
For the filling:
1 ¼ cups ricotta (strained if watery)
½ cup pumpkin puree (not pumpkin pie filling)
1 large egg
¼ cup pure maple syrup
¼ teaspoon ground cinnamon
pinch of ground nutmeg
pinch of salt
For serving:
6 to 8 ounces Driscoll's raspberries
sparkling sugar, for sprinkling (optional)
Instructions
Preheat the oven to 350ºF. Grease a 9-inch glass pie plate with butter or nonstick cooking spray. Set aside.
For the crust:
Add the gingersnap crumbs and melted butter to a medium bowl. Mix until combined and evenly moistened. Press the mixture into the bottom of the prepared pie plate in a thick layer.
Place the dish in the freezer for about 7 to 9 minutes, until firm.
For the raspberry layer:
Add the raspberries to a shallow bowl. Use a fork to mash well. Add in the maple syrup and mash/mix again until combined. Gently spread the mixture in a thin layer evenly over the chilled crust.
For the filling:
In the bowl of a food processor, add the ricotta, pumpkin, egg, maple syrup, cinnamon, nutmeg and salt. Process until smooth and creamy, scraping down the bowl as needed.
Pour the filling into the pie dish over the raspberry layer and use a spatula to spread evenly.
Transfer to the oven and bake for about 35 to 40 minutes, until the filling is slightly puffy and looks set (it will look set but if you touch it, it will come off on your finger).
Transfer the pie to a wire rack to cool completely.
For serving:
Top the cooled pie with the fresh raspberries (I like to arrange in the center of the pie). If desired, sprinkle some sparkling sugar over the top of the raspberries.
Notes
I like to let this chill in the fridge for a few hours before serving.
For the gingersnap crumbs - it takes about 32 to 35 cookies to get this amount (this is using the kind of cookies available at my store - it may vary slightly for you). I process them in my food processor until finely crushed.
Also, I like to use whole milk ricotta here.
Nutrition Information:
Yield:

10
Serving Size:

1
Amount Per Serving:
Calories:

293
Total Fat:

12g
Saturated Fat:

6g
Trans Fat:

0g
Unsaturated Fat:

6g
Cholesterol:

44mg
Sodium:

255mg
Carbohydrates:

40g
Fiber:

1g
Sugar:

16g
Protein:

7g
Nutrition data shown is an estimate provided by an online calculator and is for informational purposes only. It should not be considered a substitute for a medical professional's advice.
This post is sponsored by Driscoll's. All opinions and content are my own. As always, thank you for reading and letting me share brands that I love and use in my own kitchen.