Gingerbread Caramel Corn
It's Christmas time!!  Can you tell I'm excited?  We had our house completely decorated the day after Thanksgiving.  And I couldn't be happier.  There is just something about putting up the tree and all my favorite pretty holiday decorations that is just so magical.  Especially when you pair that with a roaring fireplace and hot chocolate in Christmas mugs.  Which is exactly what I did this weekend.  Pure happiness.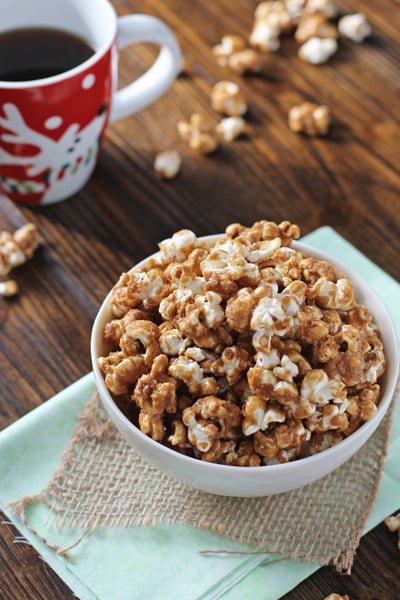 So, now that we've switched gears to the holiday baking season, let's talk about homemade gifts from the kitchen.  As you can probably imagine, I love homemade sweet treats.  Particularly packaging them up and giving them to family and friends this time of the year.
And this gingerbread caramel corn is perfect for just that.  It makes a large batch, is easy to jazz up in pretty packaging and can be made ahead of time.  Oh, and did I mention it tastes like gingerbread?  It's a great combination of traditional caramel corn with hints of that wonderful Christmas-y spice.  And absolutely addicting.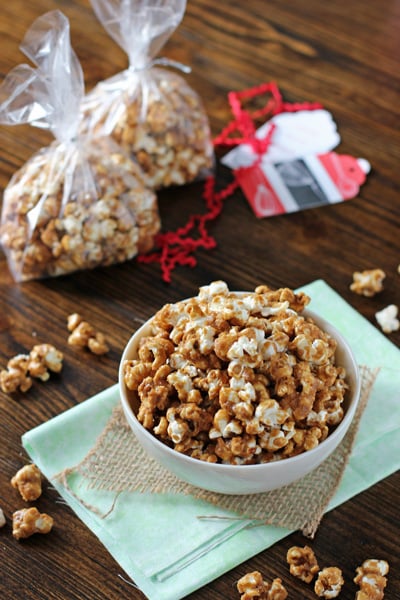 The recipe for the caramel corn is below, but I also put together a little round-up of other ideas for homemade gifts if you're in need of some inspiration.  Additionally, you can check out the Christmas baskets I put together last year for ideas on packaging it all up.
– homemade hot chocolate mix
– peanut butter fudge with chocolate swirl
– homemade raspberry marshmallows
– dark chocolate pistachio toffee
– vanilla bean sea salt caramels with bourbon
– snowball cookies with mini chocolate chips
– cocoa espresso roasted nuts
– eggnog mini loaves
– homemade vanilla extract
Gingerbread Caramel Corn
Recipe for gingerbread caramel corn. Deliciously addictive caramel corn full of gingerbread flavor. Plus ideas for other homemade gifts from the kitchen.
Ingredients:
1 cup unpopped popcorn kernels
½ teaspoon ground cinnamon
½ teaspoon ground ginger
¼ teaspoon ground nutmeg
¼ teaspoon ground cloves
1 cup (2 sticks) unsalted butter
2 cups packed light brown sugar
¼ cup plus 1 tablespoon light corn syrup
3 tablespoons molasses
1 teaspoon salt
1 teaspoon baking soda
2 teaspoons vanilla extract
Directions:
Preheat the oven to 200 degrees. Spray two large rimmed baking sheets lightly with nonstick cooking spray and set aside.
Pop the popcorn kernels on the stovetop or in a popcorn maker. Add the popped popcorn to an extra-large bowl (or two bowls if needed – I used two).
In a small bowl, mix together the cinnamon, ginger, nutmeg and cloves. Set aside.
Add the butter, sugar, corn syrup, molasses and salt to a medium saucepan set over medium heat. Stir frequently as the butter melts to combine all the ingredients. Bring the mixture to a boil (with the pan still over medium heat). Once it reaches a boil, let it boil for 5 minutes without stirring. Turn off the heat and stir in the baking soda, vanilla, and the spice mixture. The mixture will bubble and rise up. Pour the caramel over the popcorn in the bowls. Stir until the popcorn is well coated, working quickly.
Transfer the popcorn to the two baking sheets and spread out evenly. Bake for 60 to 75 minutes, stirring every 15 minutes or so, which will help evenly coat the popcorn with the caramel. The popcorn coating will be completely crispy when it is done.
Remove the pans from the oven. Transfer the popcorn to waxed paper and spread out to dry. Once cool, break into pieces if needed and store in an airtight container.