Turkey, Cranberry and Apple Quesadillas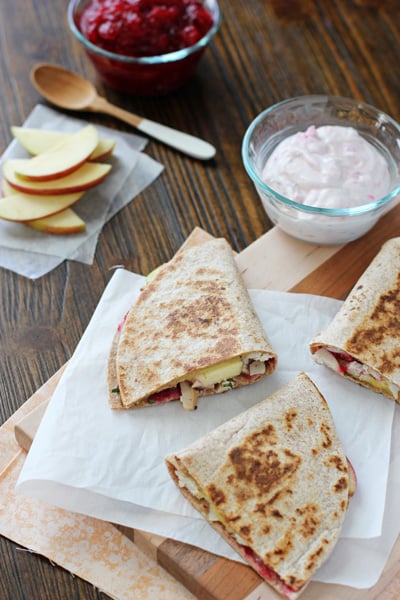 Let's squeeze in one last recipe for your Thanksgiving leftovers, shall we?  Can I interest you in some turkey, cranberry and apple quesadillas?  You can use up some turkey, cranberry sauce and any leftover cheese that you may have hanging out in your fridge.  Just a little bit of chopping and you have a quick and easy meal that feels somewhat different.  You know, so you're not eating the same exact leftovers over and over … and over.
While it's certainly not necessary, there's also a great (and also easy) dipping sauce to go right along with the cheesy quesadillas.  Because dipping quesadillas in a sweet and savory yogurt mixture is just so much more fun than a plain quesadilla, am I right??
And now I need to head back into the kitchen to work on some more Thanksgiving prep.  And maybe at least attempt to straighten up … it's a disaster at the moment.  Follow along on Instagram to see all the awesome food … but you won't see any giant messes.  I like to hide those from sight … pretend they don't exist.  That means I don't have to wash the dishes, right?  Flawed logic.
I hope that you have a wonderful Thanksgiving with your loved ones!  I'm going to take the rest of the week off to spend time with mine.  I'll be back next week with plenty of new recipes.
Christmas … it's time.
Turkey, Cranberry and Apple Quesadillas
Recipe for turkey, cranberry and apple quesadillas. Use your Thanksgiving leftovers in this easy dish, complete with a sweet and savory dipping sauce.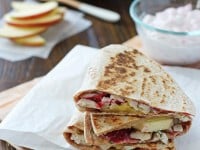 Ingredients:
For the quesadillas:
4 large whole wheat tortillas
¼ cup leftover cranberry sauce
1 cup shredded leftover turkey
1 large apple, sliced
1 cup freshly grated white cheddar cheese*
For the dip:
½ cup plain greek yogurt
1 tablespoon leftover cranberry sauce
1 teaspoon minced fresh rosemary
¼ teaspoon garlic powder
pinch of salt
Directions:
To make the quesadillas – place the tortillas on a work surface. Spread some of the cranberry sauce on half of each tortilla. Top each with some of the turkey and a few apple slices. Sprinkle with some of the cheese. Fold the empty half of the tortilla over the filling to form a semicircle.
To make the dip – combine the greek yogurt, cranberry sauce, rosemary, garlic powder and salt in a small bowl. Mix to combine and set aside.
Set a skillet over medium high heat. When hot, spray lightly with nonstick cooking spray. Place an assembled quesadilla in the pan and cook, flipping once halfway through, until both sides are browned and the cheese is melted. Repeat with all of the quesadillas. Cut into triangles and serve with the dip.
*I think gruyere would also be a great option, although you can use whatever kind of cheese you have on hand.