Lemon Coconut Chia Seed Energy Bites
Chi chi chi chia!  They're back!  Don't say I didn't warn you.
I've been plowing through the bag I bought like nobody's business.  Lots of smoothies.  Lots of energy bites.  And yes, I most certainly do sing the song every single time I take them out now.  I figured it was going to be stuck in my head anyway thanks to my husband so I might as well just fully embrace it.  Sing it nice and and loud and do a little dance too.  I swear, I'm a totally normal person.
Which is why you should take my advice and go make yourself some chia seed energy bites.  With lemon!  And coconut!  Nice and bright and filling and perfect if you need a little boost before working out or getting through that 3pm slump.
I seem to always get the munchies around 3 and these little bites do the trick.  Hold me over until dinner and nix any crankiness brewing from hunger.  Done and done.
I like to keep them in the refrigerator – that way they are nice and cold.  I swear they taste better that way.  Oh!  And they aren't too shabby as dessert either.  Get your sweet fix without feeling like you totally did in all your healthy eating habits.  Make you feel fully ready for summer clothes.  Like shorts.  Ugh, I hate shorts – except workout shorts, those are fine.  I'm more of a dress person in the summer.  Shorts not so much.  Not a fan.  Not at all.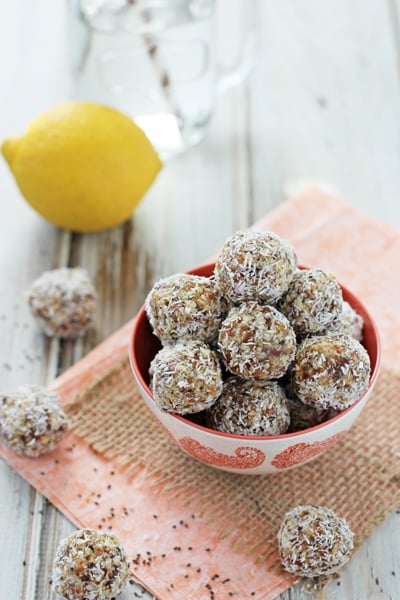 But chia seeds.  It's fun to sing the song, yes?  I think you should sing it too.  Join in on the fun.
Lemon Coconut Chia Seed Energy Bites
Recipe for lemon coconut chia seed energy bites. No-bake protein filled bites made with nuts, dates, lemon and coconut. Perfect for snacking.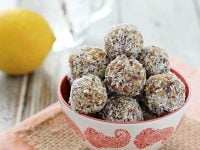 Ingredients:
For the bites:
1 cup raw walnuts halves
1 cup raw cashews
10 large medjool dates*
½ cup unsweetened coconut flakes
zest of 1 lemon
1 teaspoon vanilla extract
¼ teaspoon coconut extract
¼ teaspoon sea salt
1 tablespoon chia seeds
For rolling: (optional)
additional coconut flakes finely processed in a food processor
Directions:
Add the walnuts and cashews to the bowl of a food processor. Pulse until the nuts are finely chopped (but don't go so far that they start to turn into a paste). Add in the dates, coconut, lemon zest, vanilla extract, coconut extract, salt and chia seeds. Continue to pulse until the dates are finely chopped and the mixture starts to come together in clumps.
Press the mixture into small balls (about 1-inch in size). If desired, roll in additional coconut to coat the outside of the balls. Store in an airtight container (we prefer to keep these in the fridge but you can leave them at room temperature – whatever you prefer).
*For the dates – rip them in half and remove the pit before adding to the food processor. You should have about 1 heaping cup. You won't need to remove the pit if you buy ones that already have them removed.
If you don't want to form these into balls (which does take a bit of time), you can follow the instructions for these healthier brownie snack bars to press and then cut into squares.