Oatmeal Raisin Energy Bites (No Bake)
I am super excited to share this recipe with you today.  Giddy with excitement I tell you!  Why you ask?  Because I'm in love with these snack bites.  Like so in love that I've made way more than I'd care to tell you about within the last week.  I have an entire container full of these things sitting in my refrigerator just waiting to be eaten.  Do yourself a favor and go make them as soon as possible.  You won't be sorry – I promise.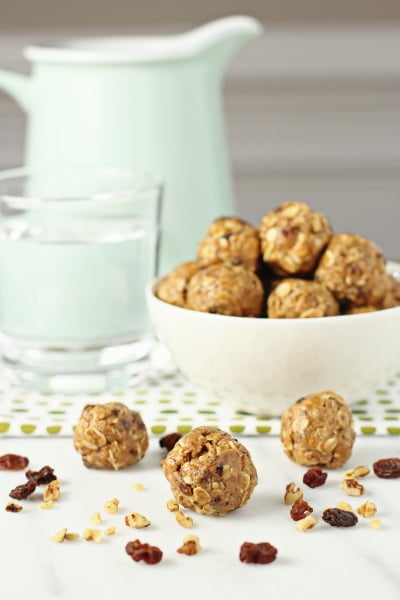 So now that the holidays have come and gone, we have settled back into our normal routines and I've had a little more time to make some homemade snacks to have around the house.  I am definitely a big snacker and like to have healthier options on hand so that I don't make bad decisions when I walk in the door completely starving after work.
These little energy bites taste ever so close to an oatmeal raisin cookie, with that perfect blend of oats, raisins, cinnamon and walnuts.  But they are healthy for you and full of ingredients that will keep away your hunger while you make dinner.  Also, the majority of the ingredients are staples that I have in my pantry at all times, so this is a great snack to whip up whenever I want.  Total win.  Now please excuse me while I go eat another one…
Yield: about 22 to 24 bites
Oatmeal Raisin Energy Bites (No Bake)
Recipe for no-bake oatmeal raisin energy bites. Healthy bites filled with oats, raisins, cinnamon and walnuts. And they taste like an oatmeal raisin cookie!
Ingredients:
1 cup old fashioned oats
¾ cup ground walnuts (or very finely chopped)
½ cup ground flaxseed
½ cup raisins, chopped
½ teaspoon cinnamon
½ cup almond butter
⅓ cup honey
1 teaspoon vanilla extract
Directions:
In a medium bowl, mix together the oats, walnuts, flaxseed, raisins and cinnamon. Add in the almond butter, honey and vanilla. Mix until well combined.
Place the bowl in the refrigerator and let the mixture chill for 30 to 45 minutes.
Roll the dough into balls about 1 inch in size (I used my small dough scoop). Store in an airtight container in the refrigerator for up to 1 week.
If you are planning to chop your walnuts instead of grinding them up in a food processor, make sure you chop them very fine. You may have trouble forming the mixture into balls if the pieces are too large.