Thai Barley Salad
Here we are on Monday morning and I'm shoving yet another salad in your face.  But it's about to be bathing suit season and so I'm guessing that maybe you're cool with the salads?  I am a big salad junkie (well, the kind with lots of stuff loaded on it … unless it's a side salad and then it's totally acceptable to be more on the naked side) and am happy to eat them all year round.  And by salad I am referring to lettuce-based salads, grain salads and maybe even some lighter pasta salads.  Yes all of them.  All good.
I do promise that I don't have any other salads lined up for the next few weeks.  Sad face.  My creative salad brain is tuckered out apparently.
But before it goes into hibernation, we first have a nice little grain-based salad filled with lots of good stuff that is both healthy and yummy.  Plus, there's mango.  And peanut sauce.  Peanut sauceeee.
I usually make my homemade peanut sauce whenever I need the stuff, but this time I was feeling a little lazy and wanted something even faster (and that linked recipe barely takes any time at all … summer laziness in full force right here).  So the one in the recipe below?  Takes about 2.5 seconds.  Okay, maybe a little longer.  But still – badda bing badda boom and done.  Peanut sauce-like dressing for this salad.  And there's mango.  You know I love mango.  How many more times do you think I can mention the word mango in this post?  Challenge accepted.
Plus, there's lots of crunchiness and some sweet and salty business going on here in this dish.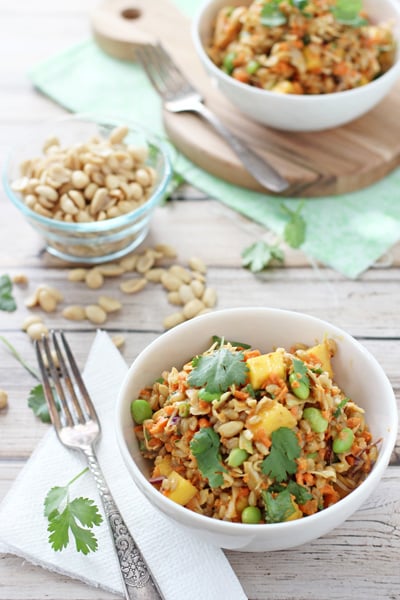 So let's eat salad and chat about your weekend.  What did you do?  Anything fun?  It is Memorial Day so maybe you have the day off from work?
Did you eat some salad?  With mango?  I know I sure did.
Yield: about 4 to 6 servings
Thai Barley Salad
Recipe for thai barley salad. Tender, chewy barley packed with mango, peanuts, carrots, edamame and cabbage. With a quick peanut sauce dressing.
Ingredients:
For the salad:
1 cup hulled barley, rinsed*
1 ½ cups water
1 ½ cups low-sodium vegetable broth
2 medium carrots, peeled and shredded
2 cups sliced cabbage (or coleslaw mix)
4 green onions, thinly sliced
½ cup frozen shelled edamame, thawed
½ cup unsalted peanuts
1 mango, diced
¼ cup cilantro, chopped
For the sauce:
¼ cup creamy peanut butter
¼ cup water
1 tablespoon honey
1 tablespoon soy sauce
1 tablespoon rice vinegar
1 teaspoon freshly grated ginger
Directions:
Add the barley, water and broth to a medium saucepan. Bring the mixture to a boil, give it a stir, cover, then reduce the heat to medium-low / low and let simmer for about 40 to 60 minutes*. It should be tender but a little bit chewy. Drain off any excess liquid if there is any and add to a large bowl. Let cool slightly, about 10 to 15 minutes.
Add in the carrots, cabbage, green onions, edamame, peanuts, mango and cilantro. Toss to combine.
In a small bowl, whisk together all the ingredients for the sauce until well combined and mostly smooth. Pour into the bowl with the barley and toss until combined. Season with salt and pepper to taste, if needed. Serve at room temperature or chilled.
Lately I have only been able to buy hulled barley at my favorite local store, which has a longer cooking time than pearled barley. With hulled barley, I've found that the cooking time can be anywhere from 40 to 60 minutes, sometimes longer (I start checking it around 40 minutes). If you can find pearled barley, the cooking time is shorter, and I usually start checking around 30 minutes (and find it can take up to about 40 to 50 minutes). Again, the times can vary so the key is just to check it – the barley should be tender but still have a slight chew.