Mediterranean Chickpea and Lentil Salad
Spell it with me now. Med-i-terr-an-ean.
Fact. I can't for the life of me get it correct on the first try. Ever. And I've had a lot of practice at this point. There were the mediterranean burgers. The mediterranean potato salad. And now this mediterranean chickpea and lentil salad.
And yet we still are not friends. It trips me up all the time. And then I get cranky because goodness gracious how on earth do I not have this down by now???
I have a little problem with being a total perfectionist, if you can't already tell. But it's okay, I've been this way my entire life. I'm used to it!
And secretly love it.
You know what else I love? Lentils, that's what. Smooth transition right there, eh?
Have you tried lentils? For years I thought the name was weird so I stayed away. Totally logical to make a decision like that based off a name right? I have no excuse for my behavior. But seriously, I'm glad I finally caved and gave them a try. Because now I buy bags and bags at a time to make sure I never run out. Apparently there is no middle ground with me.
But my obsessions lead to things like this salad, so it's all good. This dish is an excellent make-ahead lunch for the week or an easy dinner. Win win.
With tender lentils as a base, it's jazzed up with plenty of delicious roasted veggies, like red onion, zucchini and eggplant. And while everything is still warm, you'll toss it with a slightly lemony dressing, feta and a touch of fresh herbs.
And then serve it with lots of pita chips for a nice crunch.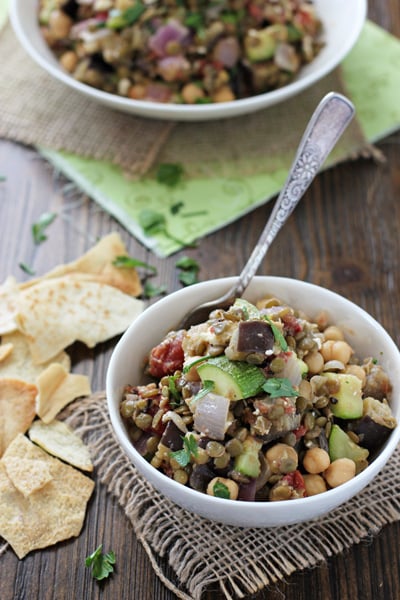 Lentils. I totally ♥ you.
Mediterranean Chickpea and Lentil Salad
Recipe for mediterranean chickpea and lentil salad. Tender lentils, lots of roasted veggies, feta, chickpeas and a lemon dressing. Make for lunch or dinner!
Ingredients:
For the salad:
1 cup green lentils, picked through and rinsed
2 ½ cups water
1 red onion, chopped
1 zucchini, chopped
1 small eggplant, cut into ½ inch chunks
2 tablespoons olive oil
¼ teaspoon salt
1 (15 ounce) can chickpeas, drained and rinsed
1 (14.5 ounce) can fire-roasted diced tomatoes, drained well
For the dressing:
1 tablespoon freshly squeezed lemon juice
1 tablespoon honey
1 tablespoon red wine vinegar
¼ teaspoon salt
¼ teaspoon dried oregano
freshly ground pepper, to taste
¼ cup olive oil
½ cup crumbled feta
1 tablespoon minced fresh parsley
Directions:
Preheat the oven to 375ºF.
To make the salad – add the lentils and the water to a medium saucepan. Bring to a boil then reduce the heat, partially cover with a lid and let simmer gently for about 20 to 25 minutes, until tender but not mushy (if the water evaporates before they are done cooking, add a little more as needed). Drain off any excess water.
Meanwhile, add the red onion, zucchini and eggplant to a large rimmed baking sheet. Drizzle with the olive oil and then sprinkle with the salt. Toss to combine then spread in an even layer. Bake for about 15 minutes, stirring once halfway through, until tender. Transfer to a large bowl.
Add the chickpeas and drained tomatoes to the bowl. When the lentils are done cooking, add them to the same bowl.
To make the dressing – in a small bowl, whisk together the lemon juice, honey, vinegar, salt, oregano and pepper. Add in the olive oil and whisk vigorously until combined. Pour the dressing into the bowl with the lentils and toss to combine. Add in the feta and fresh parsley and toss again. Serve warm or at room temperature.